The Shaggy Dog - User Reviews
Thank you for rating this movie!
Read your review below. Ratings will be added after 24 hours.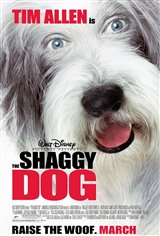 3.57 / 5
User Rating
Based on 1105 votes and 113 reviews
---
Please rate movie 1 to 5 stars
Showing 1 to 50 of 113
November 17, 2006
I have Sawn THE SHAGGY DOG about, 15 times
August 10, 2006
Very good, Tim Allen did an awesome job. Even Downey Jr. was tolerable
August 08, 2006
Really funny movie good for children & the whole family!
August 06, 2006
I thought the movie [THE SHAGGY DOG]was awsome,great for kids to see.
August 01, 2006
this movie was so baddd! anyone who thinks this garbage is good is really crazy, ur going to be wasting ur money if go see this stupid movie!!!!! DO NOT SEE!!!!!!
July 31, 2006
This is a cute family movie there are some really funny parts, and Tim Allen can really act like a dog!
July 30, 2006
good for children
July 30, 2006
I THOUGHT THIS MOVIE WAS REALLY FUNNY. THE MAN HAD TO CHANGE INTO A DOG TO GO PLACES AND THERE WERE TWO DIFFERENT DOGS THAT LOOKED ALIKE AND GOT MIXED UP, THAT WAS SO FUNNY.
July 29, 2006
there were a few funny scenes but i was a little disappointed with the overall movie. Tim Allen was funny in places but not as good as I had hoped.
July 28, 2006
Some parts were funny. A good family movie
July 28, 2006
great remake
July 27, 2006
The movie was great. I loved it. Tim Allen did a great job! This movie is great for a family night.
July 21, 2006
THIS MOVIE IS SO SILLY BUT WE ALL LOVED IT. TIM ALLEY IS TERRIFIC.
July 21, 2006
silly but a good laugh for the family that owns a beardie like this one
July 21, 2006
The kind of Movie that is safe for everyone to see and funny for a Family Night together with lots of laughs
July 20, 2006
Very Funny and entertaining!
July 19, 2006
Not bery funny, very predictable
July 15, 2006
great movie-typical tim allen
July 13, 2006
it was a cute family movie
July 11, 2006
It was a pretty funny movie that is great for th ewhole family because it`s not too mature for kids, but it`s not too immature for adults.
July 10, 2006
It was hilarious the toolman dude rocks it!
July 09, 2006
Loved it!!! Had a great time, good acting!! Enjoyed this version as well as original!!!
July 09, 2006
Tim Allen should have stuck to Tool Time, a boring re-make.
July 07, 2006
I thought it was funny and a nice film for the whole family
July 03, 2006
It was an alright movie, but I just thought it would be funnier is all
July 02, 2006
a hilarious movie for all ages
July 01, 2006
was better than the original, better actors this time around,.
June 27, 2006
Cute, great family movie
June 25, 2006
I am just ready to see it, with all the comments i think that it would be hilarious! I also think kids my age would love to see it too.
June 24, 2006
Good clean fun
June 24, 2006
I thought was more funny than the original one. Great plot and writing too.
June 23, 2006
A complete fun movie for the whole family - Tim Allen, as usual, bumbles his way through a super funny experience - always makes us laugh, and remember each of his movies!
June 22, 2006
Good Family fun
June 21, 2006
An EXCELLENT family movie!
June 19, 2006
Good family flick. Tim Allen does a good job.
June 18, 2006
While my kids thought it was fun, I was dissapointed. I so enjoyed the original, and I thought unnecessary changes were made in the name of "comedy". dumbed down for the audience.
June 16, 2006
fun movie, tim allen does a great job at showing us the real dog experience. funny, a good movie.
June 16, 2006
A good movie. Kids and parents alike will be entertained.
June 13, 2006
My kids loved it...it was a good family movie.
June 12, 2006
Another remake that doesn`t cut it!
June 11, 2006
it wasn`t all that bad for another remake...my child enjoyed it.
June 11, 2006
I enjoyed it lots .Took my little niece and she actuaaly sat still
June 11, 2006
Tim Allen did an amazing job mocking the exact actions and quirks of all dogs in general. My kids really enjoyed this movie from beginning to end full of laughter and excitement.
June 11, 2006
I loved it. I remember the original which I went out and bought and this is 10 times better and more modern and hilarious.
June 10, 2006
I laughed so hard I had tears streaming down my face! Tim Allen is in his element! The original movie was funny, but I have to say that this sequel I like even better!
June 10, 2006
This is a great family movie!
June 09, 2006
Kids liked it but definately not up to the standards of the original series.
June 09, 2006
My son and I found it to be a very boring movie and not as funny as advertised.
June 09, 2006
I thought the film was funny, my kids thought it was hilarious.