The Shape of Water - User Reviews
Thank you for rating this movie!
Read your review below. Ratings will be added after 24 hours.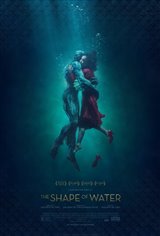 3.64 / 5
User Rating
Based on 1334 votes and 304 reviews
---
Please rate movie 1 to 5 stars
Showing 1 to 50 of 304
October 02, 2020
What was that? A propaganda of beastiality?
October 18, 2019
Del Toro sucks! A vastly overpraised fatboy director of mediocrities, who's more interested in the donuts on the craft services table than telling a good story. He sucks! This movie sucks! F.U. fatboy!
July 23, 2018
Loved it! You don't have to look alike to show kindness or affection; you don't need to express yourself with words but actions; these are a couple of lessons taught in this movie. I would've preferred to see less blood but we also know how much abuse and suffering there is in our current world!!!
May 10, 2018
Best picture? Really? I don't see it. Never mind that the woman loves a fish, there's not even a gradual evolution of the love story. She meets him one day and they run away together the next. I get that it's an allegory about immigration and acceptance and all that, but the movie itself still has to be good. Quirky doesn't automatically equal good. Weird for the sake of weird doesn't automatically equal good.
April 28, 2018
Why is the monster basically retarded Abe Sapien? It looks like him, it eats eggs like him, it has empathic abilities like him... It just doesn´t talk. What an "originality"!
April 06, 2018
Del Toro - the master of plotholes and weirdness! :D
March 31, 2018
Tried to like this movie - - - I really, really did. But honestly, I didn't. And it certainly wasn't Best Picture material.....but then 2017 was not a great year for movies, so maybe it looked good compared to so many others......
March 28, 2018
Good movie, although it didn't quite measure up to the hype. The reviewer below need to take a deep breath though. Trump isn't hiding under your bed, buddy.
March 24, 2018
This is a critique of the USA -- the alienation/marginalization of those who are "different" by race, disability, species, sexual orientation, etc and what is revered in the USA -- the White man (Trump) and his power to subjugate, belittle, torture, marginalize anyone he pleases. It is frightening that such a psycho is seen as the "Man of the future". In the end love between two marginalized "others" triumphs.
March 24, 2018
Seen it 3 times already, it's that good! The visuals, the acting, the story .... so unusual and so pleasurable. An excellent addition to my bluray collection.
March 24, 2018
Best movie of 2017 by miles!! Congratulations on the Oscar for Best Picture - well deserved!!!
March 20, 2018
Brilliant as always with Guillermo del Toro. Everything about this movie is epic from the storyline to the character development and costume design. One of the many successes we've come to expect from del Toro's repertoire.
March 18, 2018
It's a work of art and like a modern faerie tale
March 17, 2018
Strange. Can't believe this won best picture
March 16, 2018
good but not great, worth a watch but clearly not deserving of a best picture Oscar. Not an original movie plot to begin with, coupled with the fact that a lot of the movie is just pieces of recycled elements from his previous works kind of takes away from the overall affect it might have had. Like Pan's Labyrinth the villain is over-the-top evil for no apparent reason, and as usual Del Toro throws in some unnecessary gore/violence/sex scenes that I know are meant to make you cringe but mostly just take you out of the movie for being not really believable
March 15, 2018
I left this movie after 40 minutes. Totally creeped me out. Do not like science fiction or violence. Figured it had to be good as it won Best Picture. Wrong. Best Picture last year sucked too. Should have followed my instincts.
March 13, 2018
Over my head I guess. Creature of the Black Lagoon meets Mary Poppins. Jenkins was OK I guess & Spencer the same, otherwise?. 2 stars might have been to generous.
March 13, 2018
The movie sucked. It was the worst movie I have ever seen. Holly Weird at its best! YUK
March 12, 2018
This one is a winner! Different, quirky, funny, sad, great endng! This is my favorite of the year! Bloody good old chaps!
March 11, 2018
Another good production from Del Toro.
March 11, 2018
This movie have the enchanted touch of the older movies. Some how the story is little twisted but I am glad the movie got some Oscars.
March 11, 2018
Well deserved the Oscars.
March 11, 2018
This movie expose the deep troubles of new world. Humanity fail. Beautiful graphics.
March 11, 2018
I was so proud when I saw this movie getting some oscars. So sad story. Waiting for DVD format.
March 11, 2018
Not graphic enough and yet it made me want to vomit! Watch SLEEPING DOGS LIE instead.
March 11, 2018
A magical love story that feels fresh even though Del Toro might have ripped it out of someone else's play. (but who knows really?) Wonderful movie that wasn't afraid to take its time and let you get to know its characters. Could do without so much sex stuff but it didn't hurt the movie too much. Overall, great movie with a fun premise.
March 11, 2018
Sorry, if this is the years best, we are in trouble. BORING.... masturbation scenes?... animal house sex scenes?..... dark?.... all of these actors are better than this. Redeeming was the artistic at times Surprised that Jenkins and Spencer were a part of this..... they are much too good...............
March 11, 2018
Only redeeming quality was the artistic production value.... unrealistic, kinda reminded me of Willy Wonka or something... I only watched all the way through because I had nothing else to do..... I am glad Octavia got a nod, but disappointed and surprised she chose this. ... she is such a good actress. too many unrelated situations.... the sex scene with the mean guy and his wife... come on..... really like a bad local theater mixed 2 or 3 different plays and this was dress rehearsal....
March 11, 2018
Too weird....once again Oscar winning does not make it a good movie let alone great..... just dumb, too many random stories.... the older gay guy, what did that have to do with anything.... could have done without the masturbation. The black lady, sorry not good with names, is so much better than this movie. . . she usually picks great roles.... I was surprised at her being in this silliness.
March 11, 2018
I wanted to leave after about 30 minutes, but it did get better. Yes the production value is great, but that's about it. I don't get off on watching a woman masturbate and fall in love with a frog.
March 11, 2018
One of the best pictures in a long time. A bit of Beauty and the Beast, Science fiction per Avatar. Can't wait to see it again!!
March 11, 2018
I loved how sweet the story was and how beautifully filmed. I loved the quality of the characters and depth of their relationships. And of course the nature of the Sea creature. The sets were awesome and the 50's throwback attitudes and fashions.
March 11, 2018
Loved it beginning to end!
March 10, 2018
This movie is a blend of science fiction, romance, dark comedy and humor, military research and development, and a little espionage. All set in an earlier period in American history and culture, in the height of the Cold War era, in 1962 Baltimore, MD. The entire cast of actors and actresses performed exceptionally well. The scenes backgrounds were in the period. The things on the characters' minds were relevant to the times. Costumes, cars, apartments and theaters of the time, these nuances were depicted in the movie. In case you haven't heard this movie just won the Best (movie) Picture Oscar. Great entertainment.
March 09, 2018
Rare for me to walk out of a movie but this plot was absolute nonsense and a nightmare to watch. The makeup was well done.
March 09, 2018
Ridiculous film is full of unintentional humour. Ripe for Rifftrax treatment.
March 08, 2018
I am very impressed with this movie. It was a sad movie.
March 08, 2018
Plagiarized tripe.
March 07, 2018
My favourite movie of 2017, and now Oscar's favourite movie too!!!
March 07, 2018
This movie is a curve-ball, never seen anything like it before. Story is similar to beautify and the beast but real, gritty and thought provoking. MUST SEE!
March 07, 2018
The shape of water is a perfect blend of sci-fi and romance so elegant that even in an unforgiving society the universal power of love still flows through. This film is so perfect that both can be beautiful and neither has to be beastly in the pedestal of love.
March 07, 2018
I was avoiding this movie for the negative reviews..... but when I saw this movie won some oscars I went to watch this film and it was excellent. There was any not porn in the movie.
March 07, 2018
This was an interesting movie with lots of great visuals, but the story seemed a bit all over the place and there were parts that just seemed out of place or unneeded. For instance the sex scene with the agent and his wife. What was the purpose of that? Just for the gag that his fingers were starting to rot? Or the masturbation scenes. Was this to prove that this woman was horny enough even to screw a fish man? Also the side story of the gay friend and the racist homophobic dude at the diner. Was that there to provide authenticity to the era the movie takes place in or just to give that character something to do? It was good, but not best picture good for sure.
March 05, 2018
The sexual stuff was self-serving and probably meant to be shocking and therefore "artistic". The story would work without it and it would not be disgusting propaganda of zoophilia. It turned a movie with some potential into absolute garbage. The Oscars are officially a joke now.
March 04, 2018
Totally a complete garbage. I cannot believe anyone would give this movie 5 stars. I wanted to walk out after 30 minutes, but kept holding on, hoping it would get better. Complete rubbish. Save your money and PLEASE do not waste your precious time with this.
March 03, 2018
I really liked the portrayal of the dark, almost surreal world that Eliza lives and works in. Her attraction to the creature---slow at first but then growing in intensity--intrigued me and seemed plausible. Some of the violence was a little gratuitous (i.e. Dimitri's demise, which was very bloody) and as a cat lover, I was disturbed by the creature killing and eating the cat in the apartment, although I can understand why the creature did it.
March 03, 2018
This was an enchanting movie that had a great storyline. The plot was simple with some interesting twists and there is plenty of action for keeping your attention without senseless violence. Potentially one of the best movies I have seen in the past few years - perhaps second only to Hidden Figures!
March 01, 2018
One of the best movies of all time ! Last time I saw a good original movies like this was Woody Allen's "Midnight in Paris" 17 years ago !! Hollywood need more movies like this ,they have lost their way on remakes ,hope writers and producers take notice that you can still be creative and a commercial success at the same time !! If the movie didn't have the sexual connotations and scenes ,would definitely been a Family Golden Era Hollywood classic ! But this will definitely become a Cult Classic for sure !!
March 01, 2018
I loved the first half, and it was beautifully directed throughout (with exceptional production design) with a man intangible fairy-tale feeling but I could have definitely done without the overtly romantic relationship. You could have removed the sex scenes, kept everything else the same, and it wouldn't have lost any of its specialness.
March 01, 2018
Del Toro really drives the notion of: if you ever felt you were from another time and place, but having to live with the reality of this is where I am right now. The period the movie's set in matches the mood of the story - grim with a bit of hope. Shannon's instant karma is somewhat funny and tragic. I feel sorry for him...almost. Great acting by all! Beautiful set design and the amphibian man's costume is flawless.