The Sisterhood of the Traveling Pants - User Reviews
Thank you for rating this movie!
Read your review below. Ratings will be added after 24 hours.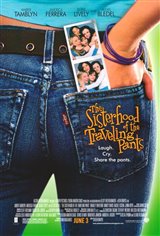 3.81 / 5
User Rating
Based on 4798 votes and 185 reviews
---
Please rate movie 1 to 5 stars
Showing 1 to 50 of 185
July 13, 2016
Great movie about the ups and downs of being a teenager. Sad and real.
May 05, 2007
Even though im a boy...I LOVED THIS MOVIE! Alexis Bledel is SOO HOT Mannn! lol ... Wicked Moie one of the best EVER! i watched it like 12 time lol
April 02, 2007
I love this movie!Tibby is my favourite because she is great and plus Amber Tamblyn is in it!
December 18, 2006
it was a very nice movie the sisterhood traveling pants i liked the movie bevause it was all the grils were good looking in the pants like they all found a boys to like and they looked very happy this movie i think it was very very very very nice movie too me i loved it
December 04, 2006
I think it was pretty good. Really interesting.
October 18, 2006
I thought the the movie and the book was AWSOME I can not wait to read the next one
October 15, 2006
Something about The Sisterhood of the Traveling Pants seemed too cheesy for me, but when I actually sat down to watch it, I loved it. It`s just the relationship between all the characters and what they go through. All females will be able to relate to this film.
September 16, 2006
this is my favourite movie!!! its so dramatic but so touching. i LOVE it. i hope you make the second summer of the sisterhood. I LVOE YOU alexis bledel! your character is soo cool and nice and i think you`re VERY pretty. kostos is sssooo cute.
September 16, 2006
i loved that movie so much i`m doing a project on it for school!
August 26, 2006
it was nice to watch
June 09, 2006
I cried so much...the sisterhood of the traveling pants is one of the best films I`ve ever seen!
April 16, 2006
there should be another movie based on the other books.
March 21, 2006
it is one of my favorite movies and is so well put together, you can`t help but love it!
March 04, 2006
It`s the ultimate, the most most most... I think it changed my life for good! For ever! I really love what the 4 of them have... Their friendship. I love my girlfriend so much, that I really dream of having what Lena, Bee, Carmen and Tibby have! I want more and more... They did a wonderful job, and I think it`s not just a movie... It`s more than that!
February 16, 2006
I loved the movie it felt like my life in so many ways!!!
January 07, 2006
I loved this movie! Michael Rady is so hot in this movie! I am now comparing my life with it and my life is almost the same as Lena`s.
January 03, 2006
I adore this movie! It`s cute, funny, and just so fantastically dramatic and real. It`s It`s a heart-warming story, I was touched by this movie at the friendship and loyalty!
January 03, 2006
omg. i cant stop thinking about it! im so jealous of ann brashare for having the ability to write such a beautiful story. i have own and have read all 3 books and i CANNOT WAIT for the 4th book to come out. it is coming out, right? it better! i love the stories so much, and the movie was good too, although, i feel that effie, lena`s sister, should have been in the film aswell. thank you so much for producing such a real books and movie that anyone can relate to. your stories deals with real life situations (such as heart breaks, death, crushes on the boys you cannot have, etc) with the perfect solution; friendship. your stories show tha
December 29, 2005
I personally think that it is just like real peoples life....it just was a great,and perfect movie!!!!!!!!!and Blake lively is so pretty and a great actress.So is alexis bledel and amber tamblyn also america ferrera
December 28, 2005
I love this film and the actress are very nice and the movie too!
December 26, 2005
I read the books after i saw the movie because the movie was totally awsome! both kick major booty!
December 12, 2005
I absolutly loved the movie!It was probably the best movie i have seen in a long time.shea-Albertville, alabama
December 08, 2005
i read the book but havent seen the movie but since it`s based on the i think it`s the bomb. the best one ever....................luv it
December 06, 2005
Great Movie, Great Acting, Great Lessons In Life,Watch it - you wont regreat it .
November 20, 2005
I love this movie so freakin` much
November 19, 2005
This movie, I didn`t like. It was stupid. I hated it!
November 08, 2005
I loved this movie and I loved the book, I love The Sisterhood Of The Traveling Pants!!!
November 06, 2005
gooooooooooooddddddd
November 05, 2005
Cute but cheesy. A little too cheesy.
October 30, 2005
i looooovvvveddd the movie! i dont think that i have ever cried that much in my life!! i hope that there is a second movie!
October 28, 2005
I loved so much
October 18, 2005
this movie made me cry so much i didn`t want to come out of the theater!!!
October 16, 2005
i loved it
October 16, 2005
luv dat movie so much it was the best i eva seen and i like the way it has to do with things that go around in my life at this age
October 15, 2005
I thought that this movie was incredible! I absolutely loved it. It made me laugh, it made me cry, and it made me want more! It shows such an amazing relationship between friends and I couldn`t ask for a better movie. Of course it is more of a chick flick but still I thought this movie was maybe the best this year!
October 14, 2005
BEST MOVIE EVA!!!!!!!!!!!!
October 14, 2005
amezing i like it like nothing else its wonderful i cant listen it just one time ...and alexis was so great i love she a lot the script is perfect and its like the book a lot ...i love the music too its my best movie its sure
October 11, 2005
i love the sisterhood of traveling pants. it a great book. i think that people all over the world and all ages of people should read or watch this movie or book. its great!!:):):):):):):::):::))))):):):)
October 10, 2005
This movie was amazing! I had read all the books prior to watching the movie and I loved them as well. I watched it with all my friends just before we all left for college and needless to say that was very emotional. I will never forget this movie! :) It`s awesome!!
October 09, 2005
I love that movie. I cried so many times and all of my favorite actresses are is it!! LOVE IT!!
September 30, 2005
This has been the most wellwritten book that I myself has ever read I can`t wait to read the other continuations and if there are more, I wouldlike to read them too! Thank you Ann Brashares!
September 27, 2005
IT WAS SO GREAT I LOVED IT AND I CANT WAIT FOR IT TO COME OUT ON DVD
September 24, 2005
I thought this was definitely a movie that all girls should see. It probably doesn`t do much for guys. But these very young girls were very talented actresses, the storyline didn`t insult my intelligence (I`m 21) and my cousin (11) enjoyed it too. It appealed to both of us in the sense that these girls had somewhat difficult issues to face and while some storylines were predictable, most of the girls ended up making decisions that I did not see coming. I thought it was moving, heartfelt and very real.
September 22, 2005
I live in the u.k and read two of the books whilst in calafonia for a holiday in the summer..I am waiting to see the silm and sooooo excited as it looks so great!!
September 20, 2005
This is THE best!!!!
September 18, 2005
We love this film soooooooo much and ofcourse the books !!!!!!!!!!!!!!!!! We just love it!
September 16, 2005
The sisterhood of thee traveling pants was the best movie i ever saw in the movie theater !!!!!!
September 11, 2005
Best movie for girls. I watched it with my mom and I think that was the only movie that we both liked. It was so sad my mom even cried in one part. It was the cutest movie ever. But, I have to give it 7/10 stars. It`s not to bad, and not to good. What I dident like was when (you know who) died. That just made me cry to with my mom. And I don`t usually cry in movies, except for The Notebook
September 06, 2005
I saw it with my friends and we loved it
September 03, 2005
That was one of the best movies I`ve seen it was great!