The Soloist - User Reviews
Thank you for rating this movie!
Read your review below. Ratings will be added after 24 hours.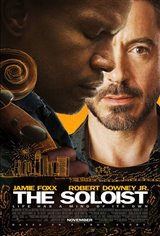 ---
Please rate movie 1 to 5 stars
Showing 1 to 28 of 28
October 10, 2009
AMAZING!!! i think more people should watch it and understand the message. it's a little slow, but that's capsized by what they did with this! i saw this when it first came out, and i am still touched and think about this movie almost every time i leave my house!! good work!
September 05, 2009
Great Movie from start to finish. It seems like Jamie Fox only performs well when he takes on challenging roles. This is a must see...
August 29, 2009
We all need to watch more movies about the realities of humanity and less about robots in disguise.
August 13, 2009
Robert Downey Jr and Jamie Foxx were good together but this was not a very good movie
August 11, 2009
Brilliantly performed by Jamie Fox and Robert Downey Jr. One of the best movies of the year.
August 05, 2009
Robert Downey Jr and Jamie Foxx were the only good things about this film
August 04, 2009
gave me nausea
August 02, 2009
sad face. :( it wasn't good
June 17, 2009
Having lived many years in Los Angeles and haveing a Psychology Ph.D. from UCLA perhaps gives me a different perspective from most. the film is superbly crafted, utterly realistic, fabulously acted by Downey and Foxx. LIfe doesn't provide neat happy endings all the time (even if movies often do) and the film makers ability to draw some meaning out the often painful story is laudable--that is, you do what you can to touch others for good and in the process you become a more genuine person yourself.
June 11, 2009
The Soloist was a wonderful movie.I sat through it wondering why so many other people have not rated it higher. It is not a action movie of which I get tired of. There is a real message. Lynn
May 24, 2009
good movie, heart-warming, and reality look at the homeless situation in LA, and most likely world-wide - don't judge book by it's cover. respect for human kind, and be kind to thy neighbour...go see it, we need a reminder sometimes.
May 14, 2009
Wished this movie was never been made
May 08, 2009
The book was so good. The movie...not as good but was alright.
May 08, 2009
Don't bother going to see it, the first hour was so dragged out, going nowhere fast. Do not go see this movie at the Empire Theatre in Wpg, unless you have impeccable hearing, the movie was puncuated with every background noise, hum and generally made it completely hard to hear, not sure if this was the fault of the theatre or the movie, probably a bit of both. Most movie makers are completely oblivious to fact that all this background noise is a problem for people with even a slight hearing impairment, an impairment that prevents them from blocking out the sound to pick up the speech. Is all this background noise necessary, if it is turn it down a bit!
May 06, 2009
I wish I could say this is more like a good educational movie to get people's attention with regard to homelessness, but the story plots are sooo boring which made it totally unattractive to be watched as a movie!
May 01, 2009
never go full retard!!! ( robert downy jr in tropic thunder) he was right
May 01, 2009
Loved it, even the strange ending
April 29, 2009
WHile the performances were great - the movie lacked any direction and coherent vision
April 28, 2009
it was an amazing film, shows the relationship between men (intimacy), and the complexities of wellness/coping and how society reacts and stigmatizes it in the end a person... so beautiful.. shows the helplessness of lopez (robert downey jr), and the resilience and brilliance of nathanial ayers (jamie foxx). its time for real mental illness to be recognized from a poverty/race perspective... move over brilliant mind... this is it!
April 28, 2009
Not at all what I expected...very boring!!!!
April 28, 2009
great! a must see!!! do it!!
April 27, 2009
i cried my eyes out
April 26, 2009
This was an excellent movie with a great cast. Awesome performance by Jamie Fox and Robert Downey Junior. They're both should be nominated for Oscars. A must see movie!
April 26, 2009
Boring!! It was slow and I didn't believe in any of the characters...its a story that no one cares about.
April 24, 2009
It was ok, but I expected more.
April 24, 2009
This movie will make you want to help the homeless mentally ill people who have been abandoned by society under the guise of a legal right of choice. What a waste of lives.
April 24, 2009
Great acting and smooth direction! A must-watch!!
April 24, 2009
Oscar worthy