The Taking of Pelham 1 2 3 - User Reviews
Thank you for rating this movie!
Read your review below. Ratings will be added after 24 hours.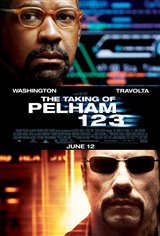 ---
Please rate movie 1 to 5 stars
Showing 1 to 50 of 58
April 21, 2017
I loved this movie. Awesome story line , great acting . Must watch.
December 10, 2009
Not in the least bit realistic, hard to follow at parts, and the ending was ridiculous.
September 07, 2009
This was an excellent action thriller mind you the book was better, but the acting was top notch as was the writing directing and visuals. also JOHN TRAVOLTA SCAREDTHE S**T OUT OF ME. He was very good. I was on the edge of my seat and I was in a comfy chair. Haddonfield 31
July 28, 2009
Awesome! I don;t get all the people who say this wasn't a great show. The action scenes were were well done as well. It's sort of like jason bourne meets face off. A great combo!
July 15, 2009
5 Stars...excellent, good action, good characters, thrilling all through.
July 04, 2009
I thought it was great, lots of action, comedy, and great acting!!! I defiantly recommend seeing it
July 02, 2009
GARBAGE!!! I love Denzel...but this surely is his wort movie ever!!! The acting was great but the scenario useless. No surprises here as the plot is about as thick as powdered milk!!! A must NOT see !!! LL
July 02, 2009
Worst movie from Denzel ever!!! Very predictable script. The only positive aspect in this montain of disapointment is the play of TRAVOLTA and WASHINGTON. I will finish by saying that a 10 year old could have written a much smarter plot. Not even worth renting or even watching on a rainy Monday night years from now. Overall, if you go see this, be prepared to have two hours of your life robbed from you. ;) Joker
June 30, 2009
Entertaining throughout the whole 106 minutes! Great play again from both Travolta and Washington. One of the best movies I've seen lately.
June 30, 2009
Our local paper rated this movie very negatively, but I thought it was GREAT! Best movie I've seen in awhile. My nails were bitten to the quick and I was sweating buckets through it! Of course I'd go see anything with Denzel in it!!! Very, very good!
June 26, 2009
This movie wasn't the best but in my mind, it's hilarious. Yes there was some gore but for the most part it was comedic!! I though it was very funny. Good job
June 25, 2009
If you liked "Faceoff" then you will like this. John is a very zany character and Denzel plays a great part. I really enjoyed this show, it had suspense, action, and humour.
June 23, 2009
not bad but don't expect too much from Denzel Washington and John Travolta - not better than swordfish or traning day.
June 22, 2009
A tad predictable and the ending was a bit lame. But all together not a bad movie
June 22, 2009
really good movie. go watch it.
June 21, 2009
Great movie! Exciting, thrilling, comical at times, good action. John Travolta plays a fantastic bad guy. James Gandolfini was great, loved him. And Denzel was good as ever.
June 20, 2009
Im sorry but this was just a very dissapointing movie. yes great acting and everything but it lacked in action, and it dragged on for too long in story. I was expectigng a big twist or something and it never happens. big dissapointment but great work by the actors and tony scott.
June 20, 2009
It's okay I guess, but the best subway movie is still On the Line. 3/5
June 19, 2009
One of the worst movies I have seen in years!! It seemed like a 2 hour episode of 24- but BAD! The acting was bad, the story was bad, it was just a crappy movie! We left early because we couldn't take anymore of the junky dialogue/acting!
June 19, 2009
This version was just as entertaining as the one with Walter Matthau was in the 70's. Fine acting and directing, believable characters, unusual camera work, plenty of action. 4 stars (because there's no 4½).
June 19, 2009
overall a great action/drama. the only thing it needed was a pretty girl.
June 17, 2009
on the edge
June 17, 2009
very cool triller. go watch it. :)
June 17, 2009
Good until the chase scenes which didn't make sense in the context of this intellectual cat and mouse game.
June 16, 2009
great movie
June 16, 2009
Honestly, this movie is a rip off. How can people rate this as 4 stars. There is not a lot of action nor a thriller. Please everyone, RENT this when DVD comes out. Don't waste money on it. No offense but this movie is garbage. Haven't said that, I will rate this movie a 2 stars.
June 16, 2009
this is the most slowwwwwwwww movie i had ever see in my life .... 0starts dont even rent it ....
June 16, 2009
THE TAKING OF PELHAM 1 2 3 AHH 1 STAR.TO MUCH STICK NOT ENOUGH ACTION.
June 15, 2009
Good Summer Movie, worth the watch. Good acting haven't seen in awhile. Denzel, the best. Good Humor, could have had more action, but otherwise a good 4 stars.
June 14, 2009
"If a hijacking like this happened today, any competent hostage rescue team would resolve it in minutes." ..... Just wanna comment on someone's previous review of this movie. NO! That's not true, buddy! You watch too much special forces drama, my friend. The minutes those guys who had the hostages, killing anyone of those hijackers would risk an innocent hostage's life if one hijacker could survive. Of course, you would probably disagree, if you are the one being hijacked, you would know exactly what im talking about!
June 14, 2009
Folks, do yourself a favour and rent the original...2 and 1/2 stars...poor ending...tepid performances. Travolta and Washington mailed this one in.
June 14, 2009
very cool movie lots of action loved it a lot.
June 14, 2009
This was a great movie!
June 14, 2009
Initially I had reservations about going to see Pelham 123 and was taken in by online reviews that promised it would be a good ride - yes, pun intended. Unfortunately the movie doesn't quite live up to the glowing reviews; so many flaws and plot holes, where do I begin enumerating them? The entire premise of the remake is flawed from the get-go. If a hijacking like this happened today, any competent hostage rescue team would resolve it in minutes. In 1974, the year the original Pelham was made, such HRT forces didn't exist. Moreover, the train dispatcher (played by Denzel Washington) would not be negotiating with the hostage-takers. Nor would he be taking the law into his own hands
June 13, 2009
This was a mature and well made movie. Contrary to those who provided negative review about this movie I can say it is quite good, although I found the ending a bit weak, it could have been a better ending but still the movie was very current and realistic, with people losing money on the stock market and the changing concepts among people. Although a remake yet the characters were quite up to date and real. John Travolta with his wisecracks and Denzel Washington with his smarts make a good team together, yet the ending might have been more realistic as I mentioned above. This is a movie to see, better than many other shallow and meaningless movies. Jake Hagop Kalaydjian
June 13, 2009
john and denzel all the way!!! good job Tony!!! 5stars
June 13, 2009
must must watch!!!!
June 13, 2009
dont listen to these haters!! must watch..dont mind watchin it again...5 stars
June 13, 2009
This movie was awesome. It was amazing!! I thought that the actors were great!!!!!!!!11
June 13, 2009
People who didnt like this movie didnt understand it! It was funny, but you have to get the humour!! 5 Stars!!!
June 13, 2009
Go watch it, this movie will blow your minds away!
June 13, 2009
Never saw the original movie in 1974, LOL I wasn't even born back then! However, I like the remake version just fine, definitely 5 stars! strongly recommend people for this week!
June 12, 2009
This movie is DA BOMB!
June 12, 2009
5 stars all the way!
June 12, 2009
Super Intensive Movie! Don't listen to haters! 5 stars!
June 12, 2009
GOOD MOVIE! It seems to me someone just hate any movies that are made in New York, and just had to keep down grading this movie in this site! 5 STARS! Intense throughout the whole movie, definitely recommended!