The Wife - User Reviews
Thank you for rating this movie!
Read your review below. Ratings will be added after 24 hours.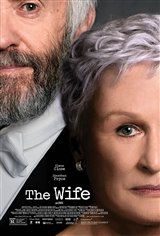 ---
Please rate movie 1 to 5 stars
Showing 1 to 16 of 16
February 26, 2019
Very well acted idea, but it gets too predictable past a certain point. If nothing, just watching Glenn Close and Jonathan Price is worth the time it takes to watch.
February 17, 2019
Quiet and powerful film about the marriage of a Nobel Prize winner and his wife, Glen Close. She should win the Oscar for this subtle and exquisite performance. I suspect there will be women who will look at their own marriages after seeing this film. Beautifully filmed, great script and fine actor. Highly recommend it.
February 06, 2019
Powerful and gripping. Early part of movie is slow and deliberate until it builds to a ferocious heart stopping climax. Not hard to understand all the accolades that Close has received. Pryce and all the performers are terrific. Fine script and wonderful direction. You have to give it time to unfold but if you do you won't be disappointed. One of the best of the year.
December 15, 2018
his is a terrific movie and captures the nuance of a complex relationship. Relationships generally tend to be complex. Both Glenn Close and Jonathan Pryce are fabulous in the lead roles. I have two big problems with the movie. 1) Glenn Close is too damn old, and LOOKS too damn old to match the storyline. Her character, Joan was a student who fell for her married professor (Pryce). He's gotta be at a minimum of 5 years older than her, but it looks like the opposite. When the Christian Slater character was flirting with her, it was creepy. She's 71, FFS!!! Can't tell you about 2) without giving away too much, but the basic premise of the film is implausible. Very much so. Still...…………………………………….81/100
October 18, 2018
Finally a grown up movie, no violence, slashing, blood or gore, just people, relationships and acting. There was excessive language, which was 't necessary, all in all, good drama.
October 10, 2018
Very good movie with an all too common theme of women making moves while pushing men forward for all the acknowledgment of said moves.
October 09, 2018
The Wife is an excellent story about a wife who" was a silent kingmaker". The story started in the 50's when her disorganized college professor husband needed her badly. Unfortunately, some issues still ring true in these modern times. Glen Close is superb!
October 05, 2018
The story was riveting.
October 04, 2018
I really enjoyed this film. Such a treat to watch good acting. Glenn Close deserves an Oscar nomination.
October 02, 2018
This was an excellent drama with superior acting by Glenn Close and Jonathan Pryce. It is not a film for people with limited attention spans or the uneducated. It is a great depiction of how some women will forego their careers for less talented husbands. It is well worth seeing. Glenn Close deserves an Oscar nomination for her performance. I do recommend this film!
September 30, 2018
well written and acted, but slow and predictable
September 25, 2018
So slow; okay acting. I left early and watched the guys outside painting the movie theater.
September 23, 2018
Not sure what all the buzz was about for this movie after seeing it. Unrealistic premise, simplistic boring story, and overall melancholy tone. Shy wife lives and works with this guy all those years then suddenly one evening hates it, resents it all, and wants out? The "kids" seem miscast as way too young for the main couple. 2 stars for competent acting.
September 19, 2018
Very good movie with similar situation as the wife in "Big Eyes." I've never seen Glenn Close in a bad film.
September 17, 2018
excellent acting by all, especially Glen Close; very profound story with an interesting twist at the end.
September 13, 2018
Great acting and great story minus all the violence seen today