This Is The End - User Reviews
Thank you for rating this movie!
Read your review below. Ratings will be added after 24 hours.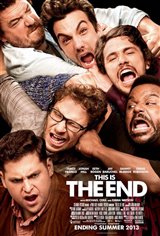 ---
Please rate movie 1 to 5 stars
Showing 1 to 50 of 68
April 18, 2015
I can't believe people only gave it 1 star. The end maybe dragged a bit. Maybe only actually worth 3 and a half to 4 stars but I gave it 5 because it had some of the funniest scenes of any movie, IMO of course.
October 25, 2013
Tries to be funny and just simply fails, not worth your time to rent let alone buy.
October 25, 2013
This movie is meant to be watched stoned. Unfortunately, even that was unable to save this hunk of Hollywood junk....a complete waste of time!
October 12, 2013
this movie was stupid....not even stupid in a funny way
October 02, 2013
This movie was watchable only because it had a few funny moments and popular actors. the idea was not bad. Most of the movie took place in one spot... over all it was stupid, could have been better. we wouldnt watch it again nor would we recommend it to anyone.
October 01, 2013
Great flick super funny ! Laughed the whole way through ! Refreshing to see Hollywood types make fun of themselves...and to the halfwits who didn't think this was funny what did you expect from the six guys on the poster...g-rated family humor ?
September 18, 2013
I don't normally like crude movies but this one was hilarious. James Franco was too funny. One of my favorite movies. Well done
September 14, 2013
you would like or hate it. i liked it. these guys need some major help.. funny movie
September 11, 2013
As long as you're down for the crude humour expected with this kind of cast, This Is The End will have you rolling in the aisles laughing. HUGE cast at the beginning, and a strong enough core cast to keep you interested the rest of the way
September 10, 2013
good movie
August 04, 2013
Funny movie! Vulgar comedy but really entertaining.
July 19, 2013
I loved it soooooooooo much! i'm in to dirty jokes but if your not this is not your kind of movie
July 17, 2013
this is the end of humour
July 15, 2013
James Franco is the best! Everything about this kicked a$$! The BEST MOVIE of the year by far. People who rate this movie as a 1 star are idioits and have no clue what funny is. My best part by far in the movie is when Rianna fell into the sink hole.
July 11, 2013
Waste of money and time.
July 10, 2013
This had to be the worst movie ever! I enjoy all types of movies. This movie was horrible. This movie was not hilarious, it was crude and a big waste of money! Come On, and I like these actors but really!
July 09, 2013
Funny movie a must see
July 07, 2013
saaaahhhh funny. loved it. you laugh, you cry, you scream, you smile. literally everything you could need in a movie. anyone who doesn't like this movie clearly doesn't have a close group of friends that relate to the characters on the movie
July 01, 2013
Absolutely hilarious.
July 01, 2013
can hipster's stop posting. Why is being a hipster cool? Go watch your hipster movies and leave the fun movies for the rest of us who can laugh and have fun.
June 30, 2013
Cheese with a layer of meaning and then more low budget cheese with added thoughtful sprinkles. Me and buddy were chuckling just like Beavis and Butthead. I wanted to see Emma Watson kicking it in the chorus line but you can't have everything. That last poster was almost certainly a Hipster who doesn't like stuff.
June 30, 2013
Absolutely TERRIBLE!!!! Waste of money! If you are reading this to decide whether or not to go... DONT!!!! You will wish you hadnt!!
June 28, 2013
people who don't like this movie don't have a sense of humor at ALL
June 28, 2013
Loved the movie! Hilarious! One of the best movies I've seen in a long time!
June 27, 2013
I will never trust Rotten Tomato again. They gave this movie quite a high rating. If there were negative ratings I would surely rate this movie as a negative.
June 26, 2013
I wanted to like this movie. I wanted to take all the bad reviews and prove them wrong because I wanted to think those people giving the bad reviews had no sense of humor. Well, after walking out when the backstreet boys starting performing, (but wanting to long before that), I can honestly say this movie is horrible. It does start off ok, then just drags and is not even funny after a while. I seriously think the actors got together and bet on how much money they could make from the worst movie in a long time. It's a really really dumb and bad movie. I'm not a prude either! LOL
June 24, 2013
A real guy's movie. Some funny parts but as a girl I was just wishing it would finish.
June 24, 2013
I watched this at drive-in. After first 20mins, most of cars started leaving including ours.
June 24, 2013
It's incredibly funny if you have a sense of humor.
June 23, 2013
AWFUL...probably the worst movie I have ever seen. NOT funny at all.... Didnt laugh once. This movie is rude, crude and disgusting.
June 23, 2013
If I could give this movie a lower rating I would. What a stupid, idiotic movie. I can't believe I got talked into going. This movie rates a -5 stars. Plain CRAP
June 23, 2013
garbage movie... i guess they had nothing to do ... will loose a pile of $$$ on this one
June 23, 2013
First 15 minutes funny, then drags.
June 22, 2013
You can't have much up stairs really to like this movie , either that or be very low class . This movie is horrible from beginning to end . The "f" bomb said in every sentence . The so called jokes are very lame . Don't waste your money on this one . Very pathetic
June 21, 2013
This movie had some very funny parts, some good young actors, and a neat finale. Other than that, it stank. Seriously, a comedy about death, cannibalism, starvation, and Armegeddon?! It also had some very scary parts which would be fine in a horror film but are misplaced in a comedy. If you are religious in the slightest, give this a pass. This clunker would appeal to your average juvenile atheist boy with a low IQ, a drug problem, and little formal education. Save your money and your time.
June 21, 2013
amazing movie! sooo many amazing super funny actors! one of the funniest movies of all time!
June 21, 2013
James Franco needs to go to acting school. His best movie was Spiderman. What happened James????
June 21, 2013
The most disgusting movie I have ever seen. Excessive swearing, loud and totally awful.
June 21, 2013
best comedy of this year by far! I'm guessing to all the poeple who gave this a low rating don't like crude humor... but i thought it was great! laugh beginning to end!
June 20, 2013
Perfect movie! Non stop laughs and a little scary as well. If you don't like crude jokes etc. don't see this movie it won't be for you. The actors poke fun at themselves and it was just so funny i can't say that enough. The best movie I saw in theaters in quite awhile! Highly recommended especially if you love these actors. Lots of surprise guests pop up as well
June 20, 2013
I was expecting real belly laughter, not the case, it has some funny parts, but over all don't waste your money.
June 20, 2013
Possibly the worst movie I have ever had to sit through.
June 20, 2013
Not good by any stretch of your warped mind.
June 20, 2013
I laughed from beginning to end. One of the best comedies of the year! I really hope they make a sequel.
June 19, 2013
This had to be the worst movie ever! I enjoy all types of movies. I like the movies that these actors are in! This movie was horrible. I could not believe that people think this movie was hilarious! Worst ever
June 19, 2013
this is the worse movie my husband I have ever seen. Crude, rude and it shows how our society is going downhill. My husband and I both have a very good sense of humour but never laughed through this movie once.
June 19, 2013
Amazing movie!
June 18, 2013
Cult Classic in the making
June 18, 2013
Overall, well done. Had some really good funny parts but then others were so so.