This Means War
Thank you for rating this movie!
Read your review below. Ratings will be added after 24 hours.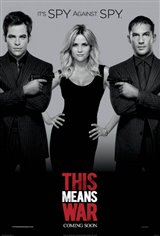 ---
Please rate between 1 to 5 stars
Showing 1 to 41 of 41
July 17, 2012
while a bit silly, much better than i anticipated. good chemistry amongst the actors helped the weak script.
June 09, 2012
funny and exciting, this romantic comedy/action movie delivered entertainment. the ending might have been done better.
May 26, 2012
excellent movie, hilarious !!!
April 15, 2012
i thought it would be a silly love triangle movie. i was so wrong!! i had lots of fun watching this.
March 31, 2012
funny movie, went in with low expectations and was astonished how funny the movie actually was! pine and hardy make a great team but even better enemies!
March 17, 2012
great date night movie... loved it
March 14, 2012
really loved this movie. it was great fun to watch and hilarious as well not to mention chris pine and tom hardy were nice to look at as well as to appreciate their acting. the ending was a little too fast for me but the last bit was worth it.
March 14, 2012
Oh my god this movie is unbeleivably good. I watched this with my friends and we all just had a great time because this movie has comedy, action and romance! I really suggest this movie.
March 13, 2012
loved this movie! everyone in the theatre was laughing...did not regret seeing this!
March 12, 2012
my boyfriend chose this movie and we both loved it!!
March 11, 2012
best movie ever john paul ruttan is amazing my best freind ive babysat him!
March 10, 2012
great, terrific entertainment. best movie that i've seen in a very long time. very funny.
March 06, 2012
great movie! go see it!
February 29, 2012
actually a really good movie. action for us guys and a hot chick. works well.
February 28, 2012
best movie ever!!!, everyone must watch
February 26, 2012
awesome fun movie, very funny, i laughed almot thru out the entire movie. i would recommend this movie to anyone.
February 26, 2012
total nonsense....not even a dvd rental. save your money.
February 26, 2012
this movie has something for everyone--comedy, action, romance. above all, it`s fun (which can be said of very few movies these days). it`s really not getting enough attention! go see it...you won`t be sorry!!
February 24, 2012
the coon <3
February 23, 2012
the funniest movie ever .
February 23, 2012
i found the movie entertaining - a bit far-fetched, but entertaining nonetheless. tom hardy - kudos to him! he's the bad-boy english lad but has killer scenes and pretty much steals the show. a rom-com-action - who could want more????
February 22, 2012
love this movie best movie so far out of 2012
February 22, 2012
great movie--really enjoyed it.
February 21, 2012
a great movie if you are a 12 year old girl or a 13 year old boy. if you saw the preview you saw all the funny parts not even worth a dvd rental
February 21, 2012
very entertaining!
February 21, 2012
wow... this movie was alot of fun.. i laughed the whole way through... it is sooooo funny... the acting was really good... story was predictable but soo funny and well executed. would see it again.. i was crying i was laughing sooo hard.. go see it.
February 20, 2012
dvd rental. have your friend rent it
February 20, 2012
loved it! it was funny and entertaining. much better than most of the crap that's out there.
February 20, 2012
stupid, stupid, stupid....
February 19, 2012
impressive in a way that i've never seen romantic comedy be.
February 19, 2012
the guys are hot, but the movie is bad.
February 18, 2012
funniest movie i've seen in a long time. couldn't stop laughing.
February 18, 2012
i went in expecting the odd chuckle but was completely suprised. this movie was fantastic, i haven't laughed that hard in a very long time watching a movie.
February 18, 2012
a fun movie to watch, has it all, good looking guys, action, love story, reese, what more can you ask for! and chelsea handler steals the show - she's hilarious! buy your ticket and enjoy
February 17, 2012
good movie. entertaining, action, funny!
February 16, 2012
would have rated this higher with a more appealing female lead...
February 15, 2012
absolutely cannot wait to hot the seats at the theatre for this! i love reese and there had yet to be a movie that she has been part of it that i rated negative! she is a fabulous actress!
February 15, 2012
i rarely rate comedies a 4 star... and it was a ball of fun... not as predictable 'even steven' as one might think from the trailer, but quite a bit of asymmetry going on between the two guys and the girl. getting/fighting the bad guys are secondary... it is the love triangle that's fresh (funny like crazy stupid love) enjoyed it immensely. (um, yes, east asian 'thugs' are a stereotypic prop again, and get killed off instantly, oh, well)
October 20, 2011
This is a must see!!!