Thor: Ragnarok - User Reviews
Thank you for rating this movie!
Read your review below. Ratings will be added after 24 hours.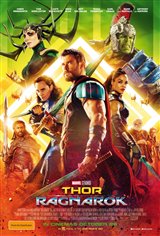 4.12 / 5
User Rating
Based on 520 votes and 102 reviews
---
Please rate movie 1 to 5 stars
Showing 1 to 50 of 102
February 24, 2020
thor ragnarok was ok , but was the funniest ou
February 17, 2020
justice league was really good thor was funny but was ok.
February 03, 2020
movie was ok .
May 10, 2018
I loved this move. Thou it is not a retailing the Nordic Myth. It does do quit well in paying homage to the ancient myth. I is also just plain fun.
April 02, 2018
Overall, not bad for slapstick comedy, disapointed because wanted to look at a good marvel movie.... I like my superhero movies, just to much slapstick sorry....
March 04, 2018
Loved this movie. Saw it twice in theatres and now own it digitally. For the people who never saw this in theatres watch it digitally or buy it on disc. Don't rent just buy it because you will watch it once and you will crave to watch it again. It is that good
January 26, 2018
Great movie love it #Marvel you guys are Amazing.
January 23, 2018
To corney to be even slightly funny !!! Should be - 5 stars
January 04, 2018
All of it! I liked when Thor battled Hulk in the arena on Sakaar.
December 29, 2017
Amazing effects, great action and a little bit of humor. Better than expected!
December 28, 2017
It's a fine line to give the actors lines as well as awesome action scenes. The balance was pretty good. Except for Skurge. Pretty much useless during the movie and I thought he was supposed to be more on the evil side. He seemed out of place during the whole thing but redeems himself at the end..but there really wasn't any redeeming because he didn't do anything. BUT he looked the part. Otherwise to let Chris Hemsworth get laughs was a good idea. He's got the comic and action chops. They all did. Grandmaster..WTF How did he become basically a god on the planet. I like Jeff Goldblum but the character was not powerful in the least.
December 25, 2017
My new favorite superhero movie! Lots of fun!
December 23, 2017
I Loved The Movie I can't wait until it comes out on DVD!
December 19, 2017
I am a big fan of the Thor Movies and was so glad it was just as good as the others. Loved It!!
December 16, 2017
This was good $$$$$! That good!
December 03, 2017
This is the best Thore movie for sure and definitely better then justice garbage. I gave justice garbage 1 star because that is what it deserves. The plot characters and soundtrack fit this movie for sure. I am glad to see marvel puts time and money into there movies and it shows. DC does neither and that is why they are so trash
December 03, 2017
The last Thor movie was so much better. This one was very disappointing. The concept was just another Captain America Civil War. Captain America Civil War was so much better. Thor Ragnarok had a lack of script.
December 02, 2017
Excellent movie fun. I gave this movie and Justice League both 4 stars but I enjoyed Justice League more.
November 29, 2017
Great fun
November 29, 2017
Must see in the theatre. Great cast, plot and music soundtrack. It suited the movie. If you haven't seen it you should. See this over justice league. Won't be disappointed
November 28, 2017
THis movie is so good I have seen it twice and will definitely see a third time. Better then justice garbage for sure. Not even comparable to that trash. This movie reminds me of guardians of the galaxy with the music and comedy alike. They have found something that works and rolled with it and it did exceptionally well. I applaud marvel for what they have accomplished this far and look forward to more. DC I am finished with. Go see this movie you will not be disappointed. Way better then the first two. When there loses his hammer it opened more possibilities for this character. Look forward to seeing more third because I am hooked now. Great job marvel at destroying DC which isn't very hard since DC is garbage as you keep putting it to shame.
November 28, 2017
this movie couldn't make up its mind if it was a comedy, an action flic, a drama, or a waste of time. Some of everything I guess. Hope they don't make any more in the series.
November 28, 2017
Reviews nationwide are very positive. Enjoy the show.
November 28, 2017
Well done. Entertaining and funny. Not like the Justice League movie at all. It's like eating a fresh apple on a sunny day, and you leave the theater upbeat and entertained. The other movie was like watching a funeral of everything you once cherished in childhood.
November 26, 2017
Hilarious
November 26, 2017
Wow. What a lot of fun. I love what Marvel is doing. Been a comic fan all my life and this was a comic come to life. Can't wait for more.
November 23, 2017
Great comedy that compares with Guardian of the Galaxy. We loved it!
November 22, 2017
Totally preposterous, and one of the worst movies I have ever seen. Even worse than the last King Kong and that was a real stinker. SO much potential and such disappointment.
November 22, 2017
loved the special effects and 3D .top notch...
November 21, 2017
So far the best movie in terms of comedy. Science fiction comedy. We loved the story.
November 21, 2017
Movie was amazing. This was a science fiction movie. No a fictional story. Lol
November 21, 2017
A mishmash od plots, none of which were believable. First one was much better. My friend walked out half way through because the plot was so stupid!
November 19, 2017
IT WAS OK , P.S. GARBAGE MOVIE COULD NOT HAVE SAID IT BETTER MYSELF
November 19, 2017
The writing was superior to the previous Thor movies! Very entertained through out the entire movie, so funny. My 14 year old couldn't stop laughing and so was my husband who usually sleeps through movies!
November 19, 2017
Amazing movie , watched it twice in theatres it was so good!
November 18, 2017
HORRIBLE & BORING!!!!!!!!
November 18, 2017
This movie was just plain fun all the way through. Watch for a couple lighthearted cameos along the way!
November 18, 2017
The idiot who said that they r preferring this movie over the new marvel movie, FYI, this is the new marvel movie.
November 17, 2017
Oops rated this movie as poor meant that for justice league . Thor was awesome!
November 17, 2017
has its moments.
November 17, 2017
Funny movie.
November 17, 2017
Meh !! Had some fall out of your seat funny moments but they were few and far between. Tried too hard to be a comedy. Hemsworth and Hiddleston were good... very good - as was Idris Elba, but it falls from there. Hulk was totally out of character and I have a hard time envisioning him being content and at leisure. Korg might be the most annoying character - ever - in anything. No wait - Jeff Goldbloom was worse... Even Nicolas Cage would have been a better choice. (Think about that for a second) Even Cate Blanchet came across as a hack. I tried very hard to turn off my brain and just enjoy the ride... sorry kids - couldn't do it. This is a ride you shouldn't have to pay $12 to get in and $20 for popcorn
November 16, 2017
PARENTS ADVISORY: this current Thor R. Is not recommend for teenager under 14 years. Contains to much demonic and evil graphic depiction. Guess the only reason theatre provider promote this mediocre movie, is because the big holllywood studios pay them big bucks for promotion to recoup their $150 M production cost for this flick. Previous Thor movie was much better. The only good scene was where Thor fought Hulk in the arena.
November 16, 2017
Great movie probably the best of the trilogy.It has great humor and friendships.
November 16, 2017
It was OK. I thought previous ones were better. Too many "snarky" joke moments throughout which I thought kind of distracted from me getting more "involved" with the movie plot.
November 15, 2017
Well that was disappointing.
November 15, 2017
Boring, coudn't wait for it to end.
November 15, 2017
Great job. It kept me entertained ...funny...A little busy near the end ...but still ...I didn't think about work or bills or my exwife once....mission accomplished.
November 14, 2017
Really disappointed with this movie. Was not what I thought it would be. I actually thought it was pretty boring.