Tooth Fairy
Thank you for rating this movie!
Read your review below. Ratings will be added after 24 hours.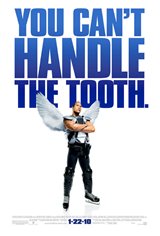 ---
Please rate between 1 to 5 stars
Showing 1 to 31 of 31
October 31, 2010
I thought it was very good..the director made it very creative.
June 30, 2010
My brother loved it, so did my mom.
May 19, 2010
Impressed by the clean story line. Also impressed with the Rock's choice of movies and keeping it clean for the kids.. Kudos to him for giving us good clean fun! My whole family enjoyed it and I will buy it when it comes out!
April 30, 2010
It was too good my favorite part was when he found out he was a tooth fairy.it was historical and out of this world my mom got the biggest laugh well me and her it was a tie!
April 12, 2010
This was the most awsome movie - EVER !!! I loved it ... almost laughing my bum off in the movie .. My mom & I almost cried our pants off ! Gotta see it AGAIN!! :):P
April 05, 2010
I went into this movie expecting a good laugh and that is what I got. I didn't expect the big Oscar winner. I definately will by it when it is out on disk.
March 18, 2010
Good for kids...but overall, it kinda sucked. =P
March 10, 2010
This movie is a blast.
March 01, 2010
it was soooo weird
February 22, 2010
This movie is a safe movie to bring your children to. Recomended age is between 6-11. They will enjoy it. Older kids will find it boring and younger children will not unerstand. There is no offensive language wich makes it a decent family movie.
February 21, 2010
i love this movie its funny
February 20, 2010
SOOOOOOOOOOOOOOOOOO TERRIBLE!!!!!!!!!!
February 19, 2010
it's very good i like the movie
February 16, 2010
Entertaining movie for the whole family - my daughter and I really enjoyed it.
February 14, 2010
lame.. hated it. AWFUL
February 07, 2010
i love this movie its so funny
February 06, 2010
awesome movie my kids love it
February 06, 2010
This movie wasn't what I expected by hilarious none the less!
January 31, 2010
Horrible, not even funny
January 31, 2010
loved the movie, want to see it again
January 25, 2010
I grew up with the wrestling days of "the rock". Seeing him tonight acting in a hockey player's role caught in a fantasy - as a pink tutu wearing tooth fairy also starring Billy Crystal and Julie Andrews - was a quick reminder that we are all children at heart and to never forget to 'believe' and that dreams can indeed come true.
January 24, 2010
Go into the movie wanting to laugh expect it to be funny and it will be. The rock is anmazing actor and he did a great job in this movie.
January 24, 2010
Despite negative reaction and bad box-office performining (#4 in it's opening weekend - defeated by AVATAR), this movie is still a good comedy and it's one of those comedies that have the same moral like in BRUCE ALMIGHTY, MEET THE ROBINSONS, KUNG FU PANDA, and BEDTIME STORIES: "don't give up and follow your dreams"!
January 24, 2010
i love it
January 24, 2010
I want to mention how Hilarious it was! Absolutely Funny! The adults and Children were very good actors. I would have given it 5 stars if there was no violence in the hockey games.
January 24, 2010
I wanted to give it 3 stars for all the violencee in the hockey games But the rest of it was exactly what I wanted and expected, so I gave it 4 stars(Not anymore though). You see a lot of comedy movies in the last few yrs., have too much mention of you know what and violence in them. I've been wanting moveies back that had good plots like they used to be!! This one was Very good in that Respect! Thank you!
January 23, 2010
Dwayne Johnson as Derek Thompson, Ashley Judd and Julie Andrews were so good. I would highly recommend it to people who could use a good laugh!!!!
January 23, 2010
it's a great movie and funny... would go see it again
January 23, 2010
My kids really like the tooth fairy! they think any pf you kids should it like they said the movie is the best.
January 22, 2010
HILARIOUS COMEDY! The first must-see movie of 2010! It must become "this year's PAUL BLART!" (it was fiancially successful, get it), as long as AVATAR dosen't get in the way!