Transformers - User Reviews
Thank you for rating this movie!
Read your review below. Ratings will be added after 24 hours.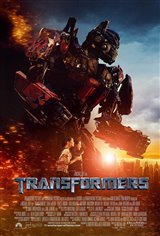 4.86 / 5
User Rating
Based on 158381 votes and 714 reviews
---
Please rate movie 1 to 5 stars
Showing 1 to 50 of 714
December 20, 2014
Autobots Roll Out! Awesome....
November 09, 2014
We had 10 yr olds and 30+ yr olds, and both age groups really enjoyed it.
September 18, 2009
I don't understand how anyone can sit and watch this plotless dribble.
July 22, 2009
I like this Movie it was awsome
May 20, 2009
i love it!!!!!!!!!!!!!!!!!!!!!!!
March 29, 2009
I was thrilled...
March 02, 2009
the best film
February 26, 2009
one of the greatest hero movies of all time!!!!
February 22, 2009
Best Movie Out there, no words can describe it...
February 20, 2009
best movie ever
February 03, 2009
brilliant
January 01, 2009
one of the best movies ever looking forward into part 2
October 02, 2008
the best movie ever
October 01, 2008
awsome best movie ever
August 06, 2008
The cartoon movie of transformers was awesome. Years later now, this was not what I was hoping for in a comeback of transformers. I don't understand why everyone loved this 5/5. Best movie of all time!? pfff. something is wrong with this survey.
July 20, 2008
The best movie i ever saw it was perfect
July 18, 2008
perfect movie.
July 15, 2008
Transformers is awesome
July 10, 2008
best movie i have ever seen
July 05, 2008
Excellent! " More than meets the eye! " FatJan
July 02, 2008
my fav movie,can't wait until sequal.
June 30, 2008
This is my favorite movie of all time!
June 26, 2008
i think this is the best movie last year
June 15, 2008
this is the best movie ever i think its very good
June 15, 2008
this movie is awesome
June 12, 2008
The DUMBEST movie of 2007.
June 11, 2008
SOOO WICKED!!!
May 26, 2008
Loved it. One of the few summer blockbusters that more than lived up to the hype.
May 14, 2008
omg! this is my all time fav movie!!!It was so good from begginnign to end!!!"i am optimus and i send this message out to any remaining autobots seeking refugue among the stars. we are here, we are waiting."
March 06, 2008
awesome great robots this is the best movie steven speilburg ever made 5 stars
February 03, 2008
The movie was AWSOME!!!!!! I loved all the exploding stuff. 5 stars.
January 22, 2008
I love the characters - mikaela's hot and Ironhide & Jazz are both gangster.
January 14, 2008
REALLY GOOD!!
January 02, 2008
amazing!!
December 31, 2007
lol...i was looking forward to a part where they'd all form into one big thing...they do that don't they?
December 26, 2007
Incredible
December 22, 2007
meh, that's it, meh... to much hype, and all i got was 'meh'
December 09, 2007
horrible acting, horrible plot, a big let down.
December 05, 2007
i just didn't enjoy it that much
December 01, 2007
WAY better than i expected. very enjoyable got what i was looking for
November 21, 2007
This movies has it all! I thought it would just be a decntly animated movie that would be a dissapointment to the transformers legacy... I was totally wrong! The animation was amazing and the actors were very well chosen.
November 02, 2007
I thought that it was going to be some movie for little kids who like things that blow up but it really wasn't. I thought it was actually a good movie -Alanna.
October 31, 2007
too good.. wow ;)
October 20, 2007
Action, humor and a hint of romance, all in one absolutely AMAZING movie!! Watch it!!!!
October 17, 2007
Garbage.
October 16, 2007
It was just a lot of fun to watch and as many other have indicated, unexpectedly funny too. Best movie ever ... NO, but definitely up there on the "See it again" list for sure.
October 16, 2007
Surprisingly funny. Visually stunning. Everything one could hope of an action movie...and more. A heck of a good time!
October 14, 2007
Best Movie Ever I Can't Evan Explane How Good It Was, It's Not Only For People Who Are Into Transformers And Stuff, It's For Everyone!