Turbo - User Reviews
Thank you for rating this movie!
Read your review below. Ratings will be added after 24 hours.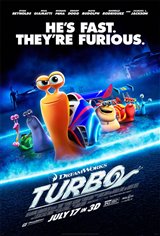 ---
Please rate movie 1 to 5 stars
Showing 1 to 13 of 13
May 19, 2014
Awesome. Loads of fun. All ages would love it. Very cute.
April 01, 2014
Turbo is AWESOME!!!!!!!!!!!!!!!!!!!!!!!!
November 07, 2013
Decent kids movie clear goals about winning and your true goals and loyalty to your friends. I took my granddaughter to see this movie. Normally she is totally engrossed in a movie but for some reason this one did not get her full attention. She said she liked it but in some movies you can't get her to speak to you because she is so involved but this one did not do this to her.This is the reason I gave it 4 stars as she was my measure.
November 06, 2013
This is yet another half-assed Dreamworks animated movie, filled with terrible unfunny cliches. A shame after the brilliance of How To Train Your Dragon, I guess they'll never learn.
November 04, 2013
This movie is so cute !
November 01, 2013
This movie was just OK. Almost fell asleep in the middle. It's not a bad movie but just nothing new or surprising. Younger kids might like it more.
October 29, 2013
Kids will like it!
October 29, 2013
It may be slow and predictable at times....but TURBO has colorful animation, a big and talented voice cast (including Ken Jeong as an old Mexican lady), some funny moments, and that classic moral telling viewers like me to follow our dreams and never give up! Though, the 3-D didn't do any good! However, despite being one of DreamWorks Animation's lowest achievements, this animated underdog story is a "good enough" conclusion to my Summer 2013 movie season!!!!
October 29, 2013
Great Movie Kids loved it
July 19, 2013
Best Animated Movies Ever !!!!!!!!!!!!!!!!!!!!!!!
July 18, 2013
Fall down funny!
July 02, 2013
Best Animation Movies Ever !!!!!!!!!!!!!!!!!!!!!!