Tyler Perry's Why Did I Get Married Too?
Thank you for rating this movie!
Read your review below. Ratings will be added after 24 hours.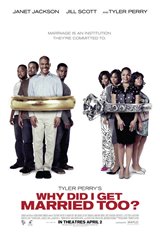 ---
Please rate between 1 to 5 stars
Showing 1 to 22 of 22
September 07, 2010
As a married person, this made marriage look very depressing. Is it possible that every marriage is on the verge of failure? I did not find this movie pleasant in any way. The humour was sparse and even the ending was depressing. Again, it depends on what mindset you are in when you rent this movie. But if you are looking for a pleasent evening around the TV, don't rent this.
May 15, 2010
this movie was vry so funny better then part one i cant wait for it on DVD
May 03, 2010
This movie was good. and touching.
April 22, 2010
great movie
April 21, 2010
This movie touched my heart. I am not married myself but this movie has addressed many issues married people have. It was realistic and I really liked the ending with the surprise guest who asks janet jackson out for coffee. He is hot!!!
April 20, 2010
I really enjoyed this movie. I think most of the people who gave it a low rating missed the point. This movie was a comedic drama. It was not all about laughs and lunacy. There were real lessons conveyed in the movie broken up by well placed splashes of humor. Making this an out and out comedy would have taken away from any meaningful message the movie sought to convey. I liked it. That said, I do I feel like Mr. Perry has plateaued and I hope to see some growth in his polts and his directing in the future.
April 20, 2010
movie had way too much talking!!! Only at the end of movie there was a bit of laugh........ WON'T RECOMMEND TO WATCH!
April 10, 2010
I love this movie so much ,i watched the first one and i cn't wait to watch the second one. Thnks
April 10, 2010
Excellent movie!!!..for all of those who just saw it for the jokes..yall are missing the point...this could potentially save somebody's marriage.As funny as it was in some parts, there was a real lesson he was trying to teach us through this movie on marriage and he(Tyler Perry) was successful in doing it.
April 06, 2010
The ending was worth my box of tissues. Janet was amazing next to Poetic Justice. Better then the 1st movie. That loud mouth wife kind of ruined some part of the movie though.
April 05, 2010
maybe some people didn't like it because the truth hurts... it was too real to what they maybe going through themselves...
April 05, 2010
huh! huh! good!!! must see even if your are not married
April 05, 2010
Incredibly Hilarious
April 05, 2010
this movie once again is crazy shows the up and downs in a marriage and Mike needs to let it ago never know what u got till its gone
April 04, 2010
This movie was AMAZING! I can't believe some people didn't like it - the whole theatre was laughing, everyone enjoyed it.
April 03, 2010
lol so what is next? Tyler Perry's why am I having kids? lmao!
April 03, 2010
the movie was off the hook its the first time i watch a part too of a movie n it was just has good has number 1 my gotn any body said its not funny was simply lieing n whsat croud did the y get cuase the crowd i watch it with seems like theyhad alot of fun!!!! tyler perry good one !!!!!!!!
April 03, 2010
Tyler Perrys WHY DID I GET MARRIED TOO WAS FUNNY AND ROMANTIC AND HEART WARMING I TROUGHT. I ALSO THROUGHT IT WAS ONE OF TYLER PERRY BEST FILM THAT HE HAS DIRECTED, WROTE, STAR AND PRODUCED AS WELL. THE MOVIE WAS VERY POWERFUL TOO. WHY DID I GET MARRIED TOO WAS ONE OF THE BEST MOVIES I HAVE SEEN. THE MOVIE IS SOMETHING WE ALL NEED TO SEE IN THE THEATRES OR ON DVD, IT WILL CHANGE OUR LIFE FOREVER. TYLER PERRY YOU DID A WONDERFUL, AWESOME AND GREAT JOB AGAIN, KEEP UP THE GOOD WORK. FROM MACK J.K.PATERSON
April 02, 2010
not funny... at all.
April 02, 2010
it was cool. i laughed, but it could've been better.
April 02, 2010
wasn't as funny as i thought it be
April 02, 2010
stupid, not as funny like the first