Vampires Suck
Thank you for rating this movie!
Read your review below. Ratings will be added after 24 hours.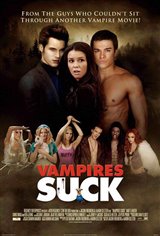 ---
Please rate between 1 to 5 stars
Showing 1 to 50 of 94
December 02, 2010
Vampires Suck well... sucks! Brutal movie, could not finish.
November 20, 2010
SUCKS, 20 min of origanility then boring some old 90's stupids jokes. Realy doesnt worth it!
October 28, 2010
Worst then the original Eclipse! re-gosh!!!
October 18, 2010
ausome movie edward your the best NO jacobs the best boom boom POW take that alice lol
October 12, 2010
A great parody, enough extra content to keep even the non-twilight viewers happy.
October 01, 2010
twilight was better
September 29, 2010
the movie sucks too... but some Twilight fans will enjoy it.
September 27, 2010
They're a bit too late with this one. Trying to cash in on the whole spoof genre of films popular the past 10 years with the Scary Movie franchise, Date Movie, and all the others.
September 23, 2010
Hilarious spoof, but otherwise not great
September 23, 2010
Vampire Suck??? This movie suck's! Don't waste ur money.
September 21, 2010
thought it could be better
September 20, 2010
Not half bad.
September 20, 2010
It was better than I expected.
September 18, 2010
WASTE OF TIME
September 15, 2010
Terrible movie. Not worth the money. I laugh alot, but in this movie I only laughed maybe 5 times. It should have been rated pg 13. It doesnt even come close to the hummor in the scary movie serise. Its the kind of movie that ypu watch with a huge group at friends that are good at makeing jokes in bad movies. No offence to anyone who likes this movie or the director, cast ect. this is just a personal opinion.
September 14, 2010
u rule
September 14, 2010
A total gas! The funniest vampire movie since TWILIGHT!
September 12, 2010
This movie sucks!
September 11, 2010
It was alright but I would not watchit again
September 09, 2010
a few funny moments, otherwise not too good of afilm.
September 09, 2010
Funny at times but found I was waiting for the next funny thing because I found the filler droll!
September 07, 2010
This movie should not have been rated PG. Lots of sexual innuendo and frequent talk by teens about "having sex", "humping"...the female lead dresses in a leather outfit with flashing arrow lights pointing to her crotch and jumps on the guy. Not for younger children or even Tweens...
September 06, 2010
I thought tha the movie was hilarious it was so much better than all of the twilight saga.
September 05, 2010
FUNNY AS CAN BE!
September 05, 2010
An alright movie. I wasn't sure what to think going into it, but some parts were pretty funny.
September 02, 2010
If you enjoy the Twilight series, you would get a laugh out of this. Was a great move it see on cheapie night, when it was blistering hot out.
September 02, 2010
meh..boring...poorly done...Jabob is yummy tho. lolol
September 02, 2010
vampires suck was a hilarlous movie and competly awesome would love to watch a 100 more times and every part would still make me laugh and its a movie to let team vampire and team vampire hunter join together to have a very good laugh
September 02, 2010
i thought it was awesome i saw it 2 times i liked it so much but it could've been better
September 02, 2010
decent movie!
September 01, 2010
AMAZING! helarious and funny
September 01, 2010
Wanted to walk out... So stupid pointless....
August 31, 2010
The commercials were hilarious but the movie sucked!!!
August 30, 2010
I thought the commercials were very misleading because they made the commercials really funny and the movie ok and in the movie they did not have some stuff from the commercials. :(
August 30, 2010
Well, the title is absolutely perfect for this movie. It's completely about vampires, and it certainly does suck. I was pretty disappointed with this movie. It could have been a lot funnier. :(
August 30, 2010
this movie was a waste of time because it sucked! don't waste your money on this crappy movie, it wasnt funny at all!!!
August 29, 2010
Could I give a negative, for the love of god people, stop going to see movies like this, cause they will keep making them.... SUCK is the appropiate word!
August 28, 2010
That is one sick show,making fun of twilight
August 28, 2010
I have seen the movie "Vampires Suck" 2 times because it's so funny. I love watching how Jacob takes off his shirt in the video and that when he transformed into a pup instead of a wolf.
August 28, 2010
It really really isn't worth your money to see it
August 28, 2010
POOR, this movie sucked. Total waste of money and time! Cant believe I didnt walk out of the theatre. DO NOT SEE! Dont even rent if you can borrow it later, tell the person who owns it they should burn it, literally, with fire and stuff. GO see Scott Pilgrim Vs. The World - totally amazing and an EPIC film, instant classic i say.
August 27, 2010
I've never rated a movie before, just enjoying the evening out. We have seen a few stupid movies before but this by far is the poorest excuse for entertainment. Don't waste your time even renting it, this movie is deplorable.
August 27, 2010
it's funny )))
August 26, 2010
It was funny as I am a huge twilight fan but most of the funny parts were shown in the previews which ruins it
August 26, 2010
This movie had some laughs but it was overall a horrible movie and a waste of time. not suitable for younger viewers. Im really surprised it was only PG.
August 26, 2010
This movie is really sucks. There's no storyline, worst film I ever see.
August 26, 2010
Bad comedic timing and very boring. At only 82 minutes long, it felt like it was a lot longer and I could not wait for it to end.
August 25, 2010
some parts were so hilarious that i almost fell on the floor laughing so hard in my seat. but some parts were like okay that wasn't funny at all. so overall i would say go see it and have a good laugh!
August 25, 2010
Hilarious spoof of the Twilight series. My son and I laughed out loud. I haven't loud out loud like that in a long time. Although, silly, I think the younger audience could relate to the movie more than the older members of the audience. But, none the less a very funny movie. The girl (Becca) really captures all of Bella's characteristics and at times I felt like I was watching Bella.
August 25, 2010
Vampires suck and so does this movie. Don't waste your money. I am a teen and I didn't find this funny at ALL!