Vicky Cristina Barcelona - User Reviews
Thank you for rating this movie!
Read your review below. Ratings will be added after 24 hours.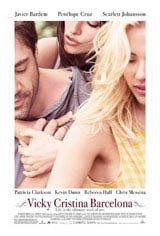 ---
Please rate movie 1 to 5 stars
Showing 1 to 23 of 23
June 11, 2009
terrible movie your just gonna waste your time watching it!
November 08, 2008
Slow moving movie, cute & interesting plot, but not much happens. Well acted and easy on the eyes.
October 12, 2008
loved this movie and awesome soundtrack
October 06, 2008
great, passionate movie.
September 28, 2008
Outstanding ensemble acting from all performers. Penelope Cruz steals the show. She was ON FIRE! Johansson and Bardem are very good, so was Rebecca Hall who channels Allen's charisma, cynicism and humor. Plus Barcelona looks Beautiful! Woddy Allen has another great one here, along with Match Point. CHECK IT OUT!
September 23, 2008
Great Movie, excellent acting. A truly moving Woody Allen Film. What a Genius so says porgie
September 07, 2008
Not a big fan of Woody Allen but thought this a great flick. Super acting all round but the prize goes to Rebecca Hall.
September 06, 2008
Great fun to watch . reminded me of the 70's traveling in europe .
September 05, 2008
different, funny, and thoroughly enjoying.
September 05, 2008
Very enjoyable human sensual drama.
September 05, 2008
A great date flick. Sharp script and great performances.
September 04, 2008
Allen's best since JADE SCORPION! Rebecca Hall is my new crush!!!
September 01, 2008
Not a Woody Allen fan normally, but this film was very well done and the actors were really great. Peneloppe Cruz does an amazing job
September 01, 2008
i saw the movie tonight and i really enjoyed it..it's one of those movie's you can sort of relate to if you're getting married. Acting of all the characters are GREAT.
August 30, 2008
You won't regret spending on this film...go see it!
August 28, 2008
Awesome Film, great acting by all. Good fun go SEE.
August 20, 2008
I thought this was a wonderful movie. I wouldn't expect anything else from Woody Allen. It is a MUST SEE!
August 19, 2008
It was as very enjoyable movie. The characters were interesting and the movie genuinely different than Woody's other films. I especially loved Penelope Cruz...she added so much fire and drama to the film!
August 17, 2008
This was a delightful movie. I was never a bit fan of Woody Allen but his latest movies (since Match Point - 2005) have really turned me around and now I look forward to his movies. In my opinion this is a must see movie! One final note...I don;t find Javier Barden very handsome, but Woody Allen has managed to make him really attractive because his character is quite mesmerizing.
August 16, 2008
loved this movie! incredibly witty and spontaneous
August 16, 2008
I love all the actors in this movie!!!Hot,Sexy & Funny!!!
August 15, 2008
Awesome film - one of Woody Allens' best!
August 15, 2008
the acting is good especially for javier to portray a sexy man Look for more of my reviews E.B.A