Walk the Line - User Reviews
Thank you for rating this movie!
Read your review below. Ratings will be added after 24 hours.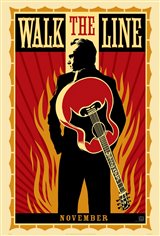 4.44 / 5
User Rating
Based on 2921 votes and 195 reviews
---
Please rate movie 1 to 5 stars
Showing 1 to 50 of 195
September 12, 2017
Reese Witherspoon, and Joaquin Phoenix were great in this movie!
May 20, 2011
Great movie - Pheonix does the man in black proud - I hiope he gets back to acting soon. This movie shows what a great talent he is.
May 28, 2007
This movie is amazing the movie often reminded me of my life and what my family went through at tme it reminded my of my father other times of my step dad but mainly of my brother in law. Reese Witherspoon became my idol because of this movie she is an amazing actress. hopefully one day i will be as successful as she has
November 05, 2006
Well what can I say. It was "Tumeke!" Too Much, especially Joaquin Phoenix`s singing. He was electrifying.
November 02, 2006
It was "Da Bomb"
October 25, 2006
it was the most wondeful movis i have ever seen. and i think joaquin phoenix was great actor plus handsome in evey way a man in black be. he did a great job. know one could have done a better job at this. and the way he sang the song sounded so real . i fell in love with johnny cah all over again.
August 16, 2006
I really loved the movie and will add to my collection.
July 27, 2006
it was a great movie. the actors and actresses did a good job!!
July 26, 2006
Excellent movie. Both Joaquin Phoenix and Reese Witherspoon did an amazing job with their roles. The chemistry that the two of them have is amazing and the movie is sure to be a hit!! 5 stars.
July 07, 2006
I truly enjoyed this movie. The actors were amazing!! I went out and bought it when it came out!Go see it!
June 28, 2006
lovely movie,the music was excellent,the actors were excellent, this movie is excellent!!!!
June 11, 2006
WATCHED IT TWICE IN 2 NIGHTS, MAIN CHARACTER PARTS WERE PULLED OFF FLAWLESSLY, REESE AND MR. PHOENIX SHOWED MANY TALENTS THAT PUSHED THEM BOTH PAST THE "CUTE" STEREO-TYPE MANY HAD PUT THEM IN.I HOPE THE OSCAR DOESN`T INFLUENCE REESE TO PLAY THE BAD GIRL ROLES AS MOST DO BECAUSE FACE IT WE ALL NEED HER IN THE LIKEABLE PERSON ROLES SHE`S ACCUSTOMED TO. MY ONLY BEEF WITH THE MOVIE IS THEY LIVED MANY YEARS BEYOND THE MOVIE`S END AND ANOTHER FIVE MINUTES OF HOLLYWOOD MAGIC COULD HAVE TOLD SO MUCH MORE OF THE JOHNNY CASH STORY IN THE LATER YEARS. I ALSO DIDN`T THINK ELVIS LOOKED OR SOUNDED BELIEVABLE. STILL 5 OUT OF 5 STARS.
May 12, 2006
Walk the line was one of the best movies I have ever saw. Joaquin Pheonix was should of won an award. He was the best.
May 08, 2006
it`s a pretty realistic description of Johnny Cash`s life however it did not show anything of his later years
April 12, 2006
Walk the Line was superb.
April 09, 2006
Joaquin Pheonix was robbed at the oscars. That`s all I have to say.
April 02, 2006
Reese Witherspoon could sing! Who knew? It was a great performance from the whole cast. Joaquin Phoenix and Reese had great chemistry when performing together.
April 01, 2006
Girls, interrupted was the first James Mangold movie i had encountered. It was good. And Mangold has worked out the theme of this movie just as beautiful and smooth and natural and it clicks!!!
March 28, 2006
Excellent movie, I felt Joaquin`s sincerity, passion of life and devotion in his role. Wonderful actor and specially talented one. Great set up and story. Thank you for this site. Joan
March 27, 2006
it was excellent and i am 13 and i loved it. it was very inspirational and yeah there isn`t another movie like it, when my mum and i went to it i thought it was going to be crap but it was sensational and yeah i would love to go and see it again if i could
March 26, 2006
Great Acting!!! Great Movie!!! I am now going to listen more to all of Johnny Cash`s songs.
March 23, 2006
Reese Witherspoon is a great singer and i think she should become one. I loved all of her songs she sang in the movie she sounds like she has been singing forever.
March 20, 2006
I loved the way Reese and Joaquin worked together. They made the movie look so real. I love Reese, she is a good actress. Thankyou, Tammy
March 19, 2006
I loved it! I never really expected a lot of things as well...so I learned a lot. Joaquin Pheonix and Reese Witherspoon were awesome!!! They sing really good as well. Reese deserved that oscar and Joaquin should`ve as well. 5/5!!!
March 17, 2006
Joaquin Phoenix was fantastic in the film!His voice and his acting were BRILLIANT! I`d just like to say CONGRATULATIONS and thanks for making us enjoy with this great film about Johnny Cash.
March 13, 2006
It made me feel like i can write my music even more better now, that I know that John cash is my hope and inspiration to my dreams,good job everyone on making this movie, there are alot of people out there feeling the same way as me, thank you for making this movie. Mary-anne F.
March 11, 2006
I was blown away by the performances of both Juaqin Phoenix and Reese Witherspoon. Who knew they could both sing like that?!!!! Great movie!
March 11, 2006
Fantastic movie with wonderful acting.....loved it
March 10, 2006
this movie was so true to the point,johnny cash was my insperational point that night i watched it,now i feel i can do better with my song writing in my future,he gave me hope and inspired my dreams as well. this movie moved me in ah spirital way,there are no words to tell the world how johnny cash can change ah persons life with his music}}}.mary!ford,...thankyou johnny cash.we will always remeber you in ower hearts.
March 10, 2006
it made me feel like i can write my music even more better now ,that i know that john cash is my hope and insperation to my dreams,good jobe everyone on making this movie,there is alot of people out there feeling the same way as me,thankyou for making this movie.mary-anne ford
March 08, 2006
I love it!!!
March 08, 2006
I truly feel that Joaquin Phoenix did an outstanding job in portraying Johnny Cash. I "LOVE" the CD and had to go and purchase the original soundtrack. I can not beleive he did not win an Oscar for Best Actor. My husband and I were not big fans of Johnny Cash, but after watching the movie we have become so. We have seen Mr. Phoenix in several movies and honestly enjoy his acting. He is becoming one of our "favorite" actors...and we are much older than he is!
March 06, 2006
We just loved the movie as we are both fans of Johnny Cash and June Carter Cash.
March 05, 2006
I loved the movie "Walk the Line"! I am a Johnny Cash fan and a Jaoquin Pheonix fan. Both Jaoqine and Reese put on a great performance. I say it should win an Oscar.
March 03, 2006
Being a big fan of Johnny Cash I thought it was an excellent movie and the stars did a great preformance in their leading rolls.
March 01, 2006
this movie is absolutly incredible!! I definatly would recommend this to anyone even if you don`t know who Jonny Cash is!! Amazing, great story, great everything!!
February 28, 2006
Walk the line is the greatest movie of all time!!!!!!!!!
February 27, 2006
WOW! that is all I can say..
February 25, 2006
OMG...... can someone say "Oscar".... I think Joaquin should win for sure!
February 23, 2006
I liked Walk the Line. Joaquin and Reese did a wonderful job of playing Johnny and June Carter Cash. I am going to buy Walk the on DVD this Tuesday Feb. 28th, 2006. Walk the Line is the best movie I have seen this year. I am glad that Reese and Joaquin won. Walk the Line is My favorite Joaquin and Reese movie.
February 22, 2006
WOW THE BEST MOVIE I HAVE EVER SEEN! AT FIRST, I ONLY WENT CUZ MY BOYFRIEND DRAGGED ME ALONG, (I HATED COUNTRY) BUT NOW SINCE I SAW IT I AM A TOTAL JOHNNY CASH FREAK! AWESOME MOVIE, WATCH IT WHOEVER`S READING THIS! WATCH IT LIKE 10 TIMES IT IS AWESOME! I HATED COUNTRY NOW I LOVE IT! SO IF YOU HATE COUNTRY, YOU`LL LOVE IT AFTER AND IF YOU LOVE COUNTRY, YOU`LL LOVE IT EVEN MORE! IT ROCKED! AAAHHH!!!
February 22, 2006
Great movie even my boyfriend liked it !
February 21, 2006
it was splended
February 19, 2006
it was the best movie i`ve ever seen and its better then any other movies........ and i loved the songs so much and the whole movie tooo
February 18, 2006
Joaquin Phoenix was amazing and he nailed the role of Johnny Cash. I fell in love with Joaquin all over again!!! Also Reese was wonderful as June. A great movie! I could see it over and over!
February 18, 2006
THE BEST ACTOR OF ALL TIME I LOVED ITTTTTT!!!!! IF WOULD BE A SHAME IF HE DOESNT WIN AN OCSAR
February 13, 2006
one of the best movies i have seen in a really long time, will definately buy it when its avail on DVD
February 12, 2006
I`m still intrigued by what I saw yesterday in the cinema. This is one of the best movies I have ever seen. Both Phoenix and Witherspoon are very attractive persons and moreover have wonderful voices.
February 11, 2006
IT WAS AWESOME!!!!!!!!!!!!!!! THE BEST MOVIE EVER!!!!!!!!!!!! I WANT TO WATCH IT OVER AND OVER!!!!!!!!!!!!!!!!!!
February 11, 2006
Excellent movie................one of the best movies of the year. The singing was amazing and the acting has top notch.....Oscar material for both actors. I would recommend anyone to go see this movie............