Water for Elephants
Thank you for rating this movie!
Read your review below. Ratings will be added after 24 hours.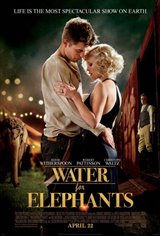 ---
Please rate movie 1 to 5 stars
Showing 1 to 50 of 93
March 21, 2012
this movie was not the best as they could have chosen actors who like eachother. reece didn't step up to her role because she didn't want to kiss robert as they do not like eachother!
March 16, 2012
excellent show.. very intense at times, one that definetly keeps you on the edge of your seat.
December 30, 2011
Very well acted albeit somewhat desturbing scenes. A very beleivable script
December 05, 2011
The book was amazing...too bad they screwed up the movie. One of the worst movies I've seen in recent years. Reese needs to retire or do another Legally Blonde movie.
November 17, 2011
A absolute waste of time!!
November 06, 2011
Loved it!
November 03, 2011
One of the worst movies I've ever seen. The book was great, but the movie was simply a mess.
September 08, 2011
horrible!!!!!!!
August 11, 2011
One of those awesome movies that only comes around once in a while...
August 05, 2011
Although I don't like Rob that much as an actor, I'm proud of this movie. It was an outstanding film in general.
August 04, 2011
It is hard to bring one of the best books ever written (in my opinion) to life, but this movie almost does. You need to see the movie, but be sure to read the book too!
August 03, 2011
Great story!
August 01, 2011
I thought the movie was okay. The actors were okay. The animals were amazing. It was hard to believe that Rob was really in love with Reese, especially the scene before they jumped off the train. He didn't say it with enough emotion, I think.
July 30, 2011
beautiful and heart wrenching
July 28, 2011
A most see movie
July 25, 2011
I really enjoyed the love story but the movie was ruined for me because of the violence especially to the poor elephant. I would never watch it again because of this.
July 25, 2011
It reminded me of the circus that passes through when I was a kid.
July 24, 2011
It is rare that I find a movie to be as satisfying as the novel. This is an outstanding movie with outstanding acting.
July 21, 2011
BRILLIANT MOVIE!! We enjoyed it very much!!
July 20, 2011
Bad, boring....almost made me sick how bad this movie was.
July 16, 2011
Captivating ...will certainly become a classic
July 15, 2011
Beautiful movie based on an amazing story. Would recommend.
July 14, 2011
I was so excited to see this movie, only to be slightly disappointed in the lack of chemistry between Reese and Edward. Would have been better maybe with Jack and Rose from Titantic in this movie.
July 13, 2011
General cookie cutter roamnce movie...wth elephants. I have nothing exceptionally good or bad to say about this particular movie. As good as the book? No, but what movie is? I found the scenes of animal abuse troubling, but they were supposed to be. I think my girlfriend said it best. "If you want proof that Edward from Twilight actually can act, you should see this movie"
July 12, 2011
The movie stayed true to the book but unfortunately that meant it didn't make for a great movie. No chemistry between Pattison and Witherspoon. Movie dragged.
July 12, 2011
Beautiful Movie!!!
July 11, 2011
Beautiful movie
July 11, 2011
So cute! I thought the pairing of reese and robert would be weird/awkward but it worked perfectly!
July 11, 2011
Although Reese Witherspoon and Robert Pattinson lack chemistry on screen, the movie was filmed well and told a captivating story. The aspect of abuse, towards humans and animals was a far greater part of the film than the romantic relations between Pattinson and Witherspoon.
July 10, 2011
WOW is the best word to describe this amazing cast, the acting and story line. Finally a great movie to watch!
July 09, 2011
love the story outline and the acting was great
July 09, 2011
this was really good. It illustrates the abuse of animals in the entertainment industry.
July 03, 2011
I and my guest thoroughly enjoyed the show. All three main characters were believable.
July 01, 2011
I LOVE THIS MOVIE! What a story! It offers every kind of issue a human could experience. A love affair in hard times yet gentle kindness squeezes to the forefront. GREAT acting & perfect stars for each role.
June 30, 2011
This movie was fantastic and surprising! Wow! Anyone who does not like this movie does not know anything about life. Life can be cruel and vicious at times, it is not all roses.
June 29, 2011
Engaging movie. Acting wasn't as bad as some critiqued.
June 28, 2011
If you loved the movie ... read the book! For once a film adaptation of a really great book has done the author justice. This film would be an awsome way to spice up a book club with a screening of the film.
June 27, 2011
Loved it, best movie-story I seen in a long time!1
June 21, 2011
Best movie in a long time. If u liked the notebook you will like this
June 21, 2011
Not very good. Teh performances were decent on their own, but they didn't mesh together. Story seemed a bit rushed.
June 10, 2011
Awsome movie me and my friend love it!!!!!!!
June 03, 2011
awful film!!!
May 26, 2011
these reviews are the main reason I don't listen to professional critics or especially wannbe critics, go see the movie if you are interested then keep your opinion to yourself.
May 24, 2011
Horrible movie....such a poorly crafted film, which is such a surprise considering the book was soo good.
May 24, 2011
I have to laugh at all of you critics who think Reese ruined the movie. She's an Oscar winner and who are you? You'll be eating your words when she get a nod for this role which she played well.
May 23, 2011
Amazing movie with lots of action
May 23, 2011
Amazing movie!!! Way better than I expected. I don't understand all the bad reviews. In a timewhere every other movie is a sequel or an actionhero movie, it was nice to see an original one. It was funny and sad and also scary at times. Great acting. Please go see this, you will be suprised.
May 20, 2011
garbage.....what a waste of time.
May 18, 2011
Boring and dull
May 17, 2011
I guess the last writer feels that if you didn't like reese' performace you must not know anything about acting.....i'm fine with that - she sucked in this movie