Zack and Miri Make a Porno - User Reviews
Thank you for rating this movie!
Read your review below. Ratings will be added after 24 hours.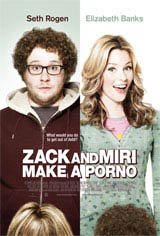 ---
Please rate movie 1 to 5 stars
Showing 1 to 50 of 56
March 20, 2009
HILARIOUS! Seth Rogen never ceases to amaze me. Elizabeth was also great in her role and definatly had some funny moments (great comedic timing). But the person who amazed me most was Justin Long, Sooooo unbelievably funny, i had to rewind and watch again. Be sure to watch Seth Rogan and Justin Longs Improve extras on the dvd's special features, HILARIOUS!
February 21, 2009
Funniest movie of the year.
February 05, 2009
Miri can do porn but Zack needs to find something that suits him better.
February 03, 2009
zack and miri made a piece of crap!
January 20, 2009
This movie is awesome so freakin hilarious!!
December 05, 2008
Kevin Smith's best film to date. It's got his perfect blend of raunchy laughs with quirky romance. Not a flick for prudes... I couldn't stop laughing if I tried!
November 29, 2008
hilarious but it turned sappy at the end
November 28, 2008
Very funny!
November 27, 2008
I laughed so hard it hurt. Well worth your money. Great couples movie. (as long as it's not your first date)
November 22, 2008
hilarious, cute, adorable movie!! I had a dream that I made a porno the same night haha!
November 22, 2008
HILARIOUS!!!!!! As long as you're up for a little dirty humour
November 21, 2008
It was sooo funny. I came into the movie knowing the humor I was going to see....but honestly, it was really what I needed and I just laughed and laughed through the whole thing. Definitely see it if you need a good laugh.
November 19, 2008
This movie was soooo funny!!!
November 18, 2008
this was an amazing movie you think its going to be a great immature comedy like pineapple express or superbad but its got those elements as well as a weird love story that is actually awesome. i thought this was an amazing movie and id reccomend everyone to watch it.
November 18, 2008
One of the best comedies of the year, and one of only two comedies this year that actually made me laugh out loud (the other being Step Brothers). Great story, great laughs and great performances (snicker-snicker). Even if you aren't a Kevin Smith diehard, you'll dig this movie.
November 16, 2008
unreal soooo goood
November 12, 2008
I laughed so hard, that I chocked a couple of times! Very funny stuff! lol
November 11, 2008
Not a bad way to spend a couple hours but the move "the Amateurs" with Jeff Bridges about a small town that makes a porno is much better.
November 09, 2008
Loved it. Boobs, Ass, and sex what else could I ask for.
November 08, 2008
Very funny. Not for young children. Guys and girls will like it. Had a cute story, and tons of laughs!
November 08, 2008
Funny movie. It's got great funny moments....I found the ending a bit cheesy but the movie was still a great laugh.
November 07, 2008
It was a good movie, lots of laughs. Who would bring their kid to this?? Then again, when I went to watch Knocked Up, someone brought their 6 year old kid and was covering their face with the popcorn box during any sex scene and the kid was screaming "I can still hear!!".... Yeah.. leave the kids at home.
November 07, 2008
wow this was dirty!!! 5 stars
November 07, 2008
Oh my god this movie was so funny, my stomach hurt from laughing so much. You know Jay and Silent Bob, you get to see Jay's weiner in this movie. hahahhhaa hilarious
November 05, 2008
to all who say "but there was no story", first off its a comedy who needs a story.. take what you can and laugh. And second all who were offended about the sex scenes are A) not gettin any or b) are having sex with fat people. And third society isnt collapsing after all we stopped throwing Christians to the lions but in some cases maybe we should start again.
November 05, 2008
LOVE IT ! KEVIN SMITHS A GENIUS !!!
November 05, 2008
Funiest Movie since Knocked Up! See it for sure you will laugh the whole movie, NOT FOR KIDS, Parents do not bring your kids to this movie
November 05, 2008
Excellent movie. Very funny. Kevin Smith is back
November 04, 2008
Excellent! See this movie.
November 04, 2008
The Best Movie Ever.
November 03, 2008
One of the best movies Ive ever seen
November 03, 2008
A movie that both sexes will have a great time at.
November 02, 2008
the funniest movie since pineapple express seth rogans a comic genious
November 02, 2008
Hilarious!!! Would definately go and watch it again!
November 02, 2008
So funny - seeing it twice.
November 02, 2008
Person below obviously has not seen this movie... Very funny movie with a lesson to be learned...
November 02, 2008
Mr zero youre taking this film to seriously. this is a kevin smith film im going to use dogma as an example kevin is a big christian but he made a movie all about making fun of that religion. people protested it but if you watch that movie there is a poop monster in it i dont get how people can protest a film of so ludacris. and it sounds like youre complaining about the fact they make a porno if the title is zach and miri make a porno what can you expect so why even go see it.
November 02, 2008
Wicked movie, Really funny, its Seth Rogan's best movie. There's more comedy than super bad
November 01, 2008
freakin hilarious......HATE THE ENDING there was no ending to the porno. But rated 14A......I don't think so. I would not let my 14 year old go see that.. Didn't realize 14A has full on nudity and sex scenes. I haven't laughed so hard in a long time though.
November 01, 2008
funniest kevin smith movie! hilariously put together, with a believable love plot as well. best comedy ive seen since superbad
November 01, 2008
so good i love it he is the best
November 01, 2008
Bland and disappointing. I had high hopes for this movie, being a Seth Rogen fan, but I was really disappointed with the lack of humor in this movie. It had so much more potential but the script was lacking and just not polished enough.
November 01, 2008
Great movie, absolutely hilarious! Best comedy I've seen in years, I laughed consistently from start to finish!
November 01, 2008
Abso-bloody-lutely brilliant
November 01, 2008
Not Kevin Smith's best by far. It was alright, but rent it.
November 01, 2008
Really really funny...Kevin Smith's best film in years.
October 31, 2008
Really funny. You'll love this movie!
October 31, 2008
Pretty funny flick, I enjoyed it a lot. As for some who decide to go on giant rants about the premise of this film try to remember that this is film by the king of "dirty" humour, Kevin Smith. This is a comedy anyway, its goal is to make you laugh and for me it worked. So if you feel like laughing I recommend the film, if you feel like contemplating the collapse of society start a blog.