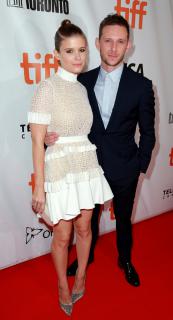 Jamie Bell and his new wife, actress Kate Mara,  attended the premiere of his new movie, Film Stars Don't Die in Liverpool on Tuesday evening at Roy Thomson Hall at the Toronto International Film Festival.
Kate is also in town to promote her new film, Chappaquiddick, which had its premiere earlier in the week, and My Days of Mercy, which gets the red carpet treatment Friday night.
Jamie's co-star, Annette Bening, showed up with her husband of 25 years, Oscar-winning actor Warren Beatty, who charmed the many fans who had been waiting in line for hours to see Hollywood royalty.
Jamie and Kate also were up close and personal with the fans, signing autographs and taking selfies with them.
In Film Stars Don't Die in Liverpool, Annette plays American film star Gloria Grahame, who meets a young actor named Peter Turner (Jamie Bell) when she moves to the North of England to work in dinner theater.
Despite the difference in their ages, a romance develops between the two, but when Gloria contracts cancer, decisions on her health have to be made quickly. The movie is based on a memoir by Peter Turner, about his time spent with the Oscar-winning actress while she was in Liverpool. ~Alexandra Heilbron
All photos by Rich Fury/Getty Images
Tags:
Annette Bening, Film Stars Don't Die in Liverpool, Jamie Bell, Kate Mara, Roy Thomson Hall, TIFF 2017, Warren Beatty