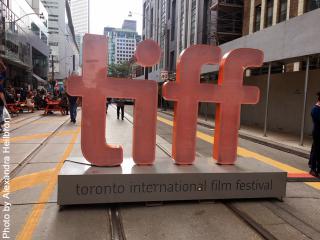 After a sizzling second day of TIFF yesterday at the Toronto International Film Festival, it's already Day 3, which looks to be one of the busiest days of the Festival!
You could start off your day with a Festival Village Tour, which has stops at Roy Thomson Hall, the Visa Screening Room at the Princess of Wales Theatre and the Industry Centre at the Hyatt Regency Hotel. Be ready to start outside the front doors of TIFF Bell Lightbox at 12:00 p.m. Admission is free and the tour lasts 45 minutes. If you miss the first tour of the day, there's another one at 2:00 p.m. (starts at same location).
Available for Premium TIFF members is the talk In Conversation With...Michael B. Jordan and Jamie Foxx, moderated by Cameron Bailey. They'll discuss their creative process, their desire to tell inclusive stories, and Just Mercy, their highly anticipated new film premiering at the Festival.
Gael García Bernal is giving a free talk at TIFF Bell Lightbox (6th floor) at 1 p.m., titled Gael García Bernal: The Craftsman, In Front of and Behind the Camera. The award-winning actor will talk about moving back into the director's chair for his second feature film, Chicuarotes, which celebrates its North American premiere at the Festival this year. He will talk about his process as an actor and a director.
The first Gala Presentation screening of the night at Roy Thomson Hall is the Mr. Rogers biopic starring Tom Hanks: A Beautiful Day in the Neighborhood. The film begins at 6:30 p.m., with celebrities such as Hanks, Matthew Rhys, Chris Cooper, Enrico Colantoni and director Marielle Heller hitting the red carpet starting at 5:15 p.m.
The second Gala Presentation screening at Roy Thomson Hall, Hustlers, begins at 9:30 p.m. It stars Jennifer Lopez, who is scheduled to appear on the red carpet along with Constance Wu, Julia Stiles, Keke Palmer, Lili Reinhart and director Lorene Scafaria, beginning at 8:15 p.m.
Also be sure to check out the booths along King Street, which is closed off to traffic all weekend from University Avenue to Peter Street. Free samples begin at 10:00 a.m. each day, including tubes of lipstick, cans of "Bubly" sparkling water, Kind granola bars and more. You can also relax in a replica of an Air France Lounge and enter their contest to win two business class seats to Paris, or take part in the Barilla Master Classes in cooking, both Saturday and Sunday beginning at noon and taking place every two hours, with the last class at 8:00 p.m. ~Photo and article by Alexandra Heilbron
Tags:
A Beautiful Day in the Neighborhood, constance wu, Enrico Colantoni, Gael Garcia Bernal, Jamie Foxx, jennifer lopez, julia stiles, keke palmer, lili reinhart, matthew rhys, Michael B. Jordan, TIFF 2019, Tom Hanks