THE EQUALIZER 3 Blu-ray & Prize Pack Contest
Closing Date: Wednesday December 06, 2023, 09: 00 AM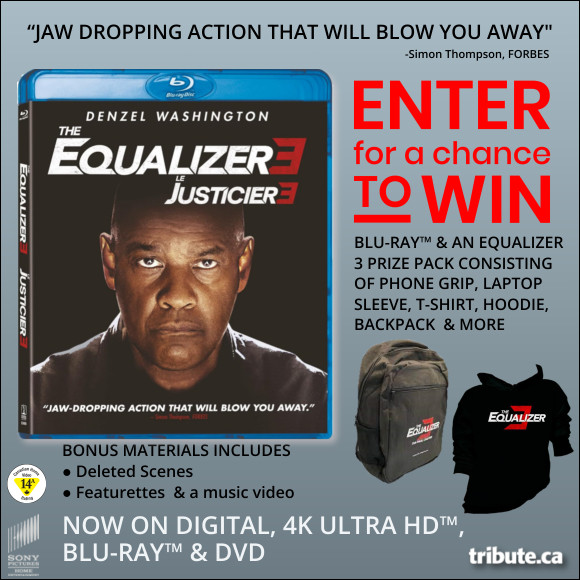 Enter for your chance to win "THE EQUALIZER 3" on Blu-ray & an Equalizer 3 Prize Pack
Secondary Prizing is "THE EQUALIZER 3" on Blu-ray.
Contest Regulation and Rules
Tribute Network
Enter to Win
THE EQUALIZER 3 Online Contest
Contest rules & regulations
1. Eligibility
NO PURCHASE NECESSARY.
This Contest is open to legal residents of Canada, including the residents of Quebec. VOID WHERE PROHIBITED BY LAW. Employees of Tribute Publishing, Inc. ("Tribute"), their respective parents, affiliates, subsidiaries, advertising and promotional agencies and the immediate family members and those with whom they are domiciled each are not eligible.
2. How to Enter
Access to the "THE EQUALIZER 3" contest is obtained by visiting the Tribute Network (site) and clicking on the contest banner.
You will be asked to provide your: first and last name, street address, city, province, postal code, postal code, phone number, e-mail address, age, and gender. Note that while not all fields are required to enter (required fields are marked by an asterisk), we will require your full mailing address for prizing should your name be selected as a winner. Complete the entry form, correctly answer the skill-testing question and press "submit." By entering the contest, the contestant consents to the release of his/her name. The contestant declares to have complied with the Contest Rules. Further, the winner must conform to all directions given by the Contest/Event organizers or his/her participation in the Contest/Event will be denied.
In the event of a dispute regarding who submitted an on-line entry, entries will be deemed made by the authorized account holder of the e-mail address submitted at the time of entry. "Authorized account holder" is defined as the natural person who is assigned to an e-mail address by an Internet access provider, on-line service provider or other organization (e.g., business, educational institution, etc.) that is responsible for assigning e-mail addresses for the domain associated with the submitted e-mail address.
All entries become the property of Tribute and the Contest Sponsor and will not be returned to entrants. If the potential winning entry is an Internet or other computer entry, the potential winner may be requested to provide Tribute with proof that the potential winner is the authorized account holder of the e-mail address associated with the winning entry. Incomplete or illegible entries are void.
Entrants may enter the Contest an unlimited number of times.
At the conclusion of the contest, the contest entry ("Authorized account holder") (As described above) agrees to receive one e-mail from the contest provider (Tribute.ca) informing the user the contest has concluded and with information pertaining to the film.
3. Contest Period
Contest period starts on November 14, 2023 & ends Wednesday, December 6, 2023, at 09:00 a.m. (Eastern Standard Time). All entries must be received by Wednesday, December 6, 2023, at 09:00 a.m. (Eastern Standard Time) to be included in the prize draw. Tribute and Contest Sponsor are not responsible for late, lost, misdirected or incomplete entries. All entries should be for this draw and will not be kept for future draws.
4. Prizing
One (1) of Two (2) "THE EQUALIZER 3" on Blu-ray & a Prize Pack Value $146.99
THE EQUALIZER 3 Blu-ray™ & Prize Pack consisting of consisting of Phone Grip, Laptop Sleeve, T-Shirt, Hoodie, Keychain, Backpack
or
One (1) of Eight (8) "THE EQUALIZER 3" on Blu-ray Value $26.99
The Prize is neither refundable nor transferable and cannot be extended. Documents once issued in the name of the winner are not transferable or refundable. Note that all applicable taxes and issuance fees are the sole responsibility of the winner.
Prize must be accepted as awarded and no cash equivalent is available. NO SUBSTITUTION OF PRIZES IS PERMITTED EXCEPT BY CONTEST SPONSOR IN ITS SOLE DISCRETION. CONTEST SPONSOR RESERVES THE RIGHT TO SUBSTITUTE ANY PRIZES WITH ANOTHER PRIZE OF EQUAL OR GREATER VALUE. PRIZES ARE NON-TRANSFERABLE AND ARE NOT REDEEMABLE FOR CASH OR CREDIT, IN WHOLE OR IN PART SUBJECT TO THE APPROVAL OF THE RÉGIE DES ALCOOLS, DES COURSES ET DES JEUX.
5. Winner Selection and Qualification
On Wednesday, December 6, 2023, at 10:00am (Eastern Standard Time) in Toronto, Ontario a random draw will be executed by Tribute for the Prizes from all eligible entries received on or before the contest closing date. The odds of winning a prize will depend upon the total number of eligible entries received on or before the applicable contest closing date. A selected entrant who has not successfully filled all the mandatory fields will be deemed to have forfeited the Prizes and Tribute shall be entitled to select a new name from the qualified entrants. Failure to respond or claim prize within 14 days after notification or return of e-mail notification as undeliverable after 3 attempts will result in forfeit of prize and the Contest Sponsor shall discard the selected entry and be entitled to randomly select an alternate winner. Prize will be mailed to winners at the address submitted by the winner upon entering the contest. If the mailed prize is returned as undeliverable, the winner will be deemed to have forfeited the prize. Prize winners will be contacted by telephone or email and may be required to complete and return a Release form to redeem their prize. By entering this contest, the entrants automatically agree to accept and abide by these contest rules and regulations.
6. General Terms and Conditions
Contest entrants agree to abide by the terms of these Official Rules and by the decisions of the judging organization, which are final on all matters pertaining to the Contest. This Contest is governed by the laws of Canada. All federal and local laws and regulations apply. All taxes, fees, and surcharges on prizes are the sole responsibility of the prize winner. Return of any prize/prize notification as undeliverable may result in disqualification and selection of an alternate winner. By entering, participants release and hold harmless the Contest Sponsor, Tribute, and their respective parents, subsidiaries, affiliates, directors, officers, employees, recording artists and agents (collectively, "Contest Entities") from any and all liability for any injuries, loss or damage of any kind arising from or in connection with the Contest, or the use or acceptance of any prize won.
Restrictions, conditions, and limitations apply.
BY ENTERING THIS CONTEST, YOU AGREE TO BE BOUND BY THESE OFFICIAL RULES. The Official Rules will be posted at the Contest Site throughout the Contest. Entrants further agree to be bound by the decisions of the judges, which shall be final and binding in all respects.
Tribute reserves the right at its sole discretion to disqualify any individual that it finds to be tampering with the entry process or the operation of the Contest or Contest Site; to be acting in violation of the Official Rules; or to be acting in an unsportsmanlike or disruptive manner, or with intent to annoy, abuse, threaten or harass any other person.
UNLESS OTHERWISE SPECIFIED, USERS CAN ENTER AN UNLIMITED NUMBER OF MANUAL ENTRIES. ABUSERS OF THE ENTRY POLICY WILL BE DISQUALIFIED OR RESTRICTED AT CONTEST SPONSOR'S DISCRETION. USER MUST ENTER BY MANUALLY CLICKING THE "SUBMIT" BUTTON. USING SCRIPT AND/OR PROGRAMS (E.G. ROBOTS OR SPIDERS) TO AUTOMATE ENTRIES CONSTITUTES ABUSE. CONTEST SPONSOR RESERVES THE RIGHT TO JUDGE ALL CONTEST ENTRIES BASED ON ITS INTERPRETATION OF THE RULES.
CAUTION: ANY ATTEMPT BY A CONTESTANT OR ANY OTHER INDIVIDUAL TO DELIBERATELY DAMAGE ANY WEBSITE OR UNDERMINE THE LEGITIMATE OPERATION OF THE GAME IS A VIOLATION OF CRIMINAL AND CIVIL LAWS AND SHOULD SUCH AN ATTEMPT BE MADE, TRIBUTE AND CONTEST SPONSOR RESERVE THE RIGHT TO SEEK DAMAGES FROM ANY SUCH CONTESTANT TO THE FULLEST EXTENT PERMITTED BY LAW.
7. Limitations of Liability
Contest Entities are not responsible for any incorrect or inaccurate information, whether caused by website users or by any of the equipment or programming associated with or utilized in the Contest, or by any technical or human error which may occur in the processing of submissions in the Contest. Contest Entities assume no responsibility for any error, omission, interruption, deletion, defect, delay in operation or transmission, communications line failure, theft or destruction or authorized access to, or alteration of, entries. Contest Entities are not responsible for any problems or technical malfunction of any telephone network or lines, computer on-line systems, servers or providers, computer equipment, software, failure of e-mail or players on account of technical problems or traffic congestion on the Internet or at any website or combination thereof, including injury or damage to participants or to any other person's computer related to or resulting from participating or downloading materials in this Contest.
If, for any reason, the Contest is not capable of running as planned, including infection by computer virus, bugs, tampering, unauthorised intervention, fraud, technical failures, or any other causes beyond the control of Contest Entities which corrupt or affect the administration, security, fairness, integrity or proper conduct of this contest, Contest Sponsor reserves the right at its sole discretion to cancel, terminate, modify or suspend the contest subject to the approval of the Régie des alcools, des courses et des jeux. Except as expressly warranted herein, the Prizes are provided to winners "as is" without further warranty of any kind. Except as expressly warranted herein, the Prizes are provided to winners "as is" without further warranty of any kind.
IN NO EVENT SHALL CONTEST ENTITIES BE RESPONSIBLE HEREUNDER FOR ANY INCIDENTAL, CONSEQUENTIAL, SPECIAL, OR INDIRECT DAMAGES EVEN IF CONTEST ENTITIES HAVE BEEN ADVISED OF THE POSSIBILITY OF SUCH DAMAGES.
FOR QUEBEC RESIDENTS, ANY LITIGATION RESPECTING THE CONDUCT OR ORGANIZATION OF A PUBLICITY CONTEST MAY BE SUBMITTED TO THE RÉGIE DES ALCOOLS, DES COURSES ET DES JEUX FOR A RULING. ANY LITIGATION RESPECTING THE AWARDING OF A PRIZE MAY BE SUBMITTED TO THE RÉGIE ONLY FOR THE PURPOSES OF HELPING THE PARTIES REACH SETTLEMENT.