A Knight's Tale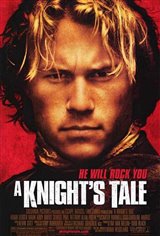 | 8202 votes and 21 Reviews
Write a Review
Release Date:
2h 12m | Action, Adventure, Drama
---
When his master meets an untimely demise, William, a young squire (Ledger) in 14th century France hits the road with cohorts Roland (Addy) and Wat (Tudyk). Along the way, they come across an unknown writer by the name of Chaucer (Bettany), who agrees to forge documents that will pass William off as a knight so he can work his way up the jousting circuit.
In doign so, he earns nobility that should be impossible for someone not nobly born.
---