A Knight's Tale - User Reviews
Thank you for rating this movie!
Read your review below. Ratings will be added after 24 hours.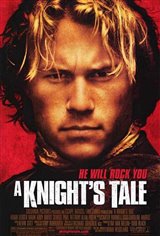 4.09 / 5
User Rating
Based on 8202 votes and 21 reviews
---
Please rate movie 1 to 5 stars
Showing 1 to 21 of 21
December 03, 2008
An excellent historical action film
January 09, 2006
Terrific funny movie. Heath Ledger is gorgeous - his voice is beautiful to listen to.
August 11, 2005
BEST MOVE ON EARTH LOVED IT MUST SEE BEST ROMANTIC COMEDY EVER LOVED THE MUSIC AM COREOGRAPHING DANCE TO IT
June 29, 2005
Truly one of the best romantic/adventure films rated PG-13!! Heath Ledger is beautiful and plays the part with heart and soul. The movie itself is a wonderful story of surviving and winning against all odds. The story teaches us to be kind to all, to take into consideration others circumstances; in the end, goodness prevails. Which is what life should be all about!
March 11, 2005
LOVED it. I heard bad reviews about the music, but I thought it was an excellent movie. I`ve seen it many, MANY times.
February 17, 2005
AWESOME MOVIE ONE OF THE BEST INSPIRATIONAL MOVIES OUT THERE HEATH IS ONE OF THE HOTTEST MEN ALIVE NEXT TO JUDE LAW 5 STARS BABY IF U HAVN`T WATCHED IT YET UR MISSING OUT ON A VERY GOOD MOVIE AND ONE OF THE HOTTEST ACTORS OUT THERE
October 28, 2004
Best movie of the century. Heath Leager is the hottest thing next to Orlando Bloom and Johnny Depp
September 11, 2004
Awesome
September 05, 2004
One of the most boring and cheesy movies I`ve ever seen.
June 29, 2004
it was a great movie. i watched it alot. i would still watch it but our vcr broke and my mom wont let me get it on dvd
April 18, 2004
A Knight`s Tale RATING: 2/5 BOTTOM LINE: Go back to your century!
April 18, 2002
I can`t believe the rating that this movie has recieved here. This movie was mildly entertaining at best. Sorry but the combination of "We will rock you" and jousting turned me off this movie from the beginning.
April 09, 2002
i thought it was great!!!!
March 19, 2002
i loved this movie!!!! heath is sooooo hot and wat, and chauncer are hilarious!!!!! a must see!
March 17, 2002
Heath is sooo Hot and Sexy!!!
March 07, 2002
A Knight`s Tale is the best movie of 2001. Action, funny and a great (though unsusa for a medival movie) soundtrack. Shannyn was absoultaly brilliant. I loved every scene she was in. Out of five, I give it a six. See Ya
February 22, 2002
Heath Ledger is so hot!! This movie was pretty damn good!
January 29, 2002
PAUL BETTANY Date of Birth: May 27, 1971 Trained in his native England at the Drama Centre in London, he started his professional acting career onstage in plays like An Inspector Calls, One More Wasted Year and Love and Understanding. He started working in British television in 1997 with the telefilm, Sharpe`s Waterloo. That same year he made his feature film bow in the film Bent playing Captain. Other film and television stints would follow, but it wasn`t until the feature, Gangsters No. 1, that people started to take notice. For his role, he received nominations from the British Independent Film Awards and the London Film Crit
October 22, 2001
The Best Picture Of the Year. This Years Gladiator With A little Rock ***** 5 Stars. Two Thumbs Up
October 20, 2001
HEATH IS SOOOOO HOTT!!!!!!!!!!!!! the movie was really great and Heath bein in it was even greater!!!!!!
October 19, 2001
Because I never seen the show and probably never will. I have seen the trailer on the site www.tribute.ca . I have enjoyed the movie trailer very much. I voted it the highest rating because I know a good movie when I see one,and if I seen movies at the theaters I could rate them much better for you.