All About Steve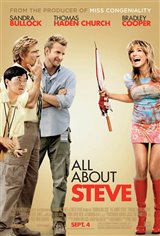 | 274 votes and 72 Reviews
Write a Review
| | |
| --- | --- |
| In theatres: | |
| On DVD: | December 22, 2009 |
| Running time: | 1h 38m |
---
Mary Horowitz (Sandra Bullock) is a cruciverbalist—a crossword puzzle constructor. Her brain spins at warp speed with an endless stream of arcane information. She can come up with the perfect word—and dozens with the same meaning—at a moment's notice, but "normal" behavior eludes her.
Take, for example, the fact that she lives with eccentric parents. Or her inability to engage in social intercourse without dropping a litany of twenty-dollar words and unleashing a tsunami of trivia. Then, there's the matter of her omnipresent fire-engine-red go-go boots.
For Mary, nothing is typical, especially relationships. When she is set up on a blind date with handsome cable-news cameraman Steve (Bradley Cooper), Mary thinks the chemistry is undeniable—that Steve is "the one." Steve, on the other hand, thinks Mary is crazy. Mary, who just knows she's found her soulmate, decides to do anything and go anywhere to be with him. She begins to pursue Steve relentlessly as he crisscrosses the country, covering breaking news stories.
Mary's escalating infatuation with Steve is encouraged by the self-serving actions of news reporter Hartman Hughes (Thomas Haden Church), who enjoys torturing his insolent cameraman at every opportunity. With Mary never far behind and Hartman urging her on, Steve becomes increasingly unhinged.
But when Mary becomes embroiled in the news story of the year, Steve and Hartman begin to see her differently. Hartman is plagued by guilt, knowing his game of one-upmanship with Steve has placed her squarely in harms way, while Steve is feeling his own pangs of remorse at his callous behavior. Despite the media storm surrounding her, Mary with her upbeat, unaffected manner brings together a small community of new friends. And all who encounter Mary will realize that sometimes the ones who don't fit in are the ones who really stand out.
| | |
| --- | --- |
| Director: | Phil Traill |
| Studio: | 20th Century Fox |
| Producer(s): | Sandra Bullock, Mary McLaglen |
| Cast: | Sandra Bullock, Thomas Haden Church, Bradley Cooper, Ken Jeong, DJ Qualls, Howard Hesseman, Keith David, Beth Grant, Katy Mixon, MC Gainey, Holmes Osborne |
| Writer(s): | Kim Barker |
| Official Site: | www.allaboutstevemovie.com |
---