Cell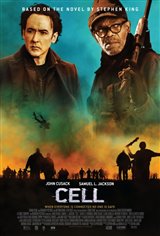 | 8 votes and 3 Reviews
Write a Review
Release Date:
June 24, 2016 - Montréal,Toronto
DVD/Blu-ray: September 27, 2016
1h 38m | Fantasy, Horror, Science-Fiction
---
Clay Riddell (John Cusack) lands in an airport and is talking to his son on his cell phone to let him know he'll be home soon. When the call suddenly drops, he looks around and realizes something isn't right. Every cell phone user in the airport is behaving strangely, as if they're suddenly in pain. Planes crash into each other outside the window, causing a huge explosion. Another plane catches fire and heads straight for the airport and everyone runs for their lives.
Clay heads for the subway, where a woman is wondering if the trouble is being caused by terrorists. He advises her not to use her cell phone. It turns out that a virus contracted from cellular devices has infected a large portion of the world's population and they are no longer humans, but bloodthirsty zombies, out to kill all those around them. Clay wants to get to his son to make sure he's safe, but first, he has to help the other uninfected citizens eradicate the zombies.
---