Colossal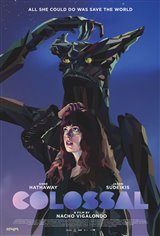 | 30 votes and 9 Reviews
Write a Review
Release Date:
April 21, 2017 - Calgary,Edmonton,Halifax,Montréal,Toronto,Vancouver,Victoria,Winnipeg
DVD/Blu-ray: August 1, 2017
Digital: August 1, 2017
1h 50m | Action/Adventure, Comedy, Sci-Fi/Fantasy
---
After losing her job and boyfriend in New York, Gloria (Anne Hathaway) finds herself broke, jobless and recently single. She moves back to her home town to find a huge monster attacking Earth.
Strangely, she finds the monster has the same nervous tick Gloria has, of scratching her head. She starts to realize her emotional state has a connection to the beast, and finds she can control its actions. Gloria has to find a way to end the monster's destruction and save Earth.
---