Run This Town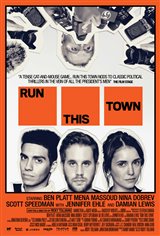 | 6 votes and 3 Reviews
Write a Review
In theatres:

March 6, 2020
March 13, 2020
March 13, 2020
March 20, 2020

Digital/VOD:
April 21, 2020
TV Premiere Date:
August 7, 2020 - Crave
Running time:
1h 39m
Genre:
Drama
---
When Bram (Ben Platt), an aspiring young Toronto newspaper reporter lands an entry level job at a newspaper called The Record, he's disappointed when he's assigned to desk work. Although he hopes to make a name for himself as an investigative reporter, he instead has to write lists, such as where to buy the best burgers in town. The good news is that when layoffs happen, he's so low paid that he's kept on. When he answers the phone of a reporter who's been laid off, he discovers that someone has a video of Toronto Mayor Rob Ford (Damian Lewis) smoking crack.
The person on the other end of the phone wants to sell the video, so Bram goes to his editors (Scott Speedman, Jennifer Ehle) who, after getting over their skepticism, give Bram the amount requested. Meanwhile, Bram also tries to pry information from Ford's aides, Ashley (Nina Dobrev) and Kamal (Mena Massoud), who are trying to cover Ford's tracks and spin the story.
Canadian Connection : Filmed in Toronto. Several cast members are Canadian.
---