Sharp Objects (HBO)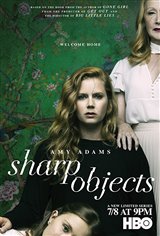 2 votes and 0 Reviews
| | |
| --- | --- |
| On Digital: | August 27, 2018 |
| DVD/Blu-ray: | November 27, 2018 |
| TV Premiere Date: | July 8, 2018 |
| Running time: | 1h 0m |
---
Camille (Amy Adams) is a reporter who is assigned a case of two missing preteens, one of whom was found dead. When Camille realizes these events occurred in her hometown of Wind Gap, Missouri, she is less than thrilled to be assigned the case, but her editor insists it'll be good for the paper, and for her.
As soon as she arrives in Wind Gap, the first stop Camille makes is to the police station to learn more about the crimes and the suspects. Eventually, she visits her mother Adora's (Patricia Clarkson) house. Adora lives with Alan (Henry Czerny) and their daughter, Camille's half-sister Amma, who is approximately the same age as the victims.
Camille starts to question people around town, hoping to get enough material to quickly write a story so she can leave. Unfortunately, not many are interested in sharing any details with her. When the body of Natalie Keene, the second missing girl, is found, everyone is devastated. Kansas City Detective Willis (Chris Messina), who was also sent to Wind Gap to investigate the crimes, is just as unwelcome as Camille. They tentatively exchange information in the hopes of solving the case.
---