Solomon Kane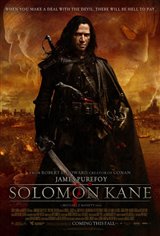 | 60 votes and 28 Reviews
Write a Review
Release Date:
DVD: August 20, 2013
1h 44m | Action, Adventure, Fantasy
---
Armed with a rapier and flintlock pistols, Solomon Kane dresses in black, his pale face and cold eyes shadowed by a hat. He is a true rogue, blasting and slashing forward on a mission of pillage and plunder in war-torn North Africa in the late 1500s. When the devil lays claim to his hopelessly corrupt soul, Kane escapes only to face the sobering truth: in order to seek redemption, he must renounce his wicked ways and devote himself wholly to a pious life. His newfound piety is put to the test when he is forced to return to his murderous ways to save England from the grasp of evil.
---