Solomon Kane - User Reviews
Thank you for rating this movie!
Read your review below. Ratings will be added after 24 hours.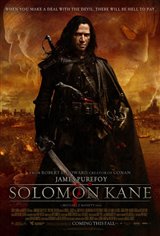 ---
Please rate movie 1 to 5 stars
Showing 1 to 28 of 28
February 25, 2018
Excellent action packed movie with compelling story of redemption. James Purefoy is brilliant as Solomon Kane.... I can't think of an actor who could do the role better. James is Solomon. The fight scenes are breathtaking and the special effects very well done. The viewer grows to love Solomon and root for him in his quest to vanquish evil. I just saw this on NetFlix and was astonished that the film was shot in 2009! Why didn't I hear of it sooner? The box office was apparently disappointing at half the film's modest budget of $40 million. I can only think that it was not marketed very well. This film beats so many others of its genre at 1/3rd or less the budget, eg Matt Dameon's Great Wall. I can see why there was a campaign to film a sequel. With a little more marketing push... this should make a a lot of money!
February 15, 2014
One of my favourite movies - and luckily living in Germany I had the opportunity to watch it already about three years ago. It´s a joy to watch Purefoy acting, showing at first the evil Captain, then the refined penitent and at last the uncompromising fighter! I would have liked to watch it on the big screen!
February 15, 2014
Amazing, Amazing, Amazing, Amazing, Amazing, Amazing!! Did I mention F'n AMAZING?!!!
February 15, 2014
This was actually a very good movie. Hoping for a second and possibly a third? Anyone have any news on this?
January 07, 2014
Hahaha!!! Your gonna love it. Sorry iPhone grammar and spelling. This movie rocked!!! Did I mention I rated it 5stars!!?
January 07, 2014
Your grammar and spelling suck ass!!! This better be a good movie. All I ever see are these reviews on it. So I'm taking a chance. Ordered mine for 10.99$ I'll be back if I liked it.
January 07, 2014
I was just searching through reviews an noticed everyone's comments on this movie. So I had to see what the fuse is about. Luckily my local Video Store had it for rent. Saw it and now buying it. For once what people are saying on tribute is true. This is an amazing good movie.
January 07, 2014
Did I just watch this? I think I'll do it again!! Hahaha!! I'm do happy I picked this up!!! Great deal on Amazon 13$ very good quality Blueray.
January 07, 2014
Violent, brutal, epic, awesome, art!!! LOVED IT!!
January 07, 2014
Could possibly be the coolest movie I watched this year!! James Purefoy surprisingly kicked ASS hardcore in this. Never knew he could do so well in a fantasy movie and wield the sword so well. He's my new favorite medieval actor now lol. Buy your copy don't wait. BRay.
January 07, 2014
Wow what a master piece. For low independent I can't believe what I saw. I hope it wins awards. Must see!!
January 06, 2014
You can buy it on amazon for 12$ awesome movie. Already ordered mine. Great review on Bluray.com check it out. Not to miss.
January 06, 2014
Really cool movie 4-1/2 star. Must watch. Movie of redemption and fighting for the forces of light against Evil. Hope they make a 2nd and 3rd.
January 06, 2014
I never expected this movie to be good. A friend of mine forced me to watch it and boy am I glad that I did. Best sword play I've ever seen!! Awesome score and camera work. The scope of the film was amazing! Can't wait for 2-3 praying they will make more. Blu ray is still a little pricy at 24$ but I'm definitely going to grab myself a copy. This is a must see film!!
January 05, 2014
Not too bad. Not the greatest either but considering the budget and timeline to shoot the film I'm impressed. These independent non Hollywood blockbusters film are getting better and better each year. If you like fantasy and wicked action sword play you'll love this. Acting was pretty good too and the music fit well. Needed more essence.
January 05, 2014
WOAH MAN!! Where did this movie come from? Totally under the radar! This movie ROCKED!!! An underdog film not to be missed!! Ordered it on Amazon :) watch it now don't hesitate!
January 04, 2014
This movie impressed me. I got it over the holidays for my husband on bluray. He never knew what it was, I never knew what it was but the cover looked cool and bluray.com rated it a high score so I picked it up (crossing my fingers lol) So glad I did!! What good movie. We loved it! Watched the special features too and James talks about possibly a second and third installment? We are praying for that. Great characters, great CG, great story line and brutal sword fighting. Definitely not to miss. Was glad to see that Tribute had a spot to review this movie. More people need to buy it and watch it. One for the collection as everyone is saying for sure!!
January 04, 2014
What a great movie. Did this go straight to DVD? Surprised it was FANTASTIC!! James P did an amazing job fighting and acting. Score was brilliant and cinematragapgy was exceptional!!! Going to watch it again. Gave my home theater a run for its money. Great quality, borrowed from a friend now buying my own :) must watch.
January 04, 2014
Picked this movie up (BR) on Boxing Day. Glad I did. Hoping for a trilogy. Love Robert E Howard. Just like Conan Roberts characters are so deep. Loved it.
January 04, 2014
Crystal clear Blu-Ray amazing DTS sound. Picked up my copy at Walmart. Thanks Suneagle for review honest review...
January 04, 2014
AWESOME!!!!!!!!! We need more movies like this!!!!!!!
January 04, 2014
Where was I when this was in theaters? This would of been awesome AVX!! Just watched the Blu-Ray it was really cool. Griddy feel, dark, bloody sword play and awesome music. Great acting too!! Ordered my copy can't wait to have in my collection. Hoping for 2-3 ;););)
January 04, 2014
Great movie. Lots of action. Cool sword play. A must watch for any medieval fan. Really good acting too.
January 03, 2014
I couldn't believe it when I read these reviews as this movie didn't get a theater release. Had to go to Markville video to rent it (last standing video store around lol) saw the movie and WOW!! Can't believe it watched it twice already! Found it at Walmart and HMV for 20$ blu ray. Picked it up. So happy awesome part of my collection!! Don't miss out!!
January 02, 2014
SUNEAGLE's review. 4-1/2***** AMAZING movie. One of the best in it's genre!! The coolest sword fight you will ever see!! I was so surprised watching this movie. Find it pick it up and enjoy. Perfect for Blu Ray collection will not disappoint. Clear awesome picture amazing score awesome DTS sound. Find the "Support SK 2" FACE BOOK page and support the sequel. This movie should be a trilogy. Robert E Howard awesomeness!!
September 08, 2013
Good story and great action.
September 05, 2012
Entertaining, dark action, good acting, better than many movies that cost much more to make. Go see it!
July 20, 2012
best film yet based on a robert e. howard character. dark, entertaining and fun!