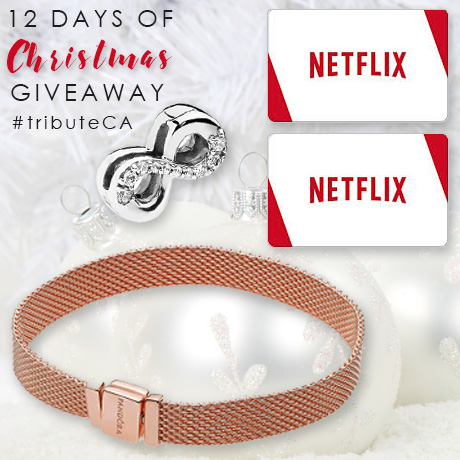 Today's giveaway is a stellar pack for the ladies and for movie lovers.
Make sure to also check out and follow our Tribute Movies Instagram for more (and different) prizes and to increase your chances of winning.
First up, we have stunning pieces from Pandora. The Pandora Reflexions Bracelet in Pandora Rose, $195, is a sleek, smooth design that you can fill with glamorous clip charms to express your style.
The Pandora Reflexions Infinity Charm, $45, is a timeless and modern piece that slides onto the Reflexions bracelet.
Last, but not the least we have a six month subscription to Netflix. What can you do with Netflix you ask? How about binging on the Golden Globe nominated Ozark? Or watch the Emmy-winning The Crown or Black Mirror. Click here to see all our Netflix content.
The total value of this prize pack is $240 plus six months of Netflix. To win this prize pack, simply leave a comment below telling us your favorite piece of Pandora jewelry.
This contest has now ended — congratulations to Lorna Bursey, who won the prize pack.