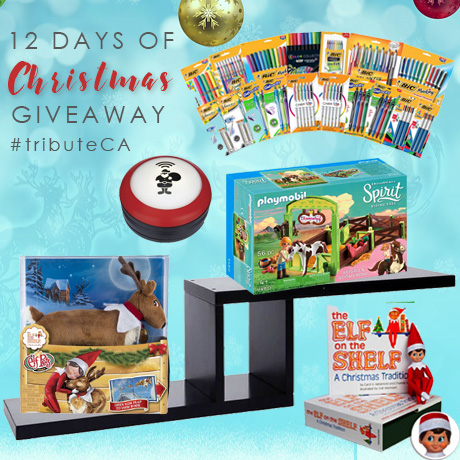 Welcome to Day 3 of our 12 Days of Christmas Giveaway! Make sure to visit our site every day until our final day on December 18 for a chance to win prizes valued up to $799. Also check out and follow our Tribute Movies Instagram for more (and different) prizes and to increase your chances of winning.
Today we have a combination of prizes that will delight youngsters on Christmas morning!
First up is The Elf on the Shelf Box Set, which comes with one of Santa's Scout Elves and a beautifully illustrated children's book that tells the tale of Santa's helpers. Adopt this beloved family tradition and embrace the magic of having a Scout Elf who reports to Santa each night during the holidays! Retail Value: $39.95
This prize pack also includes an Elf Pets Reindeer with Storybook. The Elf on the Shelf Elf Pets are special North Pole animals you can adopt and love. Sent straight from the North Pole, each Elf Pet comes with a special storybook and instructions for adoption. Retail Value: $34.95
Playmobil: Spirit Riding Free Abigail & Boomerang with Horse Stall. Be prepared for the unexpected with Abigail and her pinto horse Boomerang. Boomerang brings excitement to every adventure for Abigail and her friends with his hijinks and unintentional hilarity. After their escapades, Abigail brings her best friend Boomerang to the stable, so she can give him a thorough brushing and lots of snacks. Retail Value: $29.98
Live colorfully this holiday season with vibrant new products from BIC that help tweens and teens set goals to reach their full potential. The Cristal Up ballpoint pen helps bring your creativity to life in bold, vivid colour, while Gel-ocity Quick Dry gel pens deliver the same smooth, comfortable writing experience you know and love, with ink that dries up to three times faster! Retail Value: $100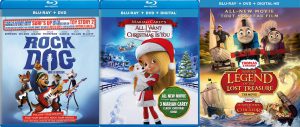 Also included are three Blu-ray/DVD combo packs: Mariah Carey's All I Want for Christmas Is You ($14.99), Thomas & Friends: Sodor's Legend of the Lost Treasure ($30.99) and Rock Dog ($21.99).
Finally, we have For Living's Santa Beacon from Canadian Tire. Make sure Santa can find you no matter where you're spending Christmas. Place the Santa Beacon on a window ledge and turn it on to light Santa's way. Retail Value: $7.99
The total value of today's prize pack is $250. For a chance to win today's giveaway, tell us below what was your favorite toy that you found under the tree on Christmas morning (or during another holiday if you don't celebrate Christmas).
Don't forget to come back tomorrow to enter our Day 4 giveaway!
Congrats Anita Delaquison winning this prize!