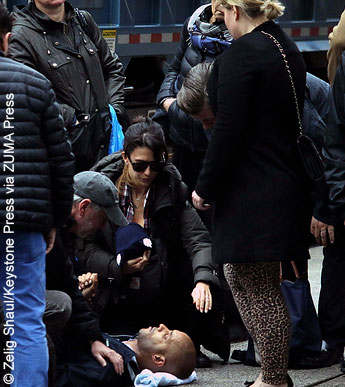 Alec Baldwin and his wife stopped to help an unconscious man who was lying on the ground on a New York City street yesterday.
It happened near the building where they live at East 10th Street and University Place, as they took their baby son Rafael for a walk at approximately 10:30 a.m. on Wednesday morning.
Hilaria, 31, who can be seen in sunglasses in the photo at left, removed the blanket she had wrapped around her son and put it underneath the man's head as they waited for paramedics to arrive.
Alec, 57, who reportedly called 911, is partially visible with his hands on his knees, bending over to see how the man is doing.
Alec and Hilaria waited until paramedics arrived to take the man to a nearby hospital.
An update on the man's condition has not yet been released.