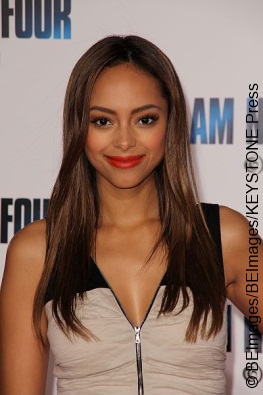 Amber Stevens is best known for her role as Ashleigh Howard in the ABC Family series Greek. Her breakthrough role came when she played Jonah Hill's love interest in 22 Jump Street. The down-to-earth actress is following the the footsteps of her father Shadoe Stevens who is an actor and radio announcer. We chatted with the talented young actress about her role and what else is up her sleeve.
How would you describe your character, Maya?
She's an art student who grew up with brothers and is just one of the guys, and is very sure of herself and comfortable in her own skin. She takes a liking to Schmidt (Jonah Hill) because he's really quirky and different and he goes up on stage and does this bizarre art performance in front of everyone at the school. And I just think it took a lot for him to get up there and expose himself and be so silly in front of everyone. And I think a character like Maya is really into guys like that.
How did you land the role?
I went in and read some lines and then I had a call back a couple weeks later, after I had completely forgotten about the project. And when I arrived I could hear Jonah in the room but no one told me that I was going to be reading with him. So that was kind of a fun surprise, to get to have a chemistry read on the sly like that. It's good that I didn't know ahead of time because you kind of psych yourself out and feel weird, but we went in and had a great time. It was really fun. Then I got a last minute phone call to come in again. I was actually on my way in to a yoga class. I happened to check my phone at the right time and they said, "Can you be in Santa Monica for a final callback, in like an hour?" And I don't live anywhere near Santa Monica! So I had to rush out of yoga. I had to print off, I think they sent me like 17 pages of lines that were all new and they were like, "Be there in an hour." I arrived and they were like, "Just go in, it's fine. Don't worry about it. It doesn't matter that you don't know the lines." And it was literally like I hadn't even read the scene before, I didn't even know what we were going to do. But I think that's what made them like me. That I just had fun with it and made stuff up and you know read the pages a little bit here and there, but I was really in the moment and had a lot of fun with Jonah. And I think that that's what really showed that we had great chemistry.
What was it like romancing Jonah?
Shooting with him was amazing. He's so talented and funny and easygoing but also very focused. And you know he takes his job seriously. So being a kissing partner with him is such a pleasure. We had a great time. Our chemistry was great you know, having to be romantic with him was silly and fun and at the same time easy.
Was it hard for you to keep a straight face while shooting scenes together?
Oh yes, most definitely. Especially the scenes where it was he and I and Jillian Bell, who plays my roommate. All the scenes that we had together with her, they were so funny. And I'm absolutely off screen, grinning ear to ear trying not to make any noises and laugh because the two of them together are so funny.
Which scene did you most enjoy shooting?
It was actually really fun to shoot the scene where we're on spring break. You discover that I'm there and I see what's going on and my dad's just been shot in the foot. That scene was kind of fun to shoot because I've never had to work with guns and squids and explosives. So that was really fun and exciting. We had someone on set training on how to hold the gun, and to be prepared for the loud banging noises and stuff and explosives. So that was something new and different for me and also really fun because you know we were in bikinis and having fun in a spring break scene.
Did you get a chance to interact with Channing Tatum and Ice Cube?
Oh yes, definitely. I didn't really get a chance to do a lot of scenes with them. I did with Ice Cube. But Channing and I, I think we literally only had one scene together at the end of the movie and I can't even remember if it made it into the movie. But he was on set all the time because he was getting ready to shoot his other scenes and stuff. So I definitely got to know him and I know his wife pretty well. So it was fun to get to be around them. He's just like the nicest guy, he's exactly the way you would want him to be, just good-looking and charming and lovely. And then Ice Cube, he's a dad. He's a really kind, well-mannered, quiet kind of guy and was really lovely towards me. You know, really made me feel comfortable around him and he's just super talented. He takes his job really seriously. He comes to set with lots of ideas, lots of jokes and he's a really great collaborator.
Did your father, Shadoe Stevens, have any influence on your acting career?
Absolutely! I grew up watching my dad do a sitcom [Dave's World] every Friday for four years and that was absolutely something that influenced my interests and desires to be an actress. I wasn't really sure growing up that it was something I wanted to do. I think it was one of those things where my parents really encouraged me to do it and so I didn't want to do it. You know it's like a weird teenager thing where you don't want to do what your parents tell you. So I kind of put it off for a while and didn't really explore it until after I graduated. But deep down I think I wanted to do what my dad did, he was so good at it and it seemed like so much fun and I'm glad that I started doing it. It's been great.
What's next for you?
Well there's a movie that is coming out. I'm so bad at remembering these things. But I did a horror film called Jessabelle and that's really fun, everyone should go see that. It's getting a limited release so I would have people check their local listings. But that's a really great movie, just your old school kind of classic ghost film. That's pretty fun. I'm actually recurring on Criminal Minds right now. And I think this week is my episode of New Girl. Yeah, lots of stuff coming up. It's been a great year.
Thank you so much for chatting with us, Amber and best of luck for your future!
Thank you!
22 Jump Street is now available on Blu-ray. ~Marriska Fernandes