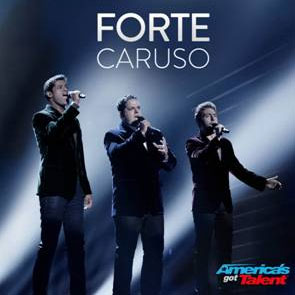 It's hard to imagine that the members of Forte were complete strangers a few months ago. Having met just days before their first audition for America's Got Talent, the trio mesmerized millions on the eighth season of the reality competition series. Solo artists in their own right, Josh Page, Sean Panikkar and Fernando Varela combine their individual talents to create one incredible, multicultural vocal force. Their performances on America's Got Talent captivated millions and launched the group into the national spotlight, and they have since signed with SYCO/Columbia Records.
Their self-titled debut album is now available and the lead single Caruso can be downloaded by clicking here. In addition, the album features The Prayer, a duet with fellow America's Got Talent finalist Cami Bradley, as well as several songs the group performed on the show including My Heart Will Go On, Unchained Melody and Pie Jesu. See below for the full track listing.  "We are excited to be joining one of the most prestigious labels in the entire music industry," the group said. "To go from complete strangers to a bona fide group on the same label as the top names in music is simply incredible. We can't wait to share this album with our fans."
Forte are also gearing up for a very special New Year's in Las Vegas. The New Tropicana Las Vegas will play host to three very special New Year's weekend headline performances by the group, taking place December 28, 29, and 30. Forte will also headline New York City's famed Carnegie Hall on Saturday, November 16 as part of a benefit concert for Kate Winslet's Golden Hat Foundation, which supports those living with autism.
Forte track listing:
1. The Prayer
2. Pie Jesu
3. Somewhere
4. Unchained Melody
5. My Heart Will Go On
6. Caruso
7. Nessun Dorma
8. Bridge Over Troubled Water
9. Something
10. O Holy Night
11. Silent Night