Angelina Jolie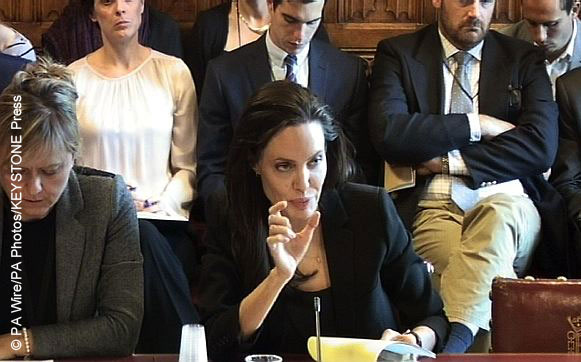 , 40, spoke to British Parliament on Tuesday as part of her duties as a special envoy for the UN High Commissioner for Refugees, saying that ISIS routinely rapes girls as young as seven, then sells them as slaves. She is urging the British government to take action.
"The most important thing is to understand what it's not: it's not sexual, it's a violent, brutal terrorizing weapon and it is used unfortunately, everywhere," Angelina said. "The most aggressive terrorist group in the world today knows what we know; knows that it is a very effective weapon and (is) using it as a centerpoint of their terror and their way of destroying communities and families and attacking, destroying and dehumanizing."
She went on to give details about children she's met who have been rescued, including one little girl who was no more than eight, who'd been so traumatized she was nearly catatonic. "She was rocking backwards and forwards staring at the wall," Angelina described. "And tears streaming down her face because she had been brutally raped multiple times, you couldn't talk to her. You couldn't touch her. I felt absolutely helpless. I didn't know what to do for her."
Angelina testified that she knows "as an artist," she is very limited to help, but urged politicians to change laws and policies and make a real change to help the victims of terrorists.
Terrorists are holding hundreds of Yazidi, Christian, and Turkoman women in prison in Iraq. They're told they can convert to Islam or they will be gang-raped daily. The ones who convert are sold to Islamic State fighters for anywhere between $25 and $150 each. The terrorists have a local beautician come in to style the rape victims.
Angelina has teamed up with ex-British foreign secretary William Hague in the hope that because of her high profile, her testimony about the atrocities committed on these young women face will force the government to do something to help them. She told the politicians: "Many of the victims have now come out of the shadows…. people around the world who have gone through these things now feel that they can speak. They feel if they speak its worthy of their time, their efforts, their pain and tears."