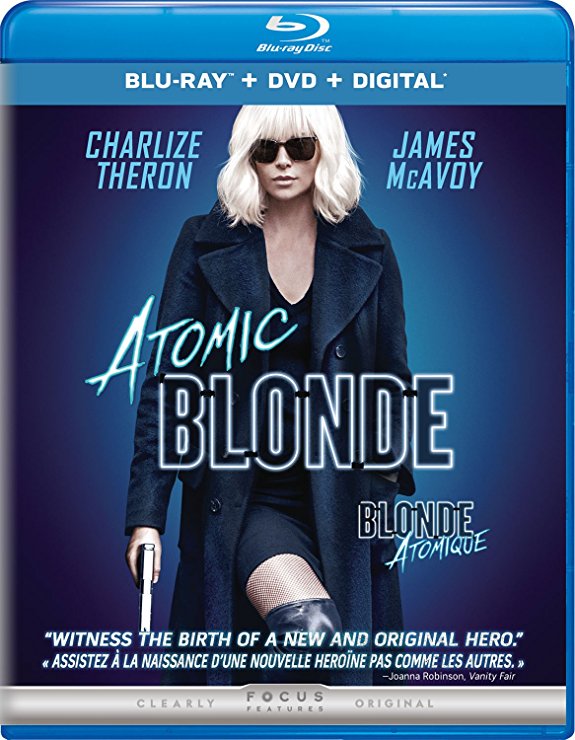 Atomic Blonde follows Lorraine Broughton (Charlize Theron), a top spy for the British MI6, as she's sent to Berlin days before the Wall falls. Fellow spy James Gasciogne (Sam Hargrave, who also coordinated the stunts for the film) has been killed by a KGB agent for a piece of microfilm he had hidden inside a watch, which holds a list with the names of every active field agent in the Soviet Union. The list also contains the identity of Satchel, a double agent who has been selling intelligence to the Soviets.
Ambushed by West Berlin police while searching Gasciogne's apartment, Lorraine begins to suspect her MI6 contact in Berlin — David Percival (James McAvoy) — is Satchel, since he was the only one who knew her location. While on the hunt for Satchel and the list, Lorraine also begins a relationship with French operative Delphine Lasalle (Sofia Boutella).
The hunt for both the list and Satchel takes Lorraine across both sides of Berlin and ultimately leads up to the day the Berlin Wall came down (although it has nothing to do with the story — it just happens concurrently).
I had high expectations going into Atomic Blonde. Theron has built a large part of her career playing strong women — from serial killers to spies — and she's usually a commanding presence in her films. While it was certainly easy to watch her fighting KGB goons, I found most of the movie difficult to follow. There are a lot of little pieces that tie into the larger picture and to catch them all, paying full attention is a must.
Atomic Blonde is visually captivating. I found myself looking at the film more that actually watching it. Whether it was wardrobe choices or the choreography of the fight scenes, I almost always found something fascinating to look at. The film is almost entirely filtered in shades of blue and green, except for a confrontational scene between Lorraine and Delphine, which to me was one of the more captivating moments in the film.
I also really enjoyed the soundtrack. The first song used — the '80s synth-pop of HEALTH's cover of New Order's "Blue Monday" — is perfectly in sync with the movie's timeline. David Bowie's "Cat People" gives Theron's first appearance the entrance she deserves. And of course there are two different versions of probably the most popular song out of Germany in the '80s: Nena's "99 Luftballons." All of the tracks are either authentically '80s or covers of songs initially released during the decade.
The performances are all very well done. Theron does a fantastic job taking the lead and her portrayal of Lorraine never seems forced — there is always a sense that Lorraine knows exactly what is going on. She is often cold and calculated but I also appreciate that we see her in her more human moments. There are scenes where she takes ice baths to soothe her sore muscles, and her body is often covered in bruises. Towards the end of the film we even see Lorraine's platinum blonde hair covered in blood. There is never a moment when you think, "There's no way she'd look like that" — no moment when she looks flawless after fighting. It was clearly a point to dress Lorraine in more functional attire.
McAvoy plays Percival convincingly — his natural charm leaves you with no doubt as to how he worked his way up in the MI6 and he and Theron play off each other perfectly. Atomic Blonde is also another example of McAvoy's usually excellent accent work.
Perhaps my favorite performance comes from Sofia Boutella as Delphine. She brings a vulnerability to the character that contrasts beautifully when she's on screen with the rougher Lorraine. Their relationship felt like one of the most natural parts of the film.
Overall Atomic Blonde is a good movie, but requires a bit more of an attention span than I was initially anticipating. It's not as polished as other recent spy flicks, like the Kingsman franchise, or as fast-paced, but it's definitely a good choice if you want something with a little more substance to it than most fight-scene based movies. I'd recommend it for a rainy afternoon as opposed to something you'd put on after work to zone out to.
As for special features, the Blu-ray has Welcome to Berlin, a featurette talking about the reasons why late 1989 Berlin was the perfect setting for a Cold War spy movie and how they found their locations. Blondes Have More Fun is a featurette that explores the dynamic of the direction and training for the stunt fighting. The Spymaster talks about director David Leitch, while Anatomy of a Fight Scene breaks down the shooting of a fight that takes place through several floors of a building as they battle down flights of stairs. Also included are two different commentaries — one is the feature commentary with Leitch and editor Elísabet Ronaldsdóttir and the other is Story in Motion commentary with Leitch.
We had the opportunity to train with the Atomic Blonde stunt team in Los Angeles – click here to read about it and watch the video!
Atomic Blonde is available on Blu-ray and DVD and for digital download today (Nov. 14, 2017). If you have seen Atomic Blonde and would like to review/rate it yourself, click here.  ~Hayley Michaud