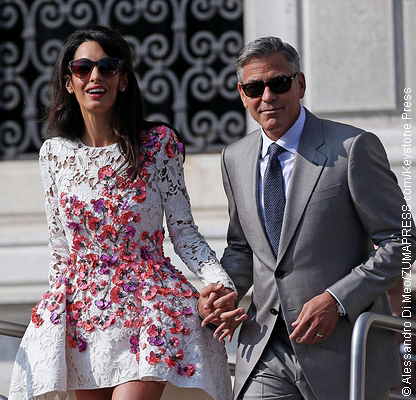 George Clooney's new wife, Amal Clooney, ranks number one on Barbara Walters' Most Fascinating People of 2014, beating George R.R. Martin, Oprah Winfrey and Taylor Swift.
Walter noted that Clooney, née Alamuddin, is "in that stratosphere that we reserve for the Jackie Os, Princess Dis and Kate Middletons. Everything she does, says or wears is officially fascinating."
Although Amal is most recognized for her ability to lock down the world's greatest bachelor, she has a long list of credentials that she acquired on her own – and long before she married the Hollywood hunk. After moving to London in her youth, she attended the University of Oxford for an undergraduate degree and later graduated from New York University with a law degree.
Once completing her studies she ventured back to London and became a world-renowned human rights lawyer, serving clients such as Kofi Annan, Julian Assange and Yulia Tymoshenko. She is also fluent in a number of languages, including French and Arabic.
Amal has gained a reputation for her bold prints and classic style. She wowed gazers with her striking wedding dress by the late Oscar de la Renta. What's more, she continues her work with a fearless passion, taking on high-profile cases often not in her specialty. ~Nadira Chand