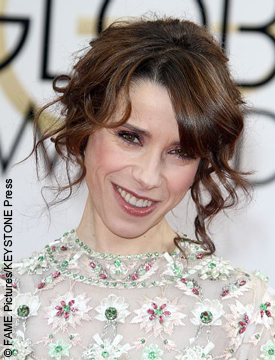 British actress Sally Hawkins, who won a Golden Globe in 2009 for her performance in Happy-Go-Lucky, has just received her first Academy Award nomination, this time for her role as Ginger, the younger sister of Cate Blanchett's character, in the movie Blue Jasmine. We spoke with her about being nominated and working with Woody Allen in this critically acclaimed movie.
Congratulations on your first Academy Award nomination.
Thank you so much, it's the last thing I expected, I'm really so honored to be in that room.
Is it as exciting as it seems?
Absolutely it is – I'm doing something I really love and then to be honored on such a huge scale. It's a rare, rare thing and it's magical in that way. I feel very honored and incredibly blessed when I know so many films are made and there are so many beautiful performances out there that never even get a look, so I know how special and rare this experience is and it just makes it all the more magical really and I feel very lucky.
How did you get this role? Did you get a call from Woody Allen?
I was filming in New York and Woody got in touch with my agent, just the normal way of casting a film. Even though I've worked with Woody before, it was something very different for me, playing an American and so I went to Woody's office to read. At that point you're not really told much, you're just given a scene to look over and then he comes back to hear you read it. I got called back the following week to do more scenes and then I still didn't really quite believe that I had a chance because it was so far from who I was but it's the best thing in the world to hear that Woody Allen wants you to be in his film, and I heard pretty soon after the second audition and I said yes straight away of course.
Can you tell us what Woody is like as a director?
I think there are several myths about Woody Allen, that he doesn't like to direct at all or he's very hands off or he's very quick, but he's very similar to other experiences with other directors. Sometimes he'll be incredibly specific and sometimes he'll leave you alone because he doesn't want to get in the way of what you're doing or sometimes he just sees something that he wants to focus on more so he goes in more detail. More often than not he's very relaxed. He has a vision but he's also open to the possibility that it can go in a different way. He's the best of both worlds. I loved working with Woody.

How did you prepare yourself to get into the role?
Well, I suppose it's all in the script. I find it hard to talk about acting in that way because it's always different for each role that you do. Ginger is very complex, but she's an amalgamation of different things and different emotions. She has issues she hasn't resolved with Jasmine, and they sort of pick up where they left off and they resume roles of teenage unresolved issues, and then there's the issue with the money, that's something that Ginger hasn't faced entirely, as well. Ginger, I think, is brilliant because she's trying really hard and she's a natural optimist and yet she's been dealt some hard cards in life. She is also struggling to work out things and yet she loves Jasmine very, very much but she's not quite sure how to be with her and how to reach her.
Cate Blanchett mentioned that the two of you got together to talk about the back story and the subtext. Did you talk about growing up as sisters and how or why the two are so different?
Absolutely. It was like a touchstone to meet Cate outside of the pressure of filming when the time is even more limited. There was no rehearsal period factored into the filming and that sadly is the case with a lot of films and the way Woody works, he wants you to turn up and be it, he doesn't want to see the stuff that you did behind the scenes to get where you need to be on set, because by that point it's too late to talk about it — you should be there already. I was very, very lucky that my co-star is Cate Blanchett, one of the most hardworking actresses I know. She loves to talk it out, we just sort of began to talk about what the mother figure was and I just got images that really helped me, you just get images of them as children and memories that they shared and why it was key for Ginger to feel that she needed to leave the family home so young. Did she not excel at school whereas Jasmine did? Why was Jasmine thought of as the golden child? I mean it's all there in the script, all these clues, and we're just filling in back stories and possibilities of what may or may not have happened. I love to do that and you're just sort of filling in the holes of the script that you might not even see in the film but they just add a richness. I just find it a fascinating journey for all of them — it's a heartbreaking story. He's so brilliant.
It was a really, really fantastic film. What other projects do you have coming up?
I just finished Godzilla in the summer, which is something very different to Woody Allen. That was with the wonderful Gareth Edwards and very exciting, a huge film on that scale, something I've never done. I just wrapped on Paddington, and again compared to Godzilla it was a minor CGI film. It was such a beautiful script and working with another very talented director Paul King and [actor] Hugh Bonneville, I've been incredibly lucky. That's all happening at the moment. Beyond that, I have no idea. ~Alexandra Heilbron