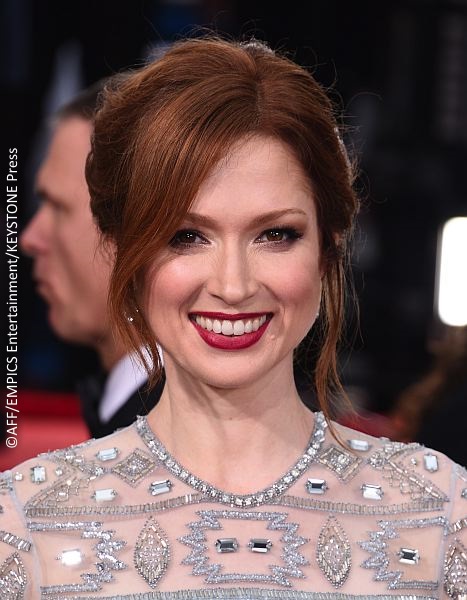 A cheerful disposition and a big, bright smile are probably Ellie Kemper's best known features that set her apart from other female comedians. You may know her as Erin from The Office or as Becca on Bridesmaids. Her characters share many similar characteristics and now, Ellie has bagged her biggest role to date. She plays the lead role in Tina Fey's new Netflix comedy Unbreakable Kimmy Schmidt. Kimmy is rescued from a doomsday cult after 15 years and is now learning to adjust in a world she didn't know existed. We chatted with Ellie to discuss the complexity of the character she plays and to dish on what it's like to work with Tina Fey.
I just want to know what or who are you channeling when you're playing Kimmy, because she's sort of this other-worldly character in terms of her attitude and her approach to everything.
I think you're right because one of the defining characteristics of Kimmy is that she's not jaded and I think that comes from, of course, being away from the world for 15 years. What you and I might take for granted is totally spectacular in her eyes. And in terms of who I'm channeling, I think I'm not comparing St. Louis to an apocalyptic cult, but I do think there's a culture shock and when you go to an overwhelming place like New York City, of course everything's going to be shiny and new and absolutely spectacular. So I think trying to hold on to that novelty is the mentality that I'm channeling. I think she has an optimism that anyone would like to share, that I personally don't always share, but she chooses to see the best in situations without being Pollyanna about it. I think she's realistic about it, but she is genuinely enthusiastic about life.
Is Kimmy one of the more complex characters that you've played?
Good question. I think we know more of her story than any of the characters I've played before, so I think there is more to play with, just because I feel like I know more about her and her background and what happened to her than I might have known about other characters. And I think that would be so interesting to go off and choose your own adventure and follow each of those other ladies home, like what happens to them in greater detail after they're freed from the cult, but I think that every one of them would have a complexity that Kimmy has. I was worried about how you do emerge from that and move forward and how you treat that delicate subject matter. The story does focus more on the post-cult experience, so the aftermath of a tragic experience like that without dismissing what happened to her. It's been sort of inspiring to focus on what happens as you move forward rather than the past.
This is a potentially serious topic, were you at all worried about how the show gives a light spin on it?
Yes. I was worried at the beginning when I heard the premise. I thought this is a very serious subject and we want to be sure that we treat it in the appropriate way. But I knew that Tina Fey and Robert Carlock were writing it and they are geniuses. If anyone could handle a delicate subject like that, it's those two. And, in fact, I think the solution to a tragedy is not to shy away from it, but to deal with it, so a lot of times you can deal with something like that through a comedy, but certainly nothing about the show is meant to belittle or make light of the terrible things that have happened to ladies that have been taken in this way. But I think Tina and Robert have done a fantastic job on focusing on the after story.
Do you and Kimmy share any similar qualities?
Over the course of a season one, I found myself dressing on the weekends in much lighter colors. I think that the two characters' wardrobes were bleeding into each other. Kimmy would wear lots of bright pink, bright purple and bright yellow clothing she must have gotten when she was 14 years old. I would like to think that I have a piece of her optimism. I'm not sure that I always do, but I hope in moments that I have her sunny outlook on life. I do think that Kimmy has a temper when she sees an injustice taking place or something to be wrong – she sort of reacts with a sort of short fuse and I think I share that. But only when I see social injustice.
What was it like to work with Tina Fey and do you have a hilarious story to share from filming on set?
I don't have a hilarious story because she's so normal in real life, but what it was like was at first I was very intimidated because she's Tina Fey, she's a cultural icon, I'm such a fan of hers that when I met her with Robert Carlock, I was extremely nervous, then after that first meeting it had gone down in increments of how nervous I get and so by the time we were filming I was seeing her everyday and I couldn't be nervous anymore because my body would have exploded. But they're just smart, reasonably funny people and so when you are working with them and seeing them everyday, you realize that. So I think it's just an amazing, incredible opportunity because I don't think there's two more confident people. So what started off as an intimidating experience has turned into, not to sound cliché, a dream come true because like I said I don't think there's anyone smarter than they are.
I just wanted to ask about working with Jane. I mean, she can deliver a line like nobody else. Is it hard not to break?
You're so right. I'm huge fan of Jane Krakowski and yeah, it's hard not to break because she is an actor. When I met her, here's another example of people I work with, she couldn't be lovelier. She's so professional, her energy is contagious, after I'm around her I feel more like a lady. I can't quite explain it, she's always so pulled together and polite and warm and I always feel better after, like I just had a facial after I've spoken with her. In terms of filming, I've learned so much just from watching her. I've seen her in things since she was a child and she can deliver a line like no one else. She's also selfless. She wants to do whatever it takes to make the scene work and she understands what makes something funny and she'll do anything that is required if it is in service of the show or the scene. It's been nothing short of a thrill to work with her because I'm in awe of her.
I'm just curious if you had done any specific research on this sort of situation. I notice it's a very positive outcome or the personality is very positive and if you've done any research, was there anything that surprised you about it?
In reading about the young women who have been kidnapped or kept in a cult-like situation, I think one common theme is their strength because the series is called Unbreakable, but I think that is what they really share, is they're able to survive these unspeakably horrible circumstances for sometimes years and to emerge and still have the strength to go forward in their own lives, so that is something I learned reading about the stories of these women.
Can you talk about how the show can maybe go down some darker paths tonally, since it's on Netflix versus a more traditional network sitcom?
We actually filmed the entire first season thinking it was going to be on NBC because that's where it was originally going to be and it wasn't until the last three days of production did we find out that it was shifting to Netflix. In the first season, I think only in editing that maybe [the editors] put in some stuff that had formerly been left out. But from what I heard, the move to Netflix doesn't necessarily mean they are going to shift the tone of the show because they created it as a network show and I've heard them say they do enjoy parameters and working within boundaries. And my sense is that they developed the second season so that it won't be drastically different from the first, just because the tone of the show is something set in the first season.
You said the series showcases not just Kimmy, but a whole ensemble of unbreakable women and I can't help but feel that's indicative of the last few years of women in comedy. For you as an actress, what does it mean for you to be a part of this new wave of women in comedy?
I think it's great. I do think that when I was growing up, I always felt like I was seeing funny women on television, so I know that there's a lot more being written about when they're being funny, but I feel lucky to be associated with any of them. I think there have always been funny characters in movies and in television. It's nice that that fans seem to be enjoying all these shows that are out there. I know I do, so I hope that women keep making them.
Unbreakable Kimmy Schmidt is now available on Netflix!
~Marriska Fernandes