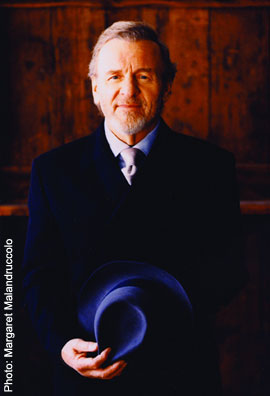 For many Les Misérables fans, Colm Wilkinson is and always will be Jean Valjean. He originated the role in London's West End, then reprised the role when it debuted on Broadway, where he received a Tony nomination and won an Outer Critics Circle Award, a Theatre World Award and a Helen Hayes Award. He went on to play the title role in The Phantom of the Opera in Toronto, where he performed the role almost 1700 times.
On television, Wilkinson played Lord Darcy in the third season of the TV series The Tudors. He was a special guest at the Les Misérables 25th Anniversary Concert in London, and although he would have been the first choice to reprise the role of Valjean in the movie, he was too old by the time it finally began filming and the part went to Hugh Jackman. However, Wilkinson continues to be associated with Les Misérables, and many were ecstatic when he was chosen to play the Bishop in the movie version.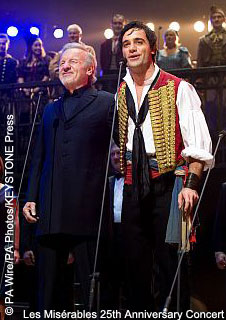 Like many fans, I was thrilled to see you in the movie. How were you cast in the film?
There have been various attempts to make the movie over the years and I saw that this one was serious and they were going ahead with it so I was thinking, would I like to be involved in this. I knew I was too old to play Valjean, so the obvious person was the Bishop. I phoned Cameron Mackintosh's office and made the suggestion and eventually, after doing a screen test, etc. for Tom Hooper, I became the Bishop. They were quite surprised and glad that I offered to do it because of the fact that I originated the role of Valjean and I had played it for such a long period of time. I'm glad I did it. It's sort of my way of saying goodbye to the whole project.
I think everyone who's ever seen you was glad also. Did you give Hugh Jackman any tips on playing the role?
No, I didn't give him any tips. We had a conversation early on in the rehearsal process about "Bring Him Home" and other songs, and he was talking about the death scene and we exchanged ideas on that. I wouldn't presume to tell anyone how to sing or what to do because everybody's different, everybody's unique. Nobody sounds the same, nobody sings the same. I had a certain way of doing it and I just said to Hugh, you've got to find your way. Don't copy me, don't copy other people, just do it your way. Sing it the way you feel you should sing it. And he was delighted.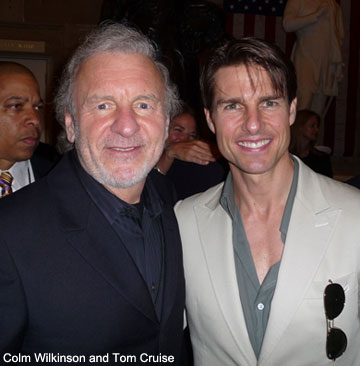 Doing the movie has opened up a whole new interest in me again. There are people who follow me avidly but at the same time, I was really surprised when I went to L.A. to the SAG awards. I thought this is film, these are film people and they will not know about Les Misérables the musical or me. Every person I met had seen the musical, every person I met knew Valjean and I was astonished at the amount of knowledge people had of it and it gave me a new respect for music theatre.
When you were offered the title role in The Phantom of the Opera in 1985, you chose to play Jean Valjean in Les Misérables instead. Do you prefer Les Mis?
That's a difficult one. They're not that different emotionally—they're both outcasts and they're both people who have to justify their existence to a certain degree. If it had to come down to it, I think I would prefer to do Les Misérables. It was a much bigger thing and a much more physically demanding role to do. I'm glad it went that way. Andrew Lloyd Webber asked me to do The Phantom and when we were at the Sydmonton Festival to do the workshop, Cameron Mackintosh was there. I was already in rehearsals for Les Misérables and Cameron said, "I know he's asked you to do The Phantom." He said, "If Les Misérables doesn't work, you can do The Phantom, but I need you to do Les Misérables first." So I did that. That was a great position to be in, in hindsight. I mean, to have those two roles. But I eventually came here to Toronto to do Phantom and I'm here ever since. I'm here since 1989.
You still live in Toronto?
I do. Yeah, my home's here, my kids are here and I'm still in the city, I'm looking out at the snow right now. It's nice and bright. It's freezing cold out there (laughs). It's a great city. It's a great cosmopolitan city and a great place for children—I have four children. And obviously The Phantom was a huge success—it was great for me.
Do you consider yourself Canadian or Irish now?
Oh, I'm a Canadian citizen now. I became a Canadian citizen at least 10 or 12 years ago. Ireland's my home, it's where my soul is I suppose but at the same time, Canada's where I live. Canada's been very, very good to me. I'd like to spend more time in Ireland, but would I ever settle back there? I'm not too sure. I've gotten used to living in Canada now, but I love the Irish people very much and I miss them a lot.
You started out in a rock and roll band, is there a difference between singing rock or pop and musical theatre singing?
Yeah, there is. I mean, the application can be the same but in pop songs you're telling one particular story in three-and-a-half minutes and in musical theatre every song is plot driven as they say, moving the story along with each song. You have to be aware of the character you're playing and to continue with the story line. I apply myself in the same way to the music and just get the honesty of the lyric. That's the way I've always worked. But it is a different discipline.
Do you have plans to appear in any other stage musicals?
I've been offered different roles, they actually asked me if I would play the Bishop here in Toronto and in New York, but I turned it down. You know, it takes up your whole life doing eight shows a week. Like The Phantom, I did that on and off for four-and-a-half years. It just takes a huge chunk of your life. You don't see your kids that much, you wake up in the morning and you're basically gearing yourself all day to go in and do the gig that night, so your whole life revolves around the theatre. You don't have much social life. And you have to look after yourself really well—keep your stamina up and keep yourself physically well so you can do that job. It's pretty demanding. So I don't particularly want to get involved. Depending on the role, I might see something down the line but I'm not particularly interested to get involved with eight shows a week again.
Would you like to do more movies?
I'd like to do more movies and I'd like to do plays and I'm planning to do more concerts. I'm starting another tour in late November to mid-December in Sarnia, Burlington, Montreal, Toronto, Buffalo, Markham, Guelph and New York as well. I'm going to Ireland at the end of May to do about 15 concerts in and around Ireland, Wales and Scotland from June to August. I only have the U.K. tour dates on my official site (www.colmwilkinson.com) but I'm going to put the North American dates up there soon as well.
Les Misérables comes out on DVD and Blu-ray Friday, March 22, 2013. ~Alexandra Heilbron