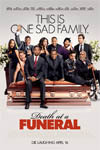 If you want to get a sneak peek into Tracy Morgan's latest comedy, Death at a Funeral, you'll be surprised by what you see in this clip as Morgan gets down and dirty, literally, with co-star Danny Glover. Warning: this clip is not for the faint of heart!
Death at a Funeral is a comedy about an American family who have come together to put a husband and father to rest. But the reunion doesn't go smoothly as shocking revelations, festering resentments, ugly threats, blackmail and a misdirected corpse unleash lethal and riotous mayhem.
The cast includes Loretta Devine, Peter Dinklage, Danny Glover, Regina Hall, Martin Lawrence, James Marsden, Tracy Morgan, Chris Rock, Zoe Saldana, Columbus Short and Luke Wilson.