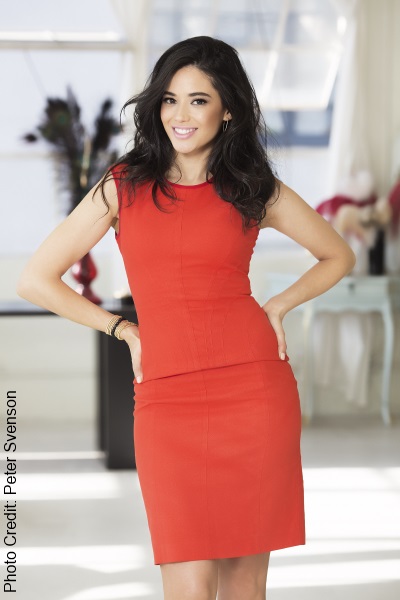 Devious Maids, one of the hottest shows on Lifetime, has its season finale this Sunday. Produced by Desperate Housewives' Eva Longoria and Marc Cherry, this show centers on five close-knit Latina maids working in the homes of Beverly Hills' wealthiest families. The youngest among the female leads is the beautiful and down-to-earth Edy Ganem. Witty, talented and hardworking, Edy brings beauty and brains to the table as she portrays Valentina, a rebellious and headstrong 18-year-old maid. We chatted with Edy by phone from Los Angeles, who was more than happy to share with us her success story and how she was even referred to as the next Eva Longoria by the lady herself.
How did you land the role on Devious Maids?
I basically auditioned for it just like any other role. I know that the other women have been working for many years so the process was different for them. But I just received an email from my manager with the script. I showed up with the casting director and did my audition. He really liked it. Then that same day he sent me for the call back to read in front of Marc Cherry and Paul McGuigan, who directed the pilot. The next day I heard that I was going to be testing for the pilot. Also, when you go into a room and you see the others and it's basically you, your category. But I got lucky, because when I went in, I was the only one there. I think that helps when you don't see [your competition] there.
Did you always want to be an actress?
I don't think so. I try to go back and remember. I don't think I always wanted to be an actress. I do have some friends who tell me, 'Yeah, you said you wanted to be an actress when we were younger!' I think I had different things at the back of my head and never really took it seriously until I really wanted to try it out. So once I finally decided I wanted to give it a shot, I moved to Los Angeles and that's when I started pursuing acting.
Your bio says you did odd jobs when you moved to L.A. Can you tell us about that?
If you're not from a rich family, you have to support yourself in different ways. I didn't really have a lot of money. I was one of those people who needed to work for it. When I first moved here, I worked at a clothing store. The first half year was just getting to know the town, the people, what do you do to go out and audition for something. Then I had another job at a gym in Beverly Hills. I actually met a lot of people there, really nice ones. Some of those people referred me to agencies. Then I worked at a men's suit store in Beverly Hills hotel, then a legal firm and then finally I worked at a restaurant as a waitress. I was avoiding it for the longest time because I didn't want to be a waitress. Everyone who is an actor is a waiter and I didn't want to have that cliché. But then I said I could do a shift in the evening and I would have the whole day to do auditions. When I started booking more commercials and making more money, I stopped the part- time jobs. But I always prioritized my dream.
Do you draw from those experiences because your character is a maid trying to land her dream job?
I think, in general, life always helps you in playing your role. You may not have an experience from life to help you in your role so that's when you have to do some research. I think so many things in my life helped me to play Valentina. I grew up in Mexico, then in San Diego. I feel like I have so many experiences. I have met so many people from Mexico, Ecuador, you name it. Some people may look down upon them, but it's just as respectable as any other job. My experience has helped bring more life to my character and understand what people go through with their struggles.
Do you share similar characteristics with Valentina?
Yes, definitely. We are both very stubborn. (Laughs) She's also very dedicated to what she wants to do. She's focused and has her goals. She doesn't necessarily limit herself. She's more open-minded and I'm definitely like that. I set my goals and don't limit myself.
What was it like working with Susan Lucci?
She's awesome! Everybody knows Susan. She's the most professional sweetest woman ever. Working with her, Judy and the other women, I feel like I get to learn so much from all of them. Specifically with Susan, I realize that she has been working for more than 40 years and remains so humble. One of the greatest lessons I learned.
I read that Eva Longoria called you the next Eva Longoria. How did that feel?
OMG! That was kind of crazy. Eva Longoria was speaking for MALDEF, a charity organization. I had been wanting to do more charity work and hence attended it. She was talking about her mentor and how they helped her and how the next generation will be the mentees. I was there to take a picture of her and suddenly she says, "I want to say thanks to Edy Ganem who will be the next Eva Longoria" and I was caught off guard. I was so embarrassed. I was just trying to take a picture of her. It was an honor because I've seen her in action and she's an inspiration.
What was it like having her direct an episode in the series?
It was really fun. She's very efficient. She gets everything done fast and efficiently. At the same time, she's just really fun to be around.
What can you tell the viewers about the Season 2 finale of Devious Maids?
It's kind of crazy. This time I feel it just goes in all directions for every character. We haven't heard officially we are getting picked up for a third season so I feel like there's no way there's no third season. You can't end a show like this. I think Marc Cherry does a great job at twisting and turning events and that's exactly what's going to happen. You're going to be in shock.
I heard you're currently filming a feature in your first ever starring role.
OMG! It's been the craziest experience ever. I gained way more respect for film actors who lead films. Being on Devious Maids as a lead along with other women as leads splits things for us. It's such a good schedule – you work a lot but you have time in between. In this film, I'm the lead and I'm in every single scene, there's only two scenes I'm not in. So we wrapped Devious Maids and within a week I was filming this indie film. I was so stressed about it and I didn't know how to tackle it. But then we started filming and it's been such a blast. The hardest thing for me is keeping a straight face. I've done things I've never done before with the character I play. Actually, I can tell you that it's one character but it's kind of like two characters at the same time.
There are many girls who dream of coming to L.A. to become a celebrity. What advice would you give them?
If people dream of becoming a celebrity, I would say, 'Why do you want to do that?' But if you want to become an actor, it shouldn't really be about fame. I personally think it's not the reason. A career in the acting world has many ups and downs. It's something I barely started experiencing. Being an actor is kind of like being an artist. If you want to pursue it, you have to work really hard and be focused on your dream.
The season 2 finale of Devious Maids will be airing on Sunday, July 13 at 10pm EST  on Lifetime.
~Marriska Fernandes