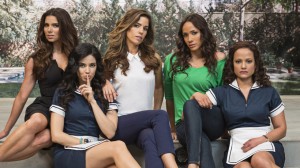 Devious Maids is a hot new show making its debut on Lifetime Canada on June 23rd. Inspired by the hit telenovela, Ellas son la Alegría del Hogar, Devious Maids centers on a close-knit group of maids who bond through their jobs, life struggles and the melodramatic "upstairs-downstairs" universe that engulfs their employers.
The ensemble all-star cast includes Susan Lucci who plays Genvieve, an emotionally unstable wealthy woman, Ana Ortiz (Ugly Betty), Dania Ramirez (Entourage), Roselyn Sanchez (Without a Trace), Edy Ganem (Livin' Loud) and Judy Reyes (Scrubs), who portray five maids with ambition and dreams of their own while working for the rich and famous in Beverly Hills. Whoever holds the dirt holds the power.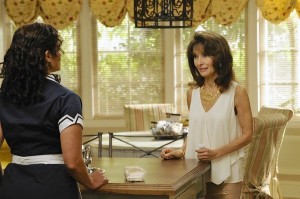 Susan Lucci has held audiences spellbound for years as the sexy, sassy, beautiful "woman you love to hate," Erica Kane on ABC-TV's All My Children. In May 1999 she won the Emmy Award for "Best Actress," which was a historic moment not only for Lucci, but for all of television. She received a Star on the Hollywood Walk of Fame on January 28, 2005 and was inducted into the Broadcasting Hall of Fame in 2006.
Ana Ortiz broke out as Hilda Suarez in ABC's hit comedy Ugly Betty, earning both ALMA and Imagen Awards for Best Supporting Actress for her portrayal as Betty's sassy older sister. In addition to her recurring roles on ABC's acclaimed Boston Legal as A.D.A Holly Raines and as Anna in the FX series Over There, set in wartime Iraq, Ortiz also starred in the ABC series A.U.S.A and Kristin.
Tribute.ca had the opportunity to talk to both Ana and Susan in Toronto about their exciting new show, which is being produced by Marc Cherry (Creator of Desperate Housewives) and Eva Longoria, who was one of the stars of Desperate Housewives.
Watch our  interview with Ana Ortiz and Susan Lucci: