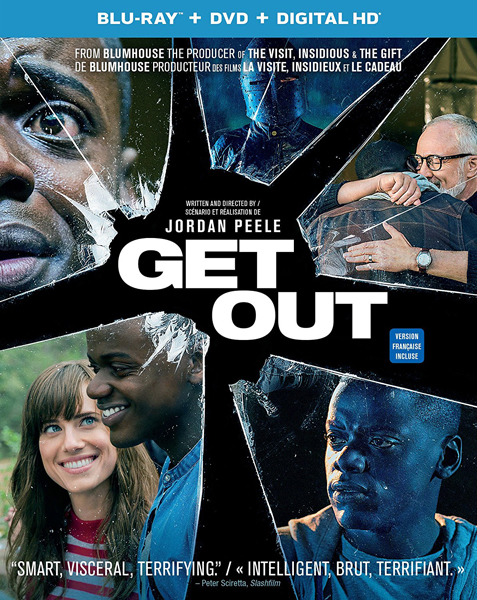 Get Out has been the surprise hit of the year so far and was not just loved by movie audiences — it has a solid 99 percent approval rating from critics at Rotten Tomatoes, and deservedly so. When you first read the plot, it sounds somewhat strange, but when you watch it, it's not just incredibly entertaining — it's an edge-of-your-seat mystery/thriller.
The film opens on a young black man who is attacked and kidnapped as he's walking along a street one night. Cut to Chris (Daniel Kaluuya) and Rose (Allison Williams), a cute young couple who seem very much in love. They're preparing to visit her family and Chris is worried because she hasn't mentioned to them that he's black. She assures him that even though he's the first black guy she's ever dated, they will be totally fine with him. She tells him her father (Bradley Whitford) will probably say some cornball things, but if Chris can handle that, he'll be fine.
Despite his best friend Rod (Lil Rel Howery) warning him not to go, Chris shrugs it off and heads out on the trip with Rose.
Everything does appear to be fine, although her family seems a little eccentric. However, Chris notices that the "help," all of whom are black, behave strangely, not like any black people he's ever met.
On top of that, Rose's mother (Catherine Keener) is a very insistent hypnotist who offers to help Chris stop smoking, even when he declines.
As the movie progresses, Chris gets more and more uncomfortable, even as Rose assures him that these people are just clueless and harmless.
As far as horror movies go, Get Out isn't particularly gory, which I appreciated. It was the mystery of trying to figure out what was actually happening that kept me glued to the screen and when you get the payoff in the final scenes, it's completely worth it.
The performances are also what make this film special. Allison Williams has a tough role to play, and turns in a nuanced performance that needs to be seen more than once in order to understand all that was going on with her character.
Daniel Kaluuya, who won a Best Actor MTV Movie Award for his work in the film, shows an incredible range of emotion as Chris, especially when he's badgered into remembering the night his mother died and is tortured by the memory.
Lakeith Stanfield, who plays Logan, a young black man who may not be who he appears, was fascinating to watch. The audience sees everything the same way Chris does and it's difficult to understand not only why Logan seems to be paired with a white woman 30 years his senior, but behaves like an awkward, uncool white man. It's a role not every actor could pull off with such ease, and Lakeith manages to charm, even while confusing us. His performance is especially memorable long after the movie is over.
Lil Rel Howery, who plays a key role as Rod, also deserves a mention for his comedic take as Chris' best friend. His running commentary as Chris is on his way to Rose's parents' house is hilarious. Lil Rel won an MTV Movie Award for Best Comedic Performance — no small feat for a supporting actor in a film that classifies as horror.
The movie, which was made on a production budget of $4.5 million, earned over $174 million at the domestic box office alone. This has earned director Jordan Peele a two-year production deal with Universal Pictures, which distributed Get Out — he has a lot of fans looking forward to whatever he chooses to do next.
One of the special features on the Blu-ray is the original ending to the film, which is much darker than the one that wound up in the film that was released to the public. Check out all the special features available below and if you've seen this film and would like to rate and/or review, it click here. ~Alexandra Heilbron
Special features:
Alternate ending and Deleted Scenes with Commentary by Writer/Director Jordan Peele: Rose Hypnosis, Extended Rutherford, Badminton, Sunken Place Deer, Detective Latoya Extended and six deleted scenes of Rod delivering funny lines to Chris at the end.
Q&A Discussion with Jordan Peele and the cast: In a moderated panel discussion, the director and cast members Allison Williams, Daniel Kaluuya, Lil Rel Howery and Lakeith Stanfield discuss the making of the movie.
Unveiling the Horror of Get Out: A look at how the film came to be made with commentary by producers Jason Blum and Sean McKittrick, director Jordan Peele and cast members Allison Williams, Daniel Kaluuya and Bradley Whitford, with behind-the-scenes footage.