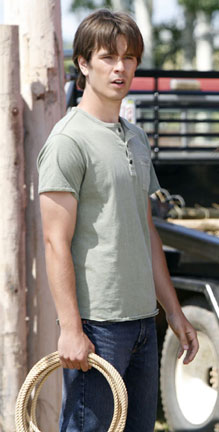 Heartland: The Complete Second Season is now out on DVD and to celebrate, Tribute's Alexandra Heilbron spoke to Graham Wardle, who stars as Ty on the popular CBC series.
At what age did you begin acting? Is your family in showbiz?
I started at age six in a Mattel toys commercial. My family, almost all of them have been involved in some part of it. My older brother did a few commercials when he was younger; my older sister did a commercial and a short film. They're not still acting, they just did it when they were younger. I come from a big family—I have five brothers and sisters. My younger brother is in Victoria going to theater school right now. He's big into theatre and improv, so he continues to act and my two younger sisters, one of them is into sports and one of them is into dancing and she's also an artist as well so most of us have creative backgrounds, you could say.
On the Season Two DVD, the cast talks about how sometimes two episodes are filmed at the same time within 15 days. But the show shoots from May to December, how does that work?
Yeah, it's about 15, 16 days. When we start getting into the later months of the years, we start losing daylight so we add an extra day to the shooting schedule. But yeah, it's two weeks for two episodes and and there's breaks for holidays and other stuff in between. We also have three hiatuses.
What can we look forward to next season? At the end of the last season, it looked like Lou might be leaving the show.
You know, I haven't heard anything, I haven't even got a script yet. I know that I'll be back, but that's all I know. I come back in Season 4 having traveled, but that's really all I know.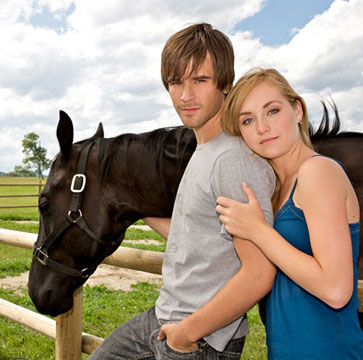 When does it start filming?
First day of shooting is May 17.
Who were the cast members that played on the Heartland's hockey team for charity? Was it all guys, or did some of the girls join in?
Off the top of my head, I'd have to say no, but that's just from memory. I know Shawn Johnson, who plays Jack, plays all the time, he loves it. Chris Potter has played, Jake Church, who plays Jake in the show, he also plays and then there are a lot of crew members that play as well.  I didn't play, because I can't skate.
How did they do?
This year, I think it was a tie and then we went to a shoot out, and then we lost in the shoot out. It was fun, it was a charity thing, so we just had a lot of fun and Santa Claus was the referee.
How can fans get in touch with you?
The best way is through my website, grahamwardle.net. If they go there, they can post comments and I check them and try to reply to them. I had a fan email but it unfortunately got out of hand, because I couldn't reply to everyone on that, but my website, or my twitter, people can post comments and I read them all, it just takes me awhile to get back to them.
One last question. Do you have a funny story you can tell us that happened during filming, maybe something that didn't go quite right?
Yeah, I do (laughs). The first season, I had a little motorcycle that was kind of like a dirt bike, and I had a scene where I was supposed to be a little upset and Amy was trying to get me to stay and I was mad about something, so I was trying to leave. So we have this scene of dialogue, then I'm supposed to flip my visor down and rev my engine and peel out of there. Well, the bike, when it was idling, when I was just sitting there on the bike, the engine would stall out, because it was an older bike and it wasn't working properly. So I'd have to give it lots of gas to keep it from stalling. Then finally, because it kept stalling when I tried to pull out on every take, on take five or six I was revving the gas to keep it from stalling, then I let out the clutch and it was just way too much power and I popped a wheelie and it skidded out and away from me. My left leg caught on the bike and my jeans ripped from my ankle to my crotch. I fell over, the bike went flying and they got it all on camera.
But you weren't hurt?
Oh, no, I was fine. The bike was fine, I was fine, it was just my jeans were ripped in half.
Thank you very much for the interview today Graham and good luck on your next season!
Thank you! Have a good one.
Click here to read Amber Marshall's interview to celebrate the launch of Heartland: The Complete First Season.