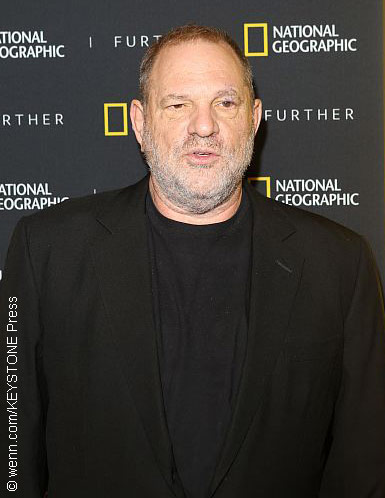 A former assistant to Harvey Weinstein has broken a confidentiality agreement, calling the nearly 20 years she has spent in silence "distressing."
Zelda Perkins worked for Miramax Films in the '90s, but resigned after Weinstein was accused of attempted rape by one of her colleagues. Perkins says she signed a non-disclosure agreement and was given close to $170,000 to keep her from talking about the accusations from 1998, which Weinstein had denied.
In an interview with BBC Newsnight this week, Perkins spoke about what she called Weinstein's "habit of behaving inappropriately," and how she was traumatized after she confronted him about the rape claim against him.
Perkins elaborated, saying, "The last twenty years have been distressing, where I've not been allowed to speak." Perkins added, "Although the process that I went through was legal, it was immoral."
Perkins revealed that she would warn people who were meeting with Weinstein about his inappropriate behavior and said she believed the women Weinstein was involved with were consenting, but admitted they would often seem reluctant to set meetings and would make excuses to avoid him. Perkins also said he threatened her personally to ensure those women met with him.
When asked if she thought Weinstein was a sex addict, Perkins replied in the negative, saying instead, "He's a power addict."
"He put an enormous amount of energy into humiliating men, and an enormous amount of energy into getting women to submit," Perkins said. "That was what drove him, his overarching need for power."
After Perkins left the company her lawyers told her she didn't have many options legally, so she ultimately agreed to the settlement. She said the experience left her broken and distressed until she chose to publicly speak out against him.
While Weinstein — through a spokesperson — has denied any "allegations of non-consensual sex," since October dozens of women have accused him of varying degrees of sexual abuse after the New Yorker published an exposé in which Ashley Judd came forward to accuse Weinstein of sexual harassment.
Perkins didn't say what backlash she may face legally for breaking the non-disclosure agreement. If you can't view the video below, click here. ~Hayley Michaud
"I don't think he's a sex addict. He's a power addict" – in her first TV interview, Harvey Weinstein's former assistant, Zelda Perkins, speaks out on her former boss #newsnight pic.twitter.com/im9NTexeb2

— BBC Newsnight (@BBCNewsnight) December 19, 2017