I, Tonya is a wildly entertaining biopic that labels itself as a dark comedy — it is a tragedy wrapped up in dark humor that makes us appreciate the characters and the plot line more. It follows the true story of figure skater Tonya Harding (Margot Robbie) and the events that led to an attack on her skating rival, Nancy Kerrigan, in January 1994.
The movie starts off with each of the key characters giving us an introduction to the events that are portrayed in the film. We then see a flashback to Tonya's childhood. Her mother, LaVona Fay Golden (Allison Janney), decides that skating is what Tonya is good at — and will only ever be good at, in her humble opinion. LaVona physically and emotionally abuses Tonya and hits her with her bare hands, hairbrush, knives — you name it. Yes, sort of Mommie Dearest at this point.
When little Tonya makes small talk with another girl on the ice, LaVona yells: "That girl's your enemy!" Sigh. This scene is hilarious yet sad, as the taunts simply grow as Tonya ages. Her mother's abuse lends a hand in making Tonya a formidable opponent on the ice. One of her memorable dialogues include: "I made you a champion, knowing you'd hate me for it. That's the sacrifice a mother makes! I wish I'd had a mother like me instead of nice. Nice gets you shit! I didn't like my mother either, so what? I f**king gave you a gift!"
When Tonya becomes a teenager, she falls in love with Jeff (Sebastian Stan) and soon marries him. He too shows his love with a few punches. She didn't know any better, did she? When Jeff and his friend Shawn decide to send threatening letters to Tonya's competitor Nancy Kerrigan, Tonya wants nothing to do with it. But that's just the start as Nancy is brutally attacked, and Tonya is blamed for the incident.
The film does not unfold as a series of events that focuses on Nancy's attack. It moreover focuses on Tonya and shows us everything the ice queen has been through — from her abusive mother to her crazy husband, whom she later parts ways with. The way the story portrays the events that led up to Nancy's attack lends sympathy towards Tonya. She was by no means perfect. But hell, she tried. When the judges were criticizing her for a costume she made, she stopped her performance to remind them she can't afford designer outfits, peppered with some colorful language, of course.
Margot Robbie gives a stellar performance, showing us a side of Tonya as a survivor, who was often caught on the wrong end of a fight. Whether you end up rooting for disgraced figure skater Tonya or not, you sure will cheer for Margot. Her performance was edgy and flawless, making this darkly comic biopic a winning formula.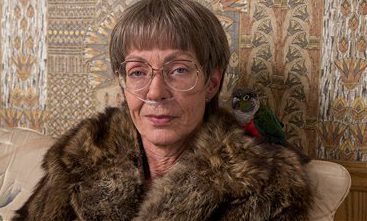 Giving an equally flawless, or maybe even marginally better, performance was scene-stealing Allison Janney. Of all  the Oscar-nominated performances of last year, I was most impressed and in awe of Allison's LaVona Fay Golden. This insult-spitting, acid-tongued mother from hell is a role that changed Allison's career.
She took no prisoners and made this role her own — you enjoy every scene you see Allison in. I loved watching her on screen. She created a tough-loving mother and even made us feel a little sympathetic towards LaVona, whose own abusive past dictated her nurturing abilities. She felt the best way to make her daughter skate on ice, was to humiliate her. Like I said, a little sympathetic. There's no doubt, Allison deserved her Oscar for this performance.
Overall, I, Tonya is a biopic that I enjoyed watching. Not only do the actors deliver their best, but you get to know Tonya Harding and the events that led to her being banned from skating for life, making it one of the most sensational scandals in sports history. Unlike most biopics, the film doesn't get too serious, but the darkly comical dialogue and plot keeps you entertained. ~Marriska Fernandes
If you have seen I, Tonya and would like to review it, click here. Bonus Blu-ray features include Deleted Scenes, Behind-the-Scenes (which shows how the cast got into character) and Feature Commentary with Director Craig Gillespie, which is a rather slow account of the film and its process. ~Marriska Fernandes