Elysium – Interview with Josh Blacker
By Marriska Fernandes on August 6, 2013 | 1 Comment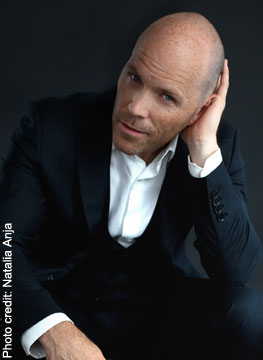 Neill Blomkamp's latest film, Elysium, is set in the year 2154 where two classes of people exist: the very wealthy who live on an immaculate man-made space station called Elysium, and the rest, who live on an overpopulated, ruined Earth. Government officials will stop at nothing to enforce anti-immigration laws and to preserve the lavish lifestyle of the citizens of Elysium. Josh Blacker plays a South African mercenary named Crowe, who fights to protect Elysium. From a tortured marine to a British secret operative turned rogue, Josh Blacker has played many diverse roles on the small screen over the last few years, on shows such as Supernatural, Human Target, Fringe and Transporter: The Series. He will be making his feature film debut in Elysium, which opens in theaters this Friday (August 9, 2013).
What was it like growing up in South Africa and how were you inspired to start acting?
Growing up in South Africa was sort of a tale of two cities. I was relatively privileged to grow up in a lower middle-class home and never really wanted for much but I witnessed a lot of poverty and a lot of violence and a lot of inequality. I think that really influenced me as an actor and inspired me to want to tell stories about people who are on the wrong side of the equation, who don't have the opportunities that I think I had as a child. I think a lot of people who grew up in North America or in Europe sort of win the geographic lottery and you understand that there isn't as much equality throughout the world. Acting is one way I felt I could best get across my experience of growing up in South Africa.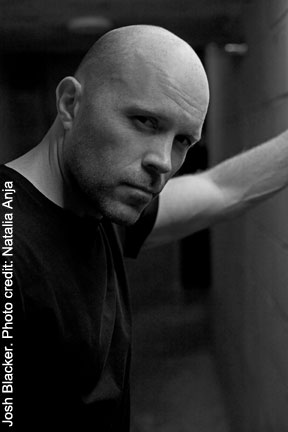 How did you prepare for your role in Elysium?
I spoke to Neill Blomkamp about how he envisioned the character and we – me, Sharlto and Brandon, the three South African mercenaries in the film – decided to be the guys who are similar to actual South African soldiers, who are part of a unit called 32 Battalion. I read a bunch of books about their experiences, the weapons they used and how they were trained. Basically, I used that as a model for my character and then took on some other traits based on how Neill described them. Of course, we are talking about a movie that takes place over a hundred years in the future and so with that information I decided to create a character that best represented what somebody who was in the 32nd Battalion may be in the year 2154.
Was there extensive physical training?
Neill wanted us to get to know each other and understand each other as a unit. We spent one day doing weapons training – understand the weapons we were using and the kind of technology we had at our disposal. We spent another day with a military tactician and a specialist in that type of warfare who came out and instructed us on how we would be treating our unit, how we would engage the enemy under certain circumstances. In addition to that, I underwent a physical transformation – I put on about 20 pounds of muscle. That was something that I wanted to do for my character. I hired a personal trainer and he helped me undergo the physical transformation. This transformation along with the military and weapons training gave me a real sense of how this mercenary would move.
How would you describe your character, Crowe?
He's a pilot. He pilots the ship that the other two mercenaries use to protect Elysium. He is dangerous – a killing machine. He understands the nature of hierarchy and doing things on a need-to-know basis. He is smart guy who understands the nature of the job at hand, which is protecting Elysium, but he also enjoys the physicality and the violence.
How challenging was it for you to get into the character?
Yeah, he's a very dark character. Violence and aggression are two of his main strengths. This is someone who really believes in what he is fighting for. At the end of the day, he is hired to do a job. There are moments in each of our lives where we struggle and we get challenged and when we come out on the other side of that challenge, we feel as though we've reached a new pinnacle in our journey. I used that as a philosophy for this character – using all the means at Crowe's disposal to achieve the task he's been assigned.
How different is it playing a role in a film from playing one on TV?
Well, we have so much more time to develop the plot and to shoot. On film, you're shooting for three or four months while on TV you're doing an episode a week. You don't have as much time to sit down with the script and analyze the character. There is much more freedom on a movie. We improvised a lot of the scenes our characters were in because Neill understood that we had done our homework and knew who these characters were. We were given more room to operate on a feature film than on TV shows and to explore the depth of our characters.
What was it like working with Jodi Foster and Matt Damon?
A dream come true! I have been watching Jodie Foster since she was in Taxi Driver and I've admired her work. She always struck me as being a consummate professional who took her job very seriously and to watch her on film was amazing. It was a master class in acting. When she wasn't working, she was really laid back, had a great sense of humor and really approachable. Matt Damon was terrific to work with – he is a true leading man. He made me understand what it means to be a leading man. It doesn't mean having the most lines, or being number one on the call shoot or being on the poster. He is all of those, but he makes everybody on set feel welcome, he put the entire crew and cast at ease. I was a little bit nervous at first because I had grown up watching him develop his very accomplished career.  But within five minutes of being on set with him, I felt as though we were peers and we were all in this together. I would work with either of them again in a heartbeat.
Are there any other actors or directors you would like to work with?
Absolutely. For me, it's about working with great actors and great directors. I'd love the opportunity to work with some of the great actors of our generation like Daniel Day-Lewis, Al Pacino, Robert De Niro. Christian Bale is somebody I'd like an opportunity to work with. Gary Oldman is another individual. And then some of the younger, upcoming actors like Michael Fassbender and Tom Hardy. I would love the opportunity to work with great directors like Steven Spielberg, Christopher Nolan, Kathryn Bigelow and Steve McQueen. There are some wonderful directors out there who tell amazing stories.
What are your other upcoming projects?
I have a production company I started with a director/friend of mine. We just wrapped production on a feature film, a comedy we co-wrote together and I produced and starred in, called Focus. We're in post production on that and trying to find a distributor and hopefully do the festival circuit in the fall. Also, we are about to rewrite our second drama about soldiers coming back from war and the difficulties they encounter while making the transition from times of war to getting back to their normal lives.
Elysium is scheduled to hit theatres August 9, 2013. Check out the trailer!
~Marriska Fernandes
---
---
---
---
Similar Articles
---
---
---