Jingle All the Way 2 DVD review
By Tribute on December 9, 2014 | 2 Comments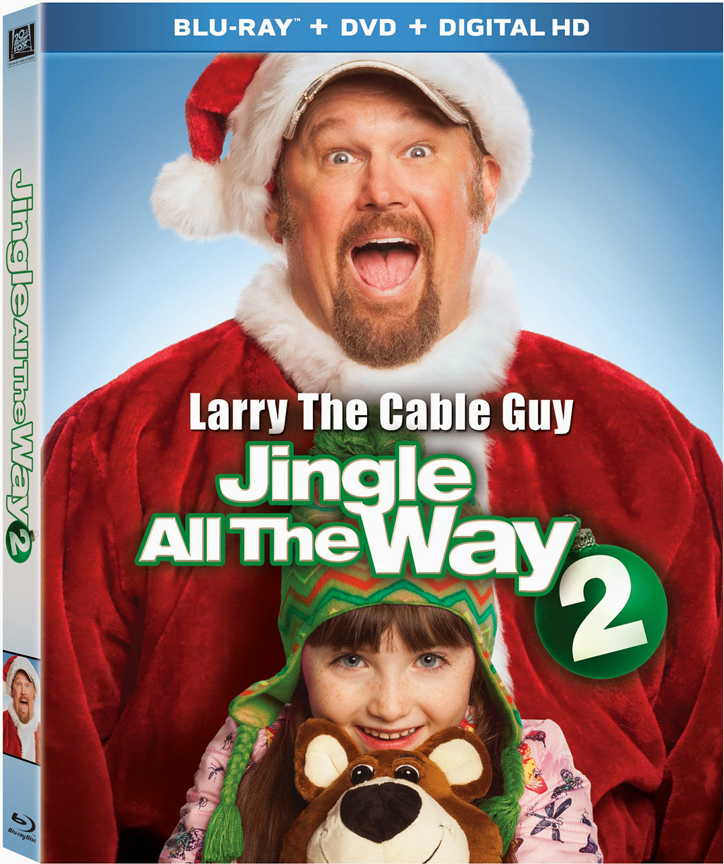 The holidays are all about spending quality time with family and loved ones but what happens when you have two families? Director Alex Zamm's film Jingle All the Way 2 answers this question with the help of the loveable Larry the Cable Guy and his crazy antics.
The sequel follows in the footsteps of the original Jingle All the Way, which starred Arnold Schwarzenegger on a quest to get an action figure for his son's Christmas present. This time around we follow Larry trying to make his daughter Noel's (Kennedi Clements) Christmas dreams come true by gifting her with the one thing she wants to see on Christmas day. However, Larry gets wrapped up in a competition for Noel's love and attention with her new stepdad Victor Baxter (Brian Stepanek) and quickly forgets the true meaning of the holidays. The film shows that not all Christmas presents need to come wrapped up with a bow.
Larry feels like he's taking second place to Victor, who is from an entirely different world. Victor is an extremely rich and successful businessman who has employees and money at his disposal, all just a phone call away from his massive mansion. Larry is on the other end of the spectrum—he's laid-back, fun-loving and lives in a trailer. Larry knows he's no match for everything Victor has to offer, so he can't help himself when he gets hold of Noel's letter to Santa, spelling out exactly what she wants for Christmas, and what could be his only shot at winning the title of best dad. There's just one glitch—Noel's handwriting isn't exactly legible. Larry hastily comes to the conclusion that she was asking for the season's hottest new toy, a Harrison Bear.
Larry embarks on the seemingly easy mission to get his hands on the toy. However, he's confronted by a slight problem—they seem to be sold out everywhere! And it turns out Victor is behind the lack of Bears! After Victor discovered Larry had access to Noel's Santa letter, he went out of his way to purchase every Harrison Bear he could find so that he could be the one granting Noel's wish. That's not all though! He even hired an informant to watch over Larry's every move and to go to any means necessary to make sure Larry doesn't get a Bear.
Larry for the life of him can't figure out why he is having so much trouble finding the toy and becomes so desperate he will do anything to find one. And I mean anything. The lengths he goes will have the whole family in stitches.
The film is sure to leave everyone laughing through Christmas. It's packed with hilarious scenes that are full of physical comedy. Larry the Cable Guy is a joy to watch and will put a smile on your face as you watch him forced to go through an array of tasks just to see his daughter smile. Speaking of Noel, actress Kennedi lights up the screen every time she appears. In the end the film is a heartwarming tale about family and the true meaning of the holidays and how it is the only gift you need.
The Blu-ray/DVD combo pack is full of hilarious holiday special features, including deleted scenes that show even more of Larry and Victor's competitive natures. It also includes featurettes such as Christmas Catastrophes, Christmas Wishes, and even a television commercial for Harrison the Bear. One of the most entertaining featurettes has to be the Reindeer Riding at Roosters Tavern. It gives an inside look into the making of the scene and all the fun the cast and and crew had while filming it.
Jingle All the Way 2 is now available on Blu-ray and DVD. Also recently available are Guardians of the Galaxy, Dolphin Tale 2, I Origins, and When the Game Stands Tall. Click here for a look at other recent DVD releases.~Janine Wyslobicky
---
---
---
---
Similar Articles
---
---
---